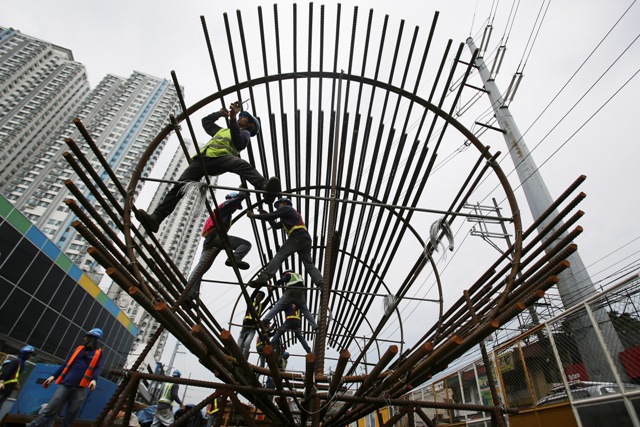 The Chinese government has urged the Philippine government to prioritize the approval and implementation of eight infrastructure projects which it proposed for Beijing's financing assistance, the Department of Finance said yesterday. AP/Aaron Favila, File
8 infra projects on China's priority list
MANILA, Philippines — The Chinese government has urged the Philippine government to prioritize the approval and implementation of eight infrastructure projects which it proposed for Beijing's financing assistance, the Department of Finance (DOF) said yesterday.
During a recent meeting with Philippine officials in Beijing, Chinese Commerce Minister Zhong Shang said there is a need to fast-track the approval and preparation of eight infrastructure projects under the first basket of projects proposed by the Philippines for Chinese financing.
Zhong said both sides need to make substantial progress on the projects in time for Premier Li Keqiang's visit to Manila for the 31st ASEAN Summit and Related Meetings in November.
According to Zhong, the list of prioritized projects include the Binondo-Intramuros and the Estrella-Pantaleon bridges in Manila (financed through Chinese grants), the Chico River Pump Irrigation Project in Cagayan and Kalinga provinces, the New Centennial Water Source-Kaliwa Dam Project, two drug rehabilitation facilities, the Elevated Expressway in Davao City, and the construction of an industrial park.
Earlier, Philippine officials said the two bridges across Pasig River is set to break ground this November. The government has also identified the potential bidders for the Kaliwa Dam and Chico River Irrigation projects.
Zhong also expressed hope it could reach a consensus with the Philippine government on the second basket of infrastructure projects for possible Chinese financing, in time for their leader's visit to Manila in 2018.
"We hope that continuous progress can be made on our priority projects so that we can reach the consensus of our two Presidents and we can press ahead with our economic cooperation and trade," Zhong said.
A high-level Philippine delegation, including Finance Secretary Carlos Dominguez, Socioeconomic
Planning Secretary Ernesto Pernia, and Budget Secretary Benjamin Diokno were in China last week to meet with their Chinese counterparts and to conduct a roadshow on the Duterte administration's Build Build Build program.
During the meeting, both sides acknowledged the progress they have made to streamline and expedite the approval process of the infrastructure projects.
"We recognize and appreciate the continuing engagement between our governments to speed up the preparations of the big-ticket infrastructure projects. Both governments are exerting efforts to streamline and expedite the approval process for the flagship projects," Dominguez said.
Zhong, for his part, also encouraged the Philippines to tap other sources of funding, including the China-backed Asian Infrastructure Investment Bank, China-owned Silk Road fund, as well as the Asian Development Bank.
According to the DOF, the $40 billion Silk Road Fund is a financing platform which aims to provide investment support under China's Belt and Road Initiative.
Jin Qi, chairman of Silk Road Fund Co. Ltd., said the fund is a commercial investment organization which follows commercial principles and international rules.