UE impresses in UAAP Season 86 opener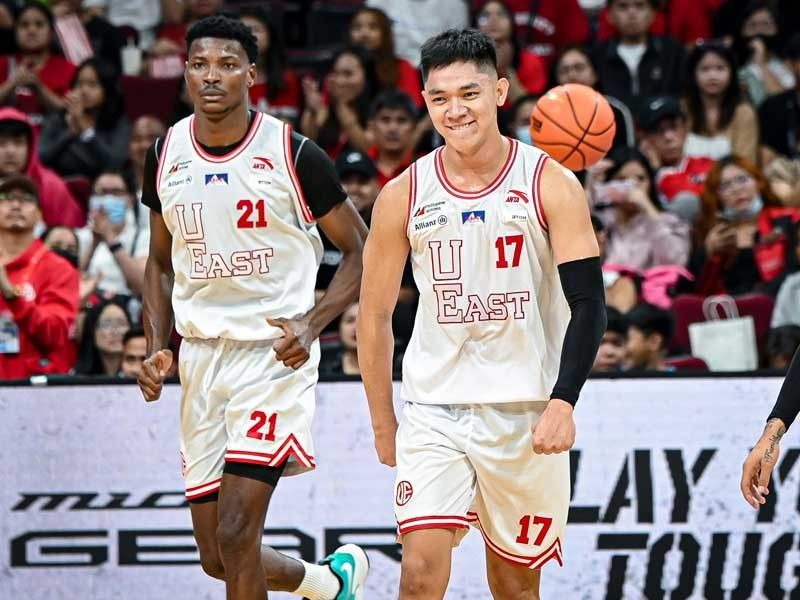 MANILA, Philippines – The Ateneo Blue Eagles aren't the only squad that lost much of their firepower and stars from the previous campaign.
There's the University of the East Red Warriors, who are missing Harvey Pagsanjan, Jojo Antiporda, and the Paranada brothers Kyle and Nick, and a few more.
Luis Villegas top-scored for UE during Season 85 with 13.1 points. The Paranada brothers collectively tallied 21 points per game. Jalen Stevens (9.3), Calvin Payawal (8.2) and Harvey Pagsanjan (5.0) did their share.
Those six were head coach Jack Santiago's top six scorers, and none of them are in uniform this season.
Rey Remogat got going in the final two matches of the season against Ateneo and La Salle, and he has continued his scoring splurge in the Season 86 opener against UST.
Having said that, UE fans are excited because in that huge 80-70 win over UST, they had four players scoring in double digits.
Remogat scored over 20 points for the third straight game (dating back to the final two matches of the last UAAP season) as he tallied 21 points and 10 assists.
Nigerian center Precious Momowei, who didn't have much time to jell with the team, looks to have given UE that man in the middle they have craved for some time. Momowei likewise put together a double-double of 17 points, 15 rebounds and three blocks.
Granted that UST's Adama Faye isn't 100%, but injuries are a part of the game. The win will only serve as a confidence-booster for Momowei and his teammates.
Filipino-Canadian Jack Cruz-Dumont, the son of former Pasig Pirates player John Dumont, shone with 16 points and seven boards.
Abdul Sawat, in his second year with UE, was also in double digits with 15 markers. Sawat averaged 4.3 points in 14 games the previous year.
In UAAP Season 85, UE had no problems putting the ball in the hoop especially from the perimeter where they were the top-ranked squad.
It was in points inside and from a defensive standpoint that hurt them.
If Momowei can play consistently — providing the inside presence and playing rim protector, there is no reason why UE cannot improve on their sixth place finish and fight for a Final Four slot this new season.