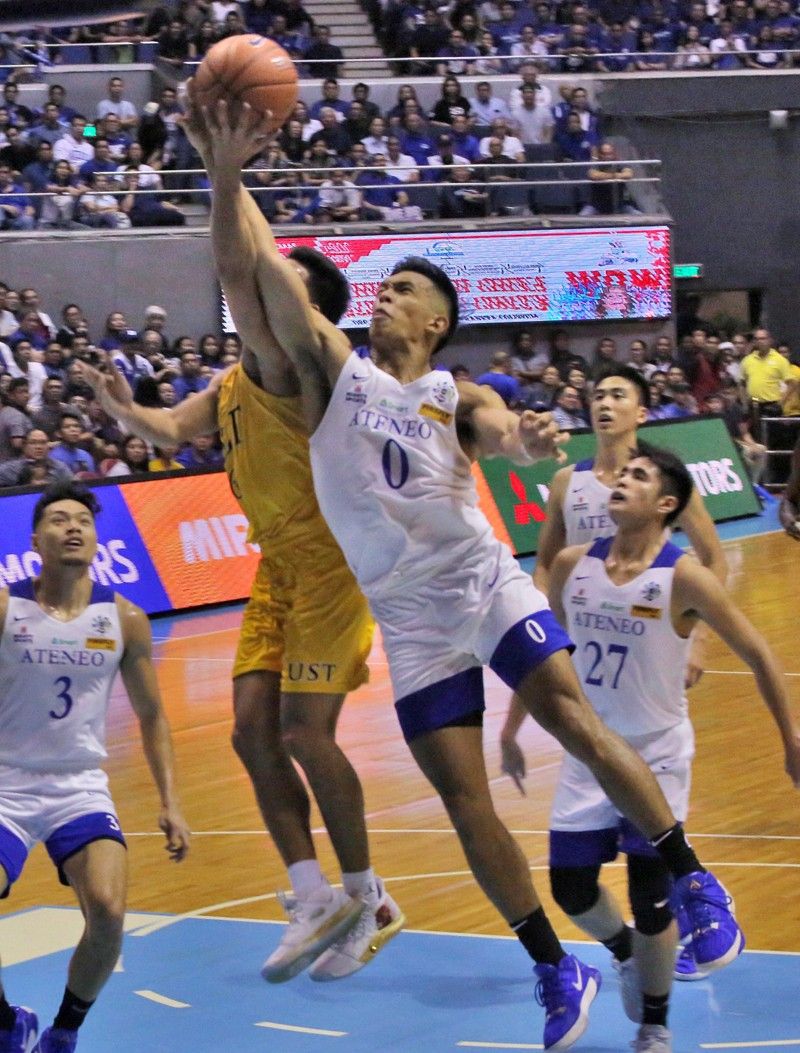 Ateneo's Thirdy Ravena and Mark Nonoy of Santo Tomas go up for the rebound in yesterday's lopsided contest won by the Eagles.
ERNIE PEÑAREDONDO
Eagles: It's not yet done
Game on Wednesday (Mall of Asia Arena)
4 p.m. – ADMU vs UST Thirdy Ravena shone brightest on the biggest stage, leading unbeaten Ateneo to a coast-to-coast 91-77 Game 1 victory against previously hot Santo Tomas as the Eagles moved a victory shy from completing a sweep in the 82nd UAAP men's basketball tournament last night at the Smart-Araneta Coliseum.
Averaging just 12.9 points per match in the Eagles' elimination-round sweep, the two-time Finals MVP did not shy away from the Big Dance as he erupted for 32 points on an impressive 14-of-18 shooting. He also added five rebounds, three assists and a steal in just 27 minutes of action.
It was somehow a mirror of Ravena's 38-point career-high output last year when the Eagles copped their second straight championship at the expense of UP.
And with Ravena once again showing his finals calibre, the mighty Eagles extended their winning streak to 25 games dating back to last season, including 15 straight this year alone, to move closer to being the first team in UAAP history to complete a 16-0 season sweep.
Santo Tomas scored a 14-game sweep back in 1993 when old rules called for a squad to be hailed as automatic champion after such feat, giving the Eagles a chance to do better in Game 2 of this best-of-three showdown set this Wednesday at the Mall of Asia Arena.
But coach Tab Baldwin, as close as they are from that improbable achievement, does not want to look ahead just yet until the mission has been sealed, signed and delivered.
"It's good to get a win obviously but we tend not to see this as a win. We see this as the first half and we just get a long halftime break where we get to prepare for the second half which will be, in your eyes, Game 2," said Baldwin, who is eyeing to tow Ateneo to a UAAP hat-trick.
"There's a lot to work on. This game is a must-win game for us and I don't see Wednesday's game any different."
Ravena, in his last playing year with Ateneo, agreed with Baldwin as he will try to get the job done in Game 2 and cap a magnificent UAAP career before his pro-league entry.
"Business is not yet done. We can't celebrate and we can't be happy just yet. It's going to be tough next game so we just have to make sure to do our job on Wednesday," said Ravena, who got help from Ange Kouame (18 points and 12 rebounds) and SJ Belangel (12 markers).
With Ravena setting the pace with 11 quick points in the first quarter, the Eagles raced to a scorching 18-2 start which they even stretched to 38-19 off a Kouame inside bucket early in the second period.
But the Tigers, after showing immense playoff resiliency by surviving three straight knockout games to reach the finals, refused to just roll over and die behind Rookie of the Year Mark Nonoy, who sizzled for 12 points in their 19-3 fightback to strike to within 38-41 two minutes before the half.
That stand, however, proved to be the last for the Tigers as the reigning champions flaunted their composure and championship pedigree with a suffocating 13-1 retaliation for a 54-39 halftime cushion. They never looked back.
The scores:
Ateneo 91 – Ravena 32, Kouame 18, Belangel 12, Mamuyac 9, Navarro 6, Nieto Mi 5, Nieto Ma 5, Wong 3, Daves 2, Andrade 0, Go 0, Maagdenberg 0, Mallillin 0
UST 77 – Nonoy 26, Paraiso 14, Chabi Yo 13, Subido 8, Cansino 4, Abando 3, Concepcion 3, Ando 2, Bataller 2, Huang 2
Quaterscores: 32-17, 54-39, 76-58, 91-7