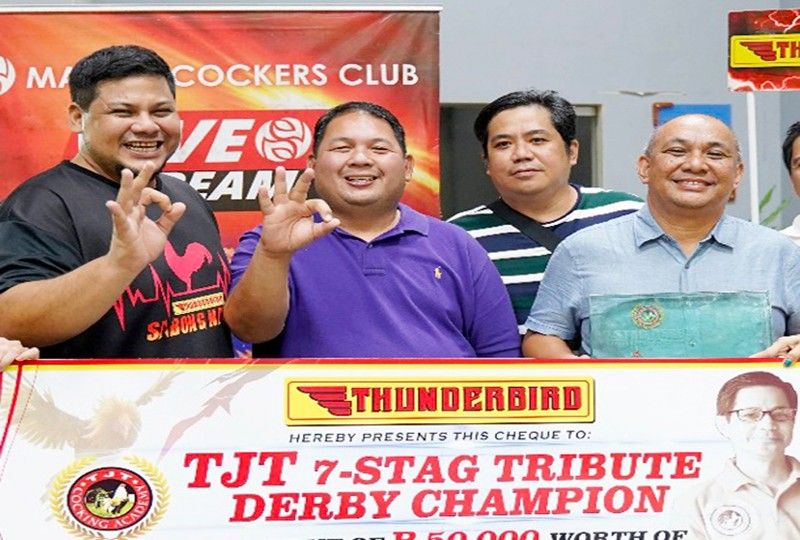 Teng Rañola (second from left), owner of TR Bexan XP Capsule, receives his MCC Championship Trophy and P50,000 worth of products from Thunderbird. Havy Bagatsing of Sabong Nation (left) and MCC president Ding Magboo (right) presented the award.
Rañola's TR Bexan XP Capsule solo MCC champ
(The Philippine Star) - November 15, 2019 - 12:00am
CARMONA – The Manila Cockers Club, Inc., the country's cockfighting industry game changer, presented the 21st MCC 7-Stag Breeders Festival (Season 3) at the world-class Cockers Arena, San Lazaro Leisure Park (SLLP), with Thunderbird endorser Teng Rañola and his entry TR Bexan XP Capsule bagging the solo championship.
Rañola scored a hard-earned 6.5 points in the festival also named as the Dr. Teddy Tanchanco (TJT) 7-Stag Tribute Derby, against some of the industry's toughest breeders, including Joey Fontanilla/Tin Francisco (JKA Dragon Fire), Roger Jamisola (CP's Amazing Rojam), Victor Gregorio (Wow Birds), and Alejo Castillo/Ghie Borabien (AMC Alyssa Raine and SAP Stryker).
As part of MCC's grand BER-months circuit derby, players were awarded a guaranteed P6 million as participating breeders assistance fund (PBAF), and P1 million additional breeders assistance fund (ABAF) for regular members who finish the course of the derby.
Rañola is a member of MCC and has regularly participated in its cockfighting events for the past two years.
The tribute derby was organized by the Manila Cockers Club, Thunderbird and Sabong Nation host Havy Bagatsing.
The late Dr. Tanchanco, also known as Doc Teddy, was also part of the popular cockfighting show, where he had several segments on proper gamefowl preparations, conditioning, medications, breeding, and incubation, among others.
Tanchanco's son Tomas Tanchanco and wife Bambi Inocencio received a donation from MCC. Present during the donation were Bagatsing; Ding Magboo, MCC president; Rollie Ramos, MCC pitmaster; Ruel Hernandez, MCC VP for Tote and Sabong Operations and Ramil Tan, Sabong Nation host.