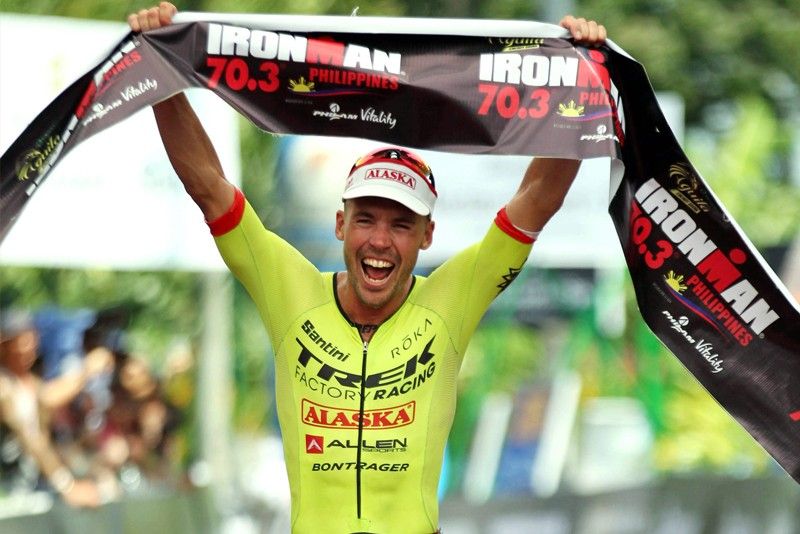 Tim Reed of Australia celebrates at the finish.
Jun Mendoza
Tim Reed reclaims IM 70.3 crown; Caroline Steffen nets sixth title
Joey Villar
(The Philippine Star) - August 12, 2019 - 12:00am
LAPU LAPU CITY, Cebu, Philippines — Tim Reed of Australia survived cramps and the fierce challenge put up by Mike Philips of New Zealand to reclaim the title he last won three years ago even as Caroline Steffen of Switzerland delivered a masterful performance to crown herself women's champion for a record sixth time.
"I was cramping the whole of the run part and if it would've been another race, I'm not sure if I'm going to push through. I got support and managed to hold on," said Reed moments after recapturing the men's crown in yesterday's Regent Aguila IRONMAN 70.3 powered by Philam Vitality at the Shangri-La's Mactan Resort and Spa here.
"It was the crowd support and I dug deeper than I had done for a long time. It was very special to get the fourth win," added the 34-year-old Aussie, who clocked four hours, a minute and 22 seconds before an appreciate crowd.
Riding the crest of his IM 70.3 victory in Subic Bay two months ago, Reed overcame a strong field considered as one of the biggest in years that included the fleet-footed Philips, whom the former beat by 47 seconds.
Another Aussie, Tim Van Berkel checked in at No. 3 in 4:03:12 while Jakub Langhammer of the Czech Republic finished No. 4 in 4:03:18.
Kiwi Terenzo Bozzone, who topped the very first IM 70.3 – 1.9km swim, 90km bike and 21km run – staging here in Camarines Sur 11 years ago, completed his comeback by ending up fifth in 4:06:00.
Mexican Mauricio Mendez, last year's winner, faded after the swim and bike parts and did not finish due to a stress fracture that has been bugging him for months.
Reed said the key was giving it all in the bike phase.
But it was not easy considering the tough challenges put up by his chief rivals, including Mendez.
"He got into my head and I was thinking how I'm going to beat this guy," said Reed of the 23-year-old Mendez. "I decided to go back to my old method of destroying myself in the bike that I was too good that I was cramping practically the whole time in the run."
Unlike Reed, Steffen blew away the women's field with a clocking of 4:24:10, more than 12 minutes ahead of closest pursuer Dimity Lee Duke of Australia, who turned in 4:36:48.
Australia's Courtney Gilfillan, racing for the very first time in Cebu, came out of the water strong and was ahead of Lee by three minutes but couldn't sustain it and wound up third in 4:39:18.
Steffen, 40, thus emerged a six-time champion out of the eight editions in this scenic venue.
She celebrated with her 20-month-old son Xander at the finish line.
"I haven't seen him for four and a half hours and I miss him," said Steffen. "I just love the place and if you feel happy with the place, you race well and the six wins speaks for itself."
Reigning Southeast Asian Games gold medalist Nikko Huelgas debuted with a bang and pulled off a shock victory in the men's Asian elite in 4:24:56 ahead of former many-time winner August Benedicto (4:34:44) and Chinese Taipei's Hsieh Yu-Hung (4:36:11).
Phl bet Alexandra Ganzon reigned supreme in the female side for the second straight year in 5:43:31.