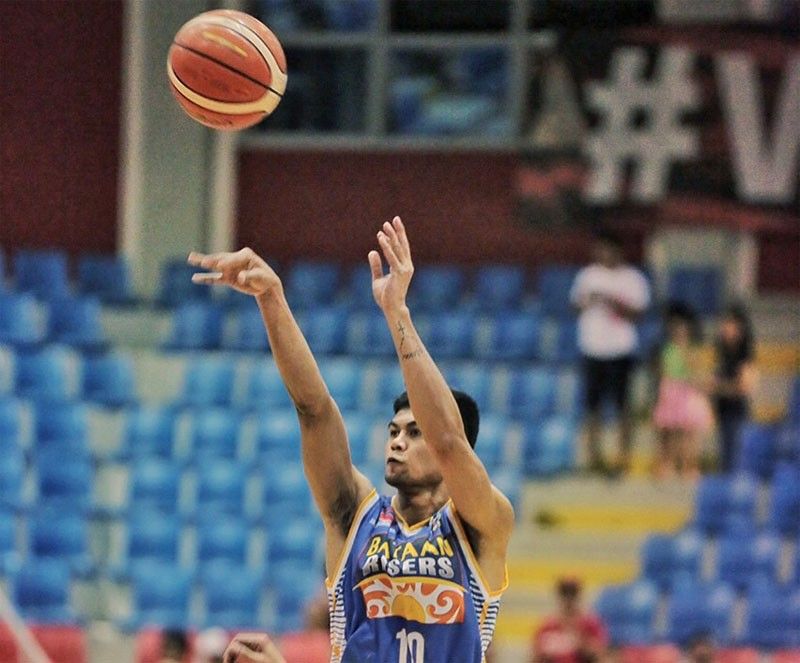 Former Perpetual Help Altas star Gab Dagangon has raised the level of his game in helping the Bataan Risers to a six-match win streak.
Bataan Risers blast Mandaluyong for 6th straight win
MANILA, Philippines – Talk about a run and gun game. This was it.
The Bataan Risers mauled Mandaluyong El Tigre, 109-65, for their 20th win in 22 matches in the Maharlika Pilipinas Basketball League Datu Cup.
The 44-point victory tied the MPBL record for the biggest winning margin (the first team to accomplish that were the Gen San Warriors who destroyed Lamitan Basilan, 116-72, last November 24, 2018).
It was also Bataan's sixth straight win, enabling them to be the first MPBL squad to reach 20 wins this season. Mandaluyong fell to 8-14.
Let's take a look at how the Risers' won this game.
Bataan shot a whole lot better
That is actually an understatement. Why? Let's first take a look at the free throw stats. Bataan hit 10-11 free throw attempts — easily their best from the stripe all season long. Now when you also shoot 57 percent from the field (including 44 percent from the 3-point line), it stands to reason that you have a very good chance of winning.
The game wasn't even close.
In the first quarter alone (24-9 for the Risers), Bataan hit 9-19 shots from the field. Mandaluyong, on the other hand, shot a poor 4-23 from the field.
And several players shot better than 50 percent from the field (with a minimum of five shots take note). Arvie Bringas hit all five of his shots. Toto Villarias and Richard Escoto shot 83 percent. Vince Tolentino and Gio Espuelas hit 80 percent. Gab Dagangon (more on him later) shot at a 66 percent clip. And Pamboy Raymundo knocked down half his attempts at 50 percent.
In contrast, Mandaluyong's Janus Lozada was the only one with a good shooting day (7-14 for 50 percent).
The Risers controlled the boards
You're shooting well and then you control the boards — that is going to be a tough day at the office for the opponent.
Bataan has more players who like to rebound — Alfred Batino, Vince Tolentino, Bernie Bregondo, Al Carlos, Richard Escoto, Barkley Eboña and Arvie Bringas – while Mandaluyong's composition doesn't list too many glass eaters.
Bataan grabbed 58 rebounds to the 34 of Mandaluyong. That really says something about the effort. The Risers had a slight advantage in second chance points, 16-14, but flat out killed El Tigre in fastbreaks, 28-10.
Bataan got a lot of contributions from everywhere
Due to the Risers' early lead, head coach Jojo Lastimosa had the luxury of fielding in his entire team, giving them valuable playing time and good vibes in the homestretch of this long elimination round. He was also able to give rest to many of his workhorses as Yvan Ludovice, Batino and Bregondo didn't play much.
Dagangon and Escoto each led the way with 15 points. Raymundo, Villarias and Bringas each added 12.
We have pointed out Dagangon's importance early in the season and how he will be a huge difference for the team while others struggle for consistency. He also added eight rebounds, three steals, and one block to the overall effort.
How efficient was that? He played 18 minutes and shot 66 percent from the field.
Additionally, every single Risers player who was fielded scored. You can bet the feel good vibes inside the locker room were off the charts.
The last word
How huge was this win? Aside from the fact that Bataan has clinched home court advantage for the rest of the division playoffs, I like them giving significant playing time to Bringas who I wondered why he wasn't used much. This guy can be a game changer and a match up problem for opponents.
Along with Eboña, Batino, Bregondo, Tolentino and Carlos, this is a darn good rebounding team.
Having Eboña and unleashing Bringas will help Bataan battle the tough San Juan and Manila squads should they meet up deep in the playoffs.
This was a huge win in more ways than the final score. It shows a Bataan team that as picked up massive reinforcements in its pursuit of a MPBL title with Ludovice, Escoto, Eboña and Bringas. It shows a team that is willing to not pay attention to personal stats but that of the big picture — the W and the title.