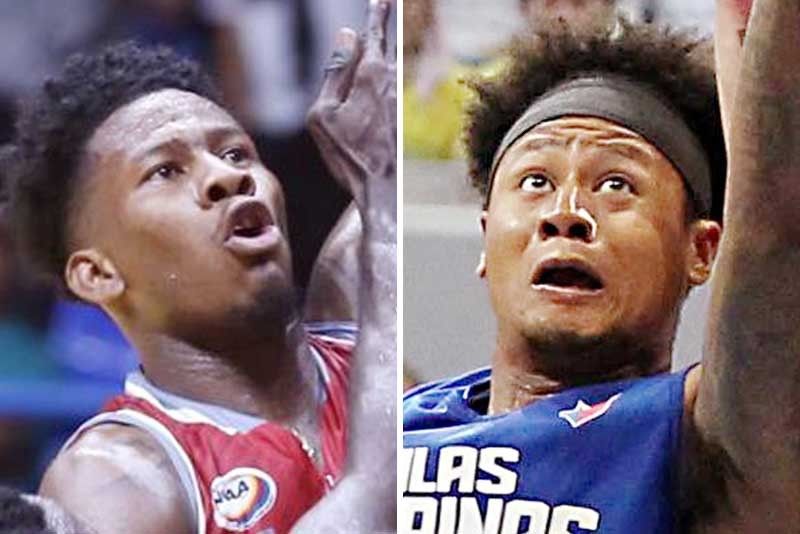 CJ Perez and Bobby Ray Parks
Perez, Parks lead PBA Rookie Draft
MANILA, Philippines — It's D-Day for the 48 hopefuls for the 2018 PBA Rookie Draft although it's no-brainer CJ Perez, Bobby Ray Parks, Robert Bolick and Abu Tratter will be the first four players to hear their names called in the draft proceedings starting at 5 p.m. at Robinsons Place Manila.
Governors Cup title protagonists Magnolia and Alaska Milk observe ceasefire to join the 10 other ball clubs in the annual draft exercise that provides the teams the opportunity to beef up or shake up their respective lineups.
Columbian Dyip has long declared it's eyeing Perez, a do-it-all forward from Lyceum of the Philippines U, to be the No. 1 pick.
"No changes, we're picking CJ Perez, a player who could well provide us firepower," said Columbian Dyip top official Bobby Rosales. "Then, we'll try to land a point guard. In the first place, the draft pool lacks big men."
Blackwater, at No. 2, is dead set on acquiring Parks, an incoming PBA rookie who is already a seasoned player with his stints in the NBA D-League and in the Asean Basketball League.
"For sure, we'll get Parks. But if Columbian Dyip suddenly drafts Parks, then baligtaran lang yan. Si CJ Perez naman ang kukunin namin," said Blackwater team owner Dioceldo Sy.
The same is the case for North Port and NLEX, the two teams that have the cracks at Bolick and Tratter.
The Batang Pier team, however, has made known it is leaning towards Bolick whom it will pair with Stanley Pringle to form the starting backcourt tandem.
NLEX, meanwhile, had worked hard to acquire Phoenix Petroleum's fourth pick that the Road Warriors intend to use on Tratter.
The Road Warriors gave up Alex Mallari and Dave Marcelo for the chance to draft the former La Salle forward.
Other potential first-rounders are Javee Mocon, JP Calvo, Michael Calisaan, J-jay Alejandro, Paul Desiderio, Bong Quinto and Fil-Am Trevis Jackson from among the 48 hopefuls.
Somehow, Bolick, Calvo, Mocon, Calisaan and CJ Isit boosted their stock as they made the Mythical Selection in the Draft Combine on Wednesday and Thursday at the Hoops Center in Mandaluyong.