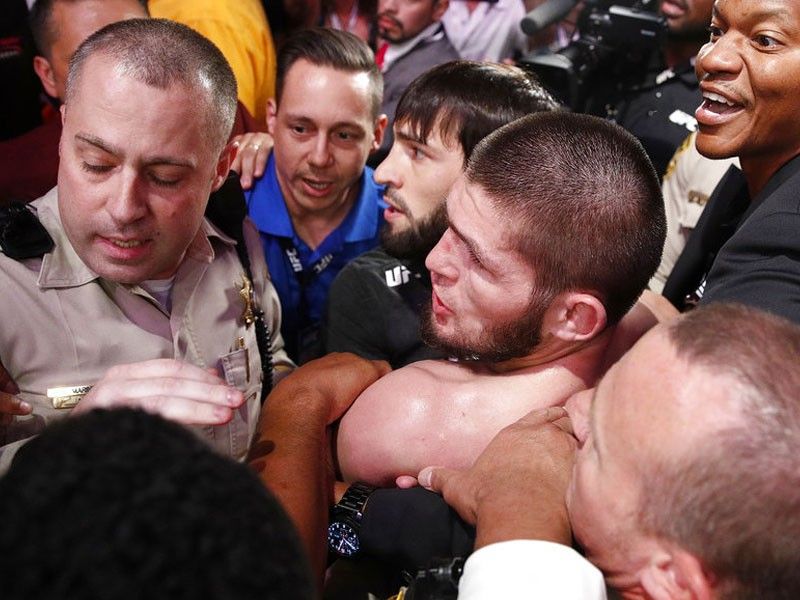 Khabib Nurmagomedov, bottom center, is held back outside of the cage after fighting Conor McGregor in a lightweight title mixed martial arts bout at UFC 229 in Las Vegas, Saturday, Oct. 6, 2018. Nurmagomedov won the fight by submission during the fourth round to retain the title.
AP/John Locher
Nevada regulator suspends Khabib, McGregor for UFC brawl
Ken Ritter
(Associated Press) - October 12, 2018 - 10:17am
LAS VEGAS — UFC fighters Khabib Nurmagomedov and Conor McGregor are being suspended by the Nevada Athletic Commission for a brawl that erupted inside and outside the octagon after their lightweight title fight last weekend in Las Vegas, an official said.
Letters were sent Wednesday informing both mixed martial arts fighters that they will be suspended for at least 10 days effective October 15, commission executive Bob Bennett said Thursday (Friday Manila time).
A commission investigation is pending and the panel can extend the temporary suspension when it meets October 24, Bennett said. Nurmagomedov and McGregor could also appeal Bennett's executive action at that time.
Nurmagomedov, who was praised by Russian President Vladimir Putin during a meeting Wednesday in Moscow, responded with an angry Instagram post saying he was being unfairly punished.
The fighter complained that discipline didn't follow an incident last April in Brooklyn, New York, when McGregor shattered windows of Nurmagomedov's bus with a hand truck after Nurmagomedov confronted one of McGregor's teammates days earlier.
"They could have killed someone there, why no one says anything about insulting my homeland, religion, nation, family?" Nurmagomedov posted. "We have defended our honor and this is the most important thing. We intend to go to the end."
McGregor's manager, Audie Attar at Paradigm Sports Management, said he was confident the investigation will clear McGregor.
"It will be clear who and where the blame lies," Attar said in a statement. "We are focused on the future."
Nurmagomedov's manager, Ali Abdelaziz at Dominance MMA Management, did not immediately respond to emails. Abdelaziz's telephone was not accepting messages.
However, Fighting erupted outside the octagon late Saturday, after McGregor (21-4) tapped out during a chokehold by Nurmagomedov (27-0) in the fourth round of UFC 229 at T-Mobile Arena.
The Russian champion from Dagestan then stepped away from McGregor, climbed over the cage and scuffled with a fighter in the Irishman's corner.
Members of Nurmagomedov's entourage climbed into the octagon and attacked McGregor, and McGregor also tried to climb out of the cage during the brawl.
Nurmagomedov's $2 million for the fight has been withheld by the commission pending the outcome of the investigation, Bennett said. McGregor received his $3 million purse.
"You can keep my money that you are withholding," Nurmagomedov posted. "I hope it won't get stuck in your throat."
UFC President Dana White said three members of Nurmagomedov's camp were detained by police but released because McGregor refused to press criminal charges.
White said the UFC might strip the lightweight title from Nurmagomedov.