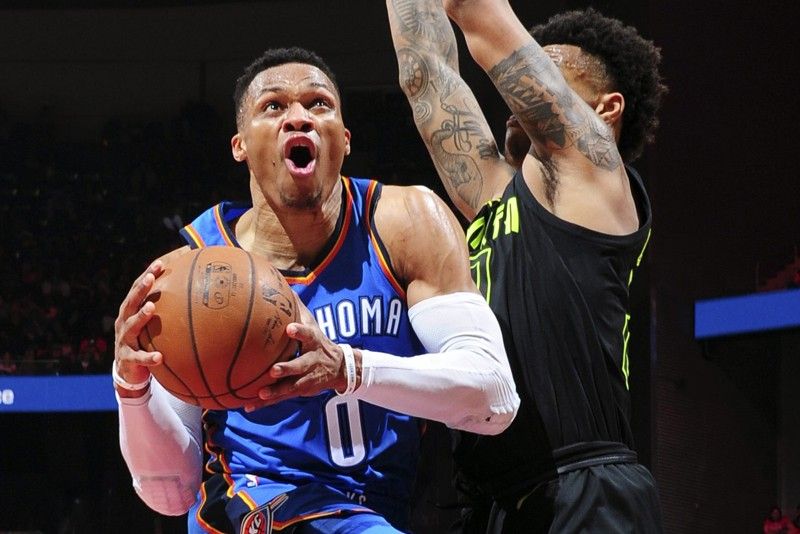 Russell Westbrook of the Oklahoma City Thunder drives through the defense of the Atlanta Hawks at Philips Arena in Atlanta, Georgia. AFP
Westbrook historic 100 triple-doubles propel Thunder vs Hawks
(Associated Press) - March 15, 2018 - 12:00am
ATLANTA – Welcome to the club, Russell Westbrook.
Not bad company.
Not bad at all.
Westbrook became the fourth player in NBA history to record 100 triple-doubles and sparked a 16-0 run down the stretch that carried the Oklahoma City Thunder to their fourth straight victory, 119-107 over the Atlanta Hawks on Tuesday night.
Westbrook scored 32 points, dished out 12 assists and grabbed 12 rebounds, joining an exclusive group that includes Oscar Robertson (181 triple-doubles), Magic Johnson (138) and Jason Kidd (107).
"Oh man, just an unbelievable blessing," Westbrook said. "I give thanks to the man above just for allowing me to go out and play the game I love each and every night. I never take it for granted."
He became the third-fastest player to reach the milestone. Robertson needed just 277 games to get No. 100, while Magic Johnson accomplished the feat in his 656th game. Westbrook had played 736 games in his career.
"The group of guys that's ahead are Hall of Famers," Westbrook said. "I'm just happy to be a part of the crew with those guys."
Atlanta's Taurean Prince knocked down a 3-pointer to tie it at 103 with 5:15 remaining. Led by Westbrook and Jerami Grant, the Thunder dominated the rest of the way.
Elsewhere, Indiana held off Philadelphia, 101-98; Minnesota rallied past Washington, 116-111; Toronto whipped Brooklyn, 116-102; Dallas trounced New York, 110-97; New Orleans thwarted Charlotte, 119-115; San Antonio crushed Orlando, 108-72; Utah ripped Detroit, 110-79; Cleveland routed Phoenix, 129-107; the Los Angeles Lakers trampled the Denver Nuggets, 112-103; and the Los Angeles Clippers repulsed the Chicago Bulls, 112-106.
Back in Atlanta, Westbrook scored seven points, getting to the line over and over again, while Grant knocked down a 3 and converted a three-point play – both off assists by Westbrook. Carmelo Anthony capped the deciding run with his sixth 3-pointer of the game.
Westbrook received a big cheer from the Atlanta crown when he grabbed his 10th rebound with 2:38 remaining, locking up the historic triple-double.
Anthony finished with 21 points, while Grant chipped in with 20, helping to make up for the loss of Paul George with a groin injury.
Having accepted a complementary role on a team that belongs to Westbrook, Anthony is reveling in the accomplishments of his teammate.