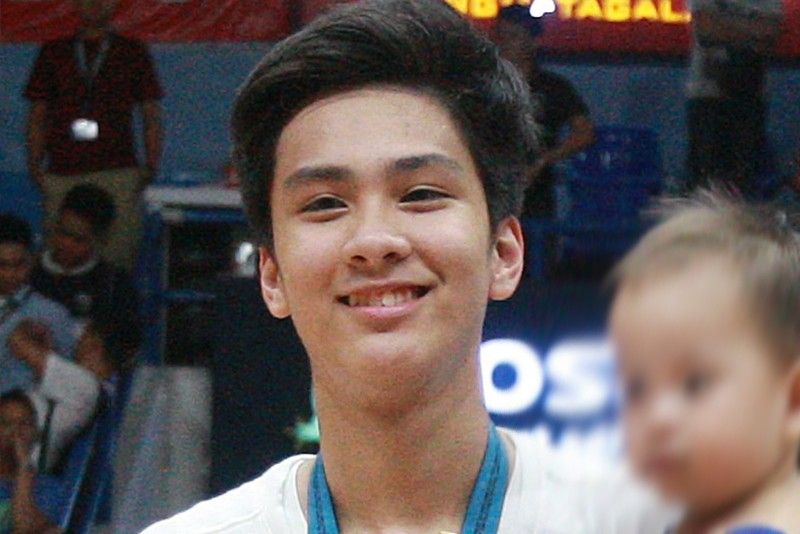 Kai Sotto: Father-like son
MANILA, Philippines — Kai Sotto credited his coaches and teammates for his Finals MVP award but it was actually his connection with someone off the court that gave him the biggest boost down the stretch that propelled the Ateneo Blue Eaglets to a 63-58 title-clinching victory in Game Three against the National University Bullpups at the Filoil Flying V Center in San Juan Friday night.
Plagued by foul trouble after incurring his fourth at the onset of the decider, the 7-foot-2 sophomore returned to the bench, needing only one look from someone behind it – his dad Ervin – to come up recharged and anchor a decisive 15-4 closing rally in the final 4:04 for the Katipunan-based dribblers to reign supreme in the UAAP season 80 juniors basketball tournament.
"When I sat on the bench, someone called my attention, 'Psst.' I immediately knew it was my dad. I looked at him and he made a gesture that I should be patient, don't commit a foul and stay calm. With just one look from him, I already understood what he wanted me to do. So I told myself that I need to be more agressive while being careful since this is already the championship and we needed to win," said Sotto.
The 15-year-old Sotto rode the bench for more than three minutes, but with his dad's reminders in mind, he returned to the court halfway in the final period with razor sharp focus and helped his team overhaul a 48-54 deficit.
Sotto had seven points in that pivotal 15-4 run and went on to finish with 19 points, 13 rebounds and three blocks.
He averaged 17 points on 63 percent accuracy, 12.3 boards and 6.3 blocks in the best-of-three series, highlighted by a triple double effort of 22 points, 16 rebounds and 11 denials in Game One, to earn him the top individual honors in the finals.
"I just wanted to win. All of us wanted to win. There's no way out. It's a do-or-die match and there's no excuse for us to give up. So I just did my job and my best to help the team win," said Sotto.
That burning desire to win was displayed by the Eaglets in their scorching final rally where SJ Belangel also had five points, including two pressure-packed charities in the final 9.8, Joaqui Manuel scored on a layup from his own steal and Dave Ildefonso delivering their last basket on a freebie with 4.1 ticks to go.
In the end, Sotto wanted to share the spotlight with his teammates, whom he called to join him as he was being awarded with the Finals MVP plum, but more importantly with his family, as he carried his younger brother Tim, a year and six months old, in his arms as he hoisted the trophy.
"Before the awarding, I looked at my dad and he gestured at me, telling me 'Good job and congratulations.' I told him that I wanted my younger brother to join me in the awarding because when my dad won a championship with St. Francis of Assisi in college, he also carried me and that's what I wanted to do with my younger brother," said Sotto.
Sotto's dad is a former PBA player and is now an assistant coach with the NLEX Road Warriors.
"My dad is a big influence on me. We are always together and we bond every time. When it comes to basketball, our relationship plays a big role so it only takes a look when he needs to remind me," said Sotto.