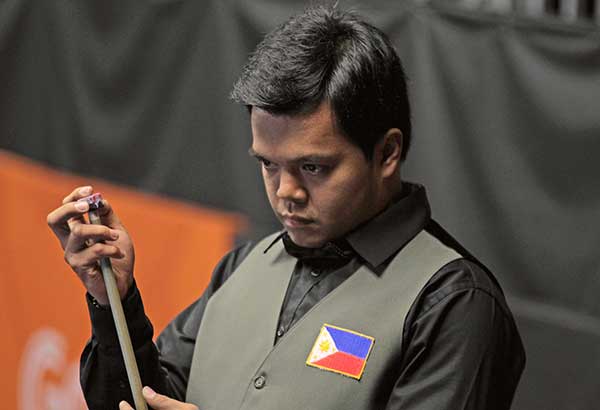 Philippines stays at sixth with 4 more golds
Gerry Carpio
(The Philippine Star) - August 27, 2017 - 4:00pm
KUALA LUMPUR — The national anthem played yesterday in three huge halls of the Kuala Lumpur Convention where two billiards world champions, a teenage Fil-Japanese judoka, and a long-time taekwondo titleholder produced exciting victories that kept Filipino hopes of a decent finish afloat with barely three days remaining in the 11-day Southeast Asian Games here.
World junior 9-ball titlist and SEAG defending champion Chezka Centeno outfought an erratic compatriot Rubilen Amit, 7-6, to retain her crown.
An hour later, Carlo Biado took the cue from the loss of fellow Filipino Juhann Chua in the semifinals, beating his tormentor, 9-5, to pocket the second and last gold of the billiards team after the close of competitions yesterday.
At the judo hall, 16-year-old Mariya Takahashi provided the day's shocker as she overwhelmed five-time champion Surratana Thongsri of Thailand in the -70 kg.
Takahashi made her first appearance in the SEA Games with a short victory over Nguyen Thi Dieu Tien of Vietnam in the semifinals before her gold medal match with the Thai.
Samuel Thomas Morrison, silver medalist in the 2013 Universiade and winner of the under 68 kg class in 2015, took the gold in the -74 kg category.
The four golds were the most Team Philippines could expect even as it fell short anew in some events and settled for the silver.
The Philippines had a total of 22-28-54 gold-silver-bronze medals for the day and was virtually out of the running for the top 5 with fifth-ranked Indonesia a solid fifth (31-47-57). Singapore was fourth at 47-40-57, defending champion Thailand third at 50-69-67, Vietnam second at 52-38-47 and Malaysia the virtual overall champion at 94-63-62.
Missing the gold were taekwondo jin Arven Alcantara and Olympic veteran Michael Martinez (figure skating).
The other bronze medals came from the team of Jason Juerte, Rheyjey Ortuoste and Mark Joseph Gonzales in the sepak takraw doubles, the sailing team of Emerson Villena and Lester Troy Tayon, the rhythmic group in singles apparatus in rhythmic gymnastics and Elmer Abatayo in the lawn bowls singles.