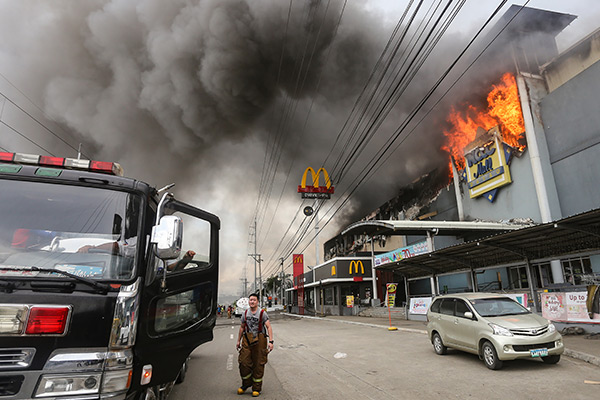 This photo taken on Dec. 23, 2017 shows a firefighter standing in front of a burning shopping mall in Davao City on the southern Philippine island of Mindanao. Thirty-eight people were killed in a fire that engulfed a shopping mall in the southern Philippine city of Davao, local authorities said on December 24. Manman Dejeto/AFP
WATCH: No fire exits? Criminal probes into deadly Davao mall fire launched
(philstar.com) - December 28, 2017 - 6:13am
MANILA, Philippines — Three criminal probes were launched to investigate the Davao City mall fire that killed 38 people after allegations of inexistent or locked fire exits.
"I have no personal knowledge about the fire exits but there is an investigation by the Bureau of Fire Protection, then there is a second investigation from the National Bureau of Investigation and there is a third party investigation from the group of the relatives of the victims, so we are expecting three separate investigations," Davao City Mayor Sara Duterte said.
The blaze began on Saturday, days before Christmas, trapping call center workers of US-based market research firm SSI, which announced on its website late Sunday that 37 of its 500 employees at the top-floor office had been "lost" in the fire.
The shopping mall fire compounded the Christmas misery in southern Philippines, where tens of thousands were displaced by floods and landslides from a storm that also killed 240 others on Friday.
Nonexistent fire exits?
Philippine authorities ordered a criminal investigation Monday as allegations surfaced of locked or nonexistent fire exits at the building, which its administrators denied.
"There is no truth to that allegation. In fact, as per accounts of those who got out, they were able get out thru the fire exit," Thea Padua, the mall's public relations officer, told AFP by text message.
Davao's fire marshal described the shopping mall on Sunday as "an enclosed space with no ventilation," though the authorities said they had yet to determine the cause of the blaze.
Deadly blazes occur regularly in the Philippines, particularly in slum areas where there are virtually no fire safety standards.
Corruption and exploitation mean supposedly strict fire standards are often not enforced.
Rescuers criticized
Some relatives of those missing earlier criticized rescuers for what they felt was the slow pace of recovery efforts.
"They seem so relaxed," said Jolita Basalan, weeping as she waited for news of her 29-year-old son Jonas who worked at the call center.
"They are not pained because they don't have a child there. They told us to come here but no one is moving," she told AFP.
SSI said it has arranged for counseling for its employees and will support funeral arrangements and set up a fund for the bereaved.
With low wages but strong English-language skills, the Philippines is a popular destination for international companies to set up customer call centers.