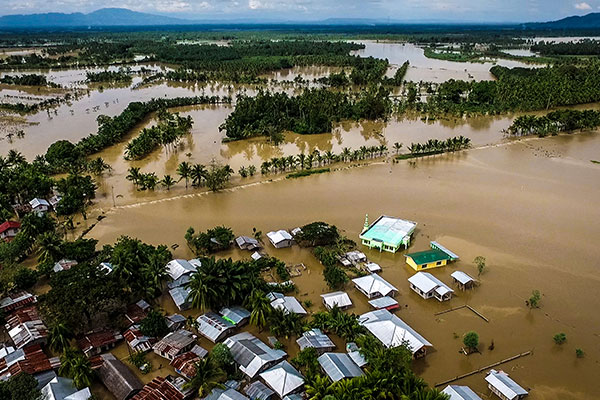 A general view of the flooded Municipality of Kabacan, North Cotabato, on the southern island of Mindanao on December 23, 2017, after Typhoon Vinta dumped torrential rains across the island. The death toll from a tropical storm in the southern Philippines climbed swiftly to 133 on December 23, as rescuers pulled dozens of bodies from a swollen river, police said. Ferdinandh Cabrera/AFP
'Urduja,' 'Vinta' leave scores dead: What happened to Project NOAH?
(philstar.com) - December 27, 2017 - 8:36am
MANILA, Philippines — After the Philippines was hit by a series of disasters at the peak of Christmas preparations, what happened to the disaster reduction project called NOAH (Nationwide Operation Assessment of Hazards)?
Tropical Storm Vinta (international name: Tembin), which lashed the nation's second-largest island of Mindanao, had displaced a total of 118,596 families and left 164 dead and 176 missing.
Vinta struck less than a week after Tropical Storm Urduja (international name: Kai-Tak) left 47 dead and 44 missing in central Philippines, government data as of December 27 showed.
In a tweet last December 25, University of the Philippines professor Mahar Lagmay said Project Noah "humbly" offers its services to National Disaster Risk Reduction and Management Council.
However, Lagmay, who acts as Project NOAH's executive director, did not disclose if such an offer was accepted by the NDRRMC.
"We humbly offer our services to NDRRMC just like it was from 2013 to pre-Urduja & Vinta. It's best if NOAH information is communicated well," Lagmay tweeted.
"Natanggal po ang NOAH sa Pre-Disaster Risk Assessment ng NDRRMC since March 2017. PDRA was formed immediately after Yolanda," he added.
Sought for comment, NDRRMC spokesperson Mina Marasigan said she was "not aware of such offer" from Project NOAH.
Aside from sitting on the so-called ring of fire, the Philippines is visited by around 18 to 20 typhoons annually, some of which can be very destructive.
Project NOAH was launched during the administration of former President Benigno Aquino III who said that its rain and flood forecasting system would be the "ark" that Filipinos could use during the rainy season.
As envisioned, Project NOAH was implemented as a more accurate, integrated and responsive disaster prevention and mitigation system, especially in high-risk areas across the country.
The project seeks to "provide high-resolution flood hazard maps and install 600 automated rain gauges and 400 water level measuring stations for 18 major river basins," according to its website.
The Project NOAH used to be the Philippines' primary disaster risk reduction and management program. It was initially administered by the Department of Science and Technology from 2012 until January 2017, when Project NOAH was downsized and is now managed by UP.
On January 29 this year, Lagmay announced the government will scrap the program due to "lack of funds" for it.