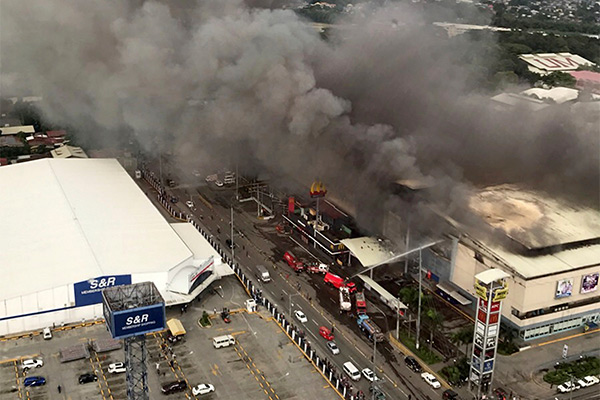 In this photo provided by Special Assistant to the President Christopher Bong Go, a fire rages at NCCC shopping mall in Davao city, the hometown of Philippine President Rodrigo Duterte, on Saturday, Dec. 23, 2017 in southern Philippines. The fire which still raging for hours now have trapped an undetermined number of people, fire officials said. Christopher Bong Go, Special Assistant to the President via AP
Davao mall fire: 1 dead, 'zero' survival chance of 36 others feared
(philstar.com) - December 24, 2017 - 5:46am
MANILA, Philippines — Davao City Mayor Sara Duterte-Carpio Sunday said firefighters have recovered one body from a burning shopping mall amid fear that there might be no chance of survival for the 36 others still trapped inside.
Duterte-Carpio said firefighters told distraught relatives of the 36 trapped employees of SSI Philippines Inc., a business outsourcing company at the top floor of the NCCC Mall, that nobody could survive the extreme heat and thick black smoke in the building.
But the Davao City mayor assured that firefighters would not stop until they find all those reported missing.
"They were told that the chances of survival are zero," she said, adding that one of those trapped may be a Chinese or a South Korean, based on the name.
Investigators will determine the cause of the fire and the prospects of criminal lawsuits against the mall owners and officials would depend on the outcome of the investigation, said the mayor, who is the daughter of President Rodrigo Duterte.
Firefighters fought for the second day on Sunday the blaze that hit the four-story NCCC Mall in Davao City.
"The fire hasn't totally been put out," Romina Marasigan, spokeswoman of the government's disaster-response agency, said.
Malacañang said it extends its thoughts and prayers to the families and friends of those still missing.
President Duterte and Roman Catholic Church officials also visited the site late Saturday to meet with relatives of the trapped office employees and asked them to pray. Duterte served as Davao City mayor for many years before being elected to the presidency last year.
The mall's marketing manager, Janna Abdullah Mutalib, said the fire started Saturday morning at the third floor, where clothes, appliances and furniture are sold, after a storm hit Davao and flooded parts of the city.
It is unclear when firefighters can break into most areas of the mall, where the blaze was put under control Sunday morning although smoke continued to billow from the popular shopping venue.
The Bureau of Fire Protection is currently determining the cause of the fire and the extent of the damage. — with AP