Policing and the protection of women and children
It's been a year since I began this column and I'd like to thank my readers for their interest and many useful comments. Last year, I wrote a great deal about different challenges confronting the nation as a whole. Often enough, when reading about these problems, it is tempting to focus solely on the negative. I want to begin the year, instead, with something positive: the work of the Women and Children Protection Center (WCPC) of the Philippine National Police (PNP).

Last November, I was involved in the rescue of eleven minors and one adult from an online trafficking operation in Iligan, which was orchestrated by the WCPC. I helped coordinate with the Department of Social Welfare and Development (DSWD) to provide the human trafficking victims with care and reintegration services. This experience gave me the opportunity to witness first-hand the work of the WCPC and the many challenges that they face every day.
When I first requested an interview with WCPC leaders, the appointment was made without question—for the Tuesday before Christmas. On a day that many Filipinos would have spent on last-minute gifts, preparing food for holiday feasting or packing for trips and family visits, the WCPC—like many other PNP frontline public service providers—were at work as a matter of course.
"We are used to being on-call all the time," one officer said, after I thanked them for allowing us to conduct interviews so close to the holiday, "That's part of our duty."
It's unfortunate that so few of us realize the sacrifices of our police personnel and officials. Indeed, we're mostly aware of them when media gets the chance to report on some new scandal. "Crime reports"—even those concerning arrests—generally focus on the crime and the criminal. Indeed, crimes, criminals and scandal all lend themselves to the sensationalism that provides bread and butter for the media.
But the PNP has a tough duty to perform, and despite its sensationally publicized shortcomings, strives constantly to overcome the public's low regard. Rather than simply being feared for their power, the desire to deservedly win public respect appears to be a major PNP motivation—at least among those I met.
After the November raid in Iligan, the same unit conducted successive operations in Antipolo, Tawi-Tawi, and Quezon City a month later, rescuing 67 victims and nabbing 26 traffickers.
But none of these stories became trending news, nor has the WCPC received much praise for doing well. Human trafficking ranks in the top three—along with arms dealing and drug smuggling—of all international criminal enterprises. Imagine if 26 gun runners had been arrested. And of course, we see "drugs on the table" photos from raids in trending news almost daily. Why drugs and guns get more media attention than women and children as criminal enterprises is a sociological question that deserves a column of its own, but for now, let's look more closely at the PNP's WCPC.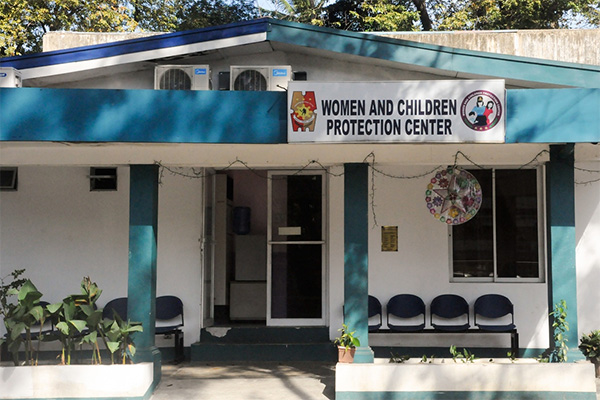 The façade of the WCPC Complaint Center, where cases of exploitation, violence, and abuse against women and children are addressed. HDPRC
The WCPC is one of the five divisions under the Directorate for Investigation and Detective Management. The division initially only handled cases related to violence against women and children. But, following a November 2014 National Police Commission resolution, the WCPC was strengthened and restructured to also investigate and enforce anti-trafficking in persons laws. So in addition to violence against women and children cases, their duties now include investigation, counter-intelligence, surveillance and operations in trafficking cases, as well as computer-based investigation of prostitution of children.
"It was a welcome responsibility," said WCPC Chief General Rosauro Acio. "85% of trafficking victims are women and children."
The WCPC, like many units in the PNP, confronts typical challenges: severe budget restraints, shortage of personnel—68 staff members, rather than the 200 their operations call for—and, tactically, a shortage of operational budget and having only two cars for their whole division—marked cars, at that—which can be worse than useless for certain kinds of operations.
According to General Acio, last year's budget was only P10 million for the whole unit—including their three regional headquarters—one each in Luzon, Visayas, and Mindanao. Most of these regional units do not have their own offices yet. In fact, the heads of Luzon and Visayas currently still hold office in Camp Crame.
The lack of personnel means the current staff, officers and even the chief himself are overworked, performing multiple tasks. "We lack people. We rarely find the time to rest, or have a day-off from work. We struggle in recruiting personnel," WCPC Chief Clerk Special Private Officer 4 Josephine Evanez said.
Police Superintendent Renante Lambojo of the WCPC Visayas Regional Office explained that the group's stringent requirements are one reason it remains difficult to recruit personnel. "It is difficult because of the requirements. They need to accomplish and secure many documents before being allowed to transfer. They also have to undergo several types of training."
Police officers who wish to be transferred to the WCPC have to have at least a rank of Police Officer 3, which means they must be have been in the service for nine years before they can qualify to transfer to the unit. Aside from that, once they get admitted, they have to undergo training in WCPC's Specialized Course in Anti-Trafficking. It is also an advantage if police officers have experience and training in basic and advanced investigation.
Looking at the brighter side, General Acio, says having a very small unit improves the accountability of his personnel—he can closely monitor the quality of their work. However, he admits that more people are needed for efficient and effective operations.
Lack of personnel aside, the WCPC's limited budget hampers their performance duty. Police Senior Inspector Joey Danas explains how this lack of resources hurts their efficiency. He said a large portion of last year's budget was used for surveillance. "For instance, if we want to put under surveillance a high-end bar that has trafficking transactions, the only way for us to get information is to go to the bar and talk to the managers and women (who are potential victims). That would require time and a huge amount of money. Also, if we want to rescue trafficked women and children, we would need to role-play as 'customers' to confirm transactions. We need money to get information."
Besides having only the two conspicuously marked cars, the WCPC shares a detention cell with another unit. The lack of detention space, in fact, affects their desire to nab more suspects. "Much as I wanted to continue, I don't have enough accommodation for many suspects. I have about 32 suspects under my care and it's draining all our resources," Gen Acio said.
But the WCPC remains committed to their oath to serve the public—most especially the women and children—despite the lack of resources. Indeed, from June 2015 to present, the WCPC has conducted 25 operations, rescued 227 victims, and arrested 59 suspects. Besides the all-important rescue of our victimized kababayans, our anti-trafficking efforts have gained international recognition and—better perhaps than mere nationalistic pride—has arguably put pressure on some of our ASEAN neighbors to improve their own anti-trafficking enforcement.
"Our goal, aside from rescuing women and children from abuse and trafficking, is really to educate our fellow police and the public to become gender-sensitive individuals. We hope that everyone gets to understand the importance of women and children's issues in our society." Police Superintendent Eder Collantes said.
"When we were not yet at WCPC, we didn't really realize the severity of problems confronted by women and children. But when we transferred here, having seen the true picture of their situation, we came to realize that we had a greater duty that we needed to perform. There is awareness and realization that there is the bigger responsibility of ensuring the safety of women and children," Police Superintendent Ernesto Lacanienta, Sr. added.
With such limited resources, WCPC is well-aware that they must count on the community to help them out. "As much as we want to make sure that everyone is safe from abuse and violence, we really cannot monitor the entire country. We need the public to provide us with information and help us jail the suspects and rescue the victims."
To improve public awareness, their regional and local women's desks now conduct educational campaigns in communities through various media. These have been effective because the communities have started giving information to the police. The reach, unfortunately, is still very limited.
"We need to educate the public on human trafficking. It's a very broad issue—sexual exploitation, labor trafficking, etc. It has many forms, and the public needs to be familiar with all of them so they know what information to give us, and what they should be observing in their respective communities. That way, they can help in preventing trafficking," General Acio added.
While recognizing that it takes time, he is confident that the PNP will eventually address the WCPC's budget and personnel shortfalls so it can meet the challenges they face more squarely. Meanwhile, he expressed his strong appreciation for the support of organizations like the International Justice Mission and the International Organization for Migration.
We could be doing much more. Trafficking in persons was a black market of about $32 billion in 2013—a figure that puts it on the same map as the arms and drug trades, yet--like so many other countries--we understandably focus on the "supply side," because it is the lives of our people that are at stake. But, like arms and drugs, human trafficking is founded on a globalized business model that has its own big players and its own rules. Like the other big time black markets, human trafficking depends for its existence on a mix of breaking and following certain laws. Loopholes, nationalistic resistance to cross-border law enforcement, political favoritism and outright corruption are all part of the formula.
While poverty and the protection of the vulnerable poor are core issues to me, and the rescue of exploited individuals is certainly deeply gratifying, from a structural point of view, such rescues are at par with the "drugs on the table" shots we're used to seeing in the news—it amounts to catching poor people who are exploiting other poor people without ever coming near the globalized operations—the economic puppeteers, as it were—that keep the market churning. We can do better.
In 2014, the PNP needed an additional 80,000 police to operate effectively. However, with a national total of 153,000 police, we have only one police officer per 700 people—way below the ideal of one per 500.
But worse, the globalization of human trafficking is clearly outstripping the technological resources available to law enforcement. Units like the WCPC need more help. On the one hand, they have had success, for instance, with many cases involving internet porn. On the other hand, dampening demand will require improved international liaisons, better equipment and training, and larger databases on traffickers. They will also need more aid from our first-world allies—many of whose citizens prey upon Filipino women and children—in the war against trafficking.
Working conditions for the PNP could always be improved, especially with better pay. At the same time, professionalizing the PNP ranks would also mean reducing opportunities for corruption, while increasing public trust. All told, the WCPC has done a lot of good with the little that it has. They deserve to be recognized and commended.