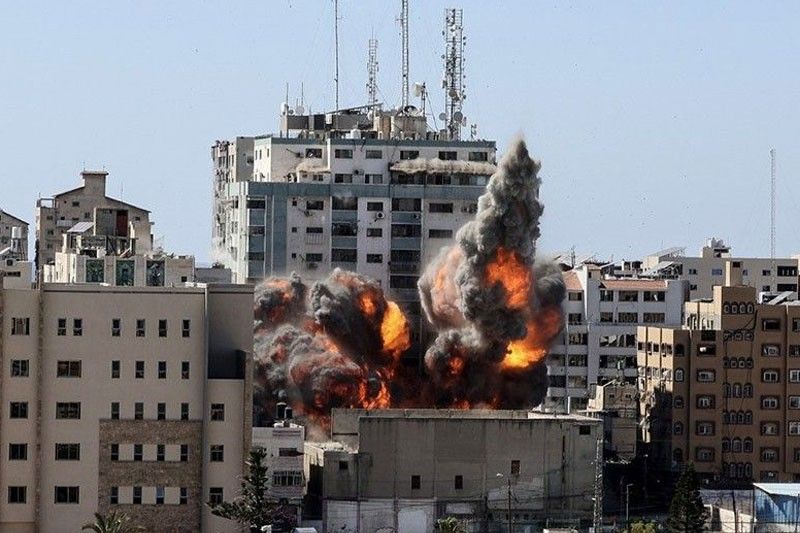 A ball of fire erupts from the Jala Tower as it is destroyed in an Israeli airstrike in Gaza city controlled by the Palestinian Hamas movement, on May 15, 2021. Israeli air strikes pounded the Gaza Strip, killing 10 members of an extended family and demolishing a key media building, while Palestinian militants launched rockets in return amid violence in the West Bank. Israel's air force targeted the 13-floor Jala Tower housing Qatar-based Al-Jazeera television and the Associated Press news agency.
AFP/Mahmud Hams
OFWs in Israel safe – OWWA
MANILA, Philippines — A number of Filipino workers trapped in the worsening hostilities between Israel and Palestinian militants have been evacuated to safer ground, the Overseas Workers Welfare Administration (OWWA) reported yesterday.
OWWA chief Hans Cacdac said overseas Filipino workers (OFWs) whose homes have no bomb shelter sought help from the Philippine government for evacuation.
"At this time, our priority is the safety of our OFWs so we evacuated them to a shelter," Cacdac said at a press briefing.
He said fewer OFWs have sought assistance since most of them are employed as caregivers and staying with their employers.
The Philippine government is undertaking in-country evacuation before possible mass repatriation, according to Cacdac.
"Hindi naman widespread ang evacuation," he said.
Cacdac said mass repatriation of OFWs would only be undertaken if the hostilities in Israel further worsen.
Based on OWWA records, there are around 30,000 OFWs in Israel. Of the figure, around 400 are staying in the Gaza Strip and two cities affected by the rocket attacks.
Despite the hostilities in Israel, the Department of Labor and Employment reported that most Filipino workers there would rather stay than return home.
"Wala pang gustong umuwi. Alam 'nyo naman maganda ang kanilang employment conditions doon at mababait ang amo," Labor Secretary Silvestre Bello said.
He said Filipino caregivers in Israel receive a minimum salary of P80,000 monthly.