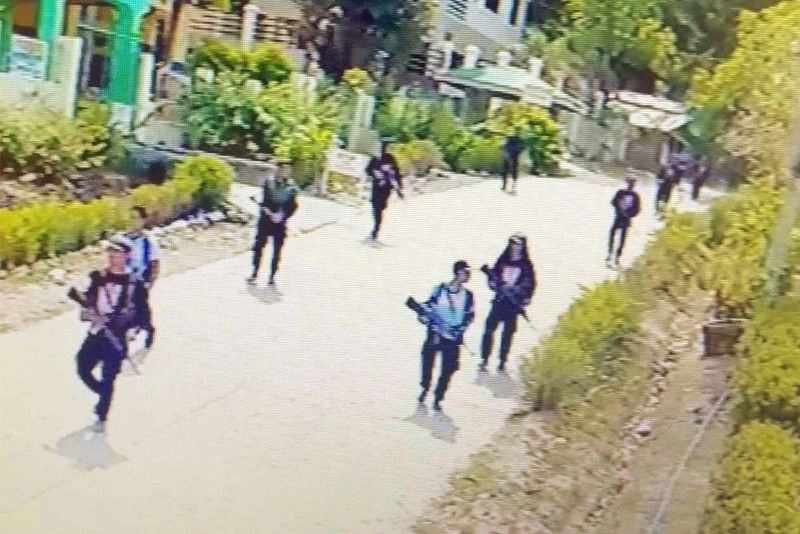 Screengrab from CCTV footage shows NPA rebels roaming in Barangay San Jose, Miag-ao, Iloilo on Wednesday.
NPA rebels storm Iloilo village
ILOILO CITY, Philippines — Suspected New People's Army (NPA) rebels reportedly stormed a hinterland barangay in Miag-ao, Iloilo on Wednesday.
Closed-circuit television camera footage showed the rebels carrying high-powered firearms in Barangay San Jose at around 9:45 a.m.
Lt. Col. Joem Malong, Western Visayas police spokesperson, said they also received reports that the rebels gathered near a cemetery.
"It's a bait for us to respond and... they will position... to ambush our troops," Malong said.
Lt. Col. Joel Benedict Batara, 61st Infantry Battalion (IB) commander, said the armed men could be members of the NPA's Panay-Southern Front Committee.
In Bukidnon, Col. Nolasco Mempin, 1003rd Infantry Brigade commander, said Benido Lambonay, head of the political wing of the NPA's Southern Mindanao Regional Committee, and his men Eyan Mandanoay, 20, and Ely Manlangoy surrendered on Wednesday.
Mempin said the surrenderees turned over two Garand rifles, two carbines and an M14.
In Cagayan, soldiers of the 17th IB overran an NPA camp in Barangay Lipatan, Sto. Nino on Thursday.
An M14 rifle, an M16, personal belongings and campaign materials of militant party-list groups were recovered at the scene.
Meanwhile, the military clarified that only one soldier, not three as earlier reported, was killed in clashes with NPA guerrillas in Barangay San Sebastian, Jones, Isabela on Wednesday. – Jaime Laude, Raymund Catindig