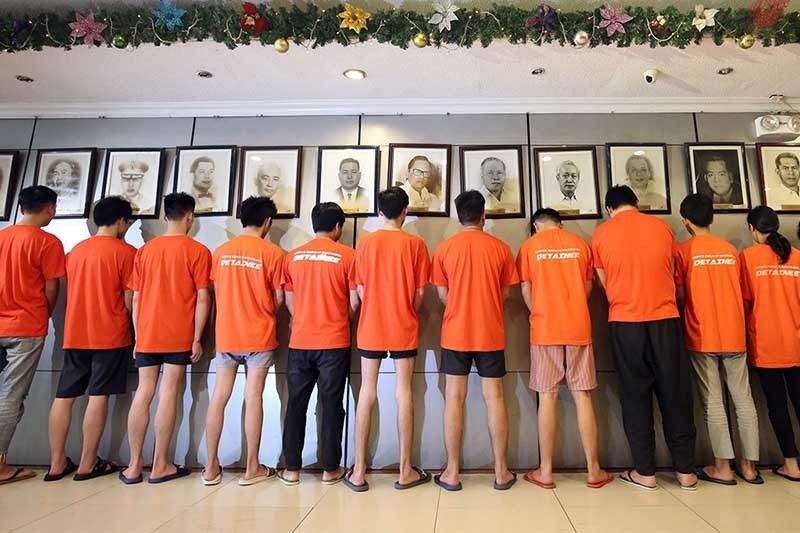 According to the Department of Labor and Employment, the department has issued about 52,000 Alien Employment Permits to Chinese nationals from 2015 to 2017.
The STAR/KJ Rosales
NBI arrests 14 Chinese for alleged illegal online gambling
(Philstar.com) - December 20, 2018 - 4:43pm
MANILA, Philippines — The National Bureau of Investigation said on Thursday it arrested 14 Chinese nationals for illegal online gambling in Bacolor, Pampanga.
NBI Director Dante Gierran said on Thursday that the following were allegedly engaged in operating/maintaining illegal online casino or gambling websites:
Chen Ya Ting
Chen Chengang
Sun Qiao Yan
Wei Bing
Lei Shi Feng
Gao Cheng Feng
Lin Jin
Wang Hai Tao
Wu Cheng Pin
Ruan Cheng Hui
Gao Fei
Chen Long Xi
The 14 will face a complaint of violation of Presidential Decree 1602, or the Anti-Illegal Gambling Act, as amended in relation to RA 10175 or the Cybercrime Prevention Act of 2012.
They were presented to the Department of Justice for inquest proceeding.
In a statement, the bureau said that its cybercrime division received an intelligence report on November 29 "concerning illegal online gambling activities managed by Chinese-looking nationals conducting various illegal number game and online casino without license from pertinent government agency."
On December 11, Capas, Tarlac Regional Trial Court issued a Warrant Search, Seize and Examine Computer data against the occupants of a facility in Bacolor, Pampanga.
"Together with technical agents from the NBI-Digital Forensic Laboratory who conducted live data RAM capture, the team positively identified that the devices are being used in processing, communication, marketing with their clients/maintenance and accounting of funds," the NBI said.
The agents seized 15 mobile phone devices, 11 desktop computer workstation, 2 laptop computer workstation, 2 routers and 2 modern enhancers.
The bureau said that Chen—one of those arrested—was not in the area when the warrant was served.
The arrest of the 14 came amid a noted influx of Chinese nationals coming in the country.
Senate hearing on Chinese workers
The Senate's Committee on Labor, Employment and Human Resource Development held hearings to look into the reports of Chinese nationals working in gambling operations in the Philippines.
During the hearing in November, Sen, Grace Poe said: "Immigration, [Department of Labor and Employment] should go to these sites. Surprise inspection. If they see that they don't have permits, they should be arrested and deported."
Labor Undersecretary Ciriaco Lagunzad also said that DOLE issued about 52,000 Alien Employment Permits to Chinese nationals from 2015 to 2017.
DOLE officials said that the Chinese enter the country through visa and later getting short-tem permits or work for online gaming firms.
In 2016, authorities arrested 1,316 Chinese workers working in illegal online casinos in Clark Freeport, Pampanga. The arrest also uncovered an allleged bribery attempt inside the Bureau of Immigration that led to the indictment of two of its former deputy Commssioners Al Argosino and Michael Robles for plunder.
Last November 25, authorities filed complaints of illegal gambling against 87 Chinese and 16 Filpinos who were arrested during a raid in an online gambling facility in Pasig City. — Kristine Joy Patag