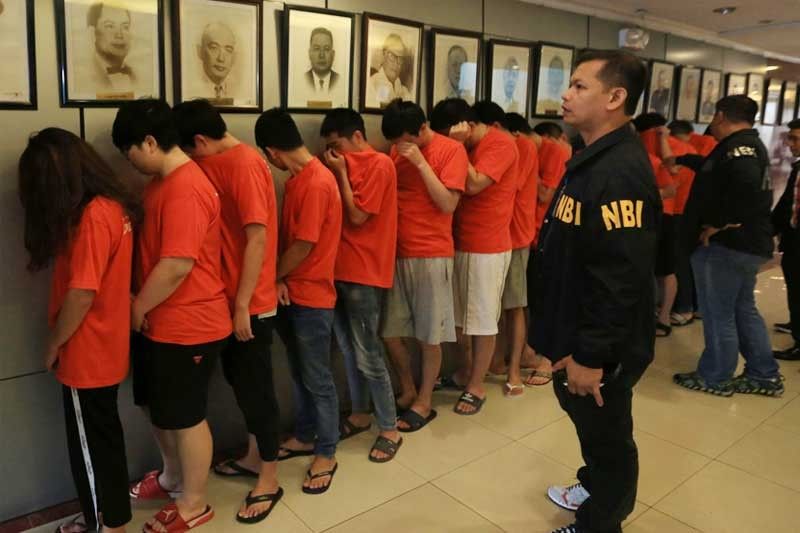 During a recent Senate inquiry on the influx of foreign workers in the Philippines, it was revealed that the labor department has issued almost 52,000 alien employment permits for workers from China.
Edd Gumban
'Deport 52,000 illegal foreign workers, with care'
Alexis Romero
(The Philippine Star) - November 29, 2018 - 12:00am
MANILA, Philippines — President Duterte approves of the deportation of illegal Chinese workers, but said the crackdown should be carried out with caution because there are Filipinos getting lenient treatment abroad.
During a recent Senate inquiry on the influx of foreign workers in the Philippines, it was revealed that the labor department has issued almost 52,000 alien employment permits for workers from China.
Labor officials said the Chinese enter the country using tourist visas before getting short-term permits to work for online gaming firms.
The Senate labor committee has also learned that more than 119,000 tourists, most of them Chinese, were able to skirt Philippine labor regulations.
Duterte agreed that the illegal workers should be deported, but noted that some countries have been lenient to Filipinos.
"Yes, they should be deported. But in the same manner, you should be careful because when you point to the Chinese you also point… at us. There are so many thousands of Filipinos working there or went inside China as tourists and (are) working there," the President said yesterday.
"Remember it's not just exploiting a story about the Chinese working here. We are doing the same thing in Malaysia. A lot of our women are there – in Indonesia, China, Korea," he added.
Duterte said while some Filipinos are complaining about the presence of foreign workers, other countries are facing the same issue.
He said going "rough" on the issue might have an impact on Filipinos in other countries.
"Remember that we have also exported the same problem to them," the President said.
Duterte said the entry of illegal workers is not OK but there has to be an "arrangement" on how they should be handled.
"If you think that you are at a loss, at a disadvantage because there are so many Chinese nationals working here, remember that we have the same amount of people – Filipinos who are there working in China. But they are not deporting anyone… maybe you can just tell them to go home," Duterte said.
"Otherwise, if you start to get rough on this issue, there is a distinct possibility that it will also happen to you. So you know when you sail your ship of state, you avoid turbulent waters," he added.
The President cited the case of South Korea, which he said has been lenient in issuing visas to Filipinos out of gratitude for the Philippines' assistance during the Korean War. He said the lenient treatment "should not be a cause for abuse."
The Federation of Free Workers (FFW) yesterday called on Labor Secretary Silvestre Bello III to immediately act on illegal aliens, particularly the undocumented Chinese nationals working in the country.
According to FFW president Sonny Matula, the government should not tolerate foreigners who work illegally in the country, considering that millions of Filipinos remain unemployed.
"The influx of hundreds of thousands of Chinese workers is dangerous not only to our jobs but also to our national security," he said in a statement.
He noted it is ironic that some 5,000 Filipinos leave the country daily to work abroad "yet we are letting thousands of Chinese workers illegally taking our jobs in construction, leisure and other industries in our country."
Matula made the statement in reaction to reports that many Chinese nationals are now working in some bridge construction projects in the country. Aside from this, many others are also involved in online gaming and most of them are undocumented.
He added the Department of Labor and Employment (DOLE) has been empowered to regulate the employment of non-resident aliens under Article 40 of the Labor Code.
Sen. Risa Hontiveros said the influx of Chinese workers is an assault on the country's sovereignty and economy.
"It is a direct assault on our sovereignty and economy. In the case of Chinese workers in the Philippine Off-shore Gaming Operators (POGO) industry, they are not desperate workers from a poor country forced to go abroad and seek job opportunities in a rich country. These are citizens of a superpower nation coming to a developing country to take advantage of our lax laws and government negligence," she said.
Hontiveros pointed out that the Chinese government's lack of strong action on this matter, the threat of a debt trap from Chinese loans and their continuing incursions into the national territory seem to point to a concerted effort to undermine Philippine integrity.
"These are not the actions of a friendly state but rather of a bully who thinks our country is its province and playground… I call on the Duterte government to take strong actions to address this issue," she said.
She said the government must ensure that jobs which Filipino workers are qualified for be made available to local workers.
Hontiveros said the government must see to it that the POGO industry is strictly regulated, revenues are monitored, taxes are paid and facilities are not used to commit crimes.
"I call for total transparency in the agreements signed by the Philippine government with China. The government should bare all the details of the said agreements. Are there provisions that guarantee the employment of Chinese nationals in our infrastructure projects to the great detriment of Filipino workers? How do they affect our immigration and labor laws and even the Constitution?" Hontiveros said. – With Edith Regalado, Sheila Crisostomo, Cecille Suerte Felipe