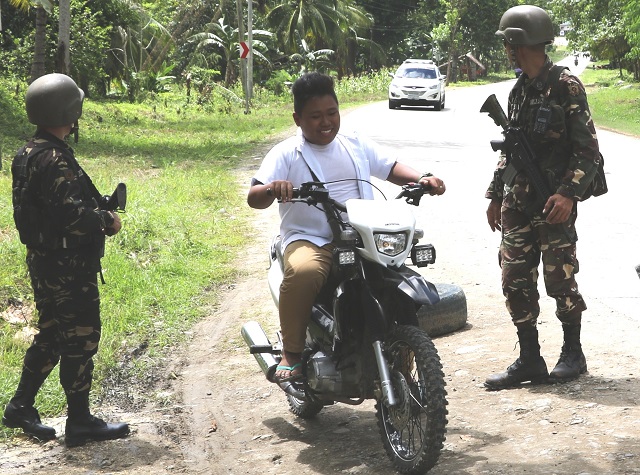 In this July 2017 file photo, soldiers flag down a motorcycle rider in Maguindanao. Gov. Esmael Mangudadatu says province officials will not object to extending martial law in Mindanao until the end of President Rodrigo Duterte's term in 2022.
Maguindanao, Lamitan City officials OK with martial law until 2022
John Unson
(Philstar.com) - December 11, 2018 - 2:33pm
COTABATO CITY, Philippines (Updated 2:53 p.m.) — Local officials in the Autonomous Region in Muslim Mindanao on Tuesday urged President Rodrigo Duterte to extend martial law in Mindanao until 2022, three years more than the president has asked Congress to approve.
Members of the Lamitan City council said they do not oppose an extension of the martial in Mindanao, which has been in place since May 23, 2017. The declaration of martial law was in response to the siege of Marawi City by combined Maute and Abu Sayyaf terrorists.
Lamitan Councilor Joaquin Puri, Jr. said Tuesday that it would be "hypocrisy" for lawmakers from outside Mindanao to oppose an extension of martial law. He said most residents in the region are in favor of extending what was meant to be an emergency measure.
"The security situation in Basilan has improved as a consequence of the massive implementation of infrastructure projects by the Autonomous Region in Muslim Mindanao in the past six years and the enforcement of martial law since 2017. Why rock the boat? Keep it on," Puri said.
Puri said the presiding officer of their Sangguniang Panglungsod, Vice Mayor Roderick Furigay, and his wife, Rose, who is Lamitan City's incumbent mayor, both support martial law in Mindanao.
"It is saddening to hear members of the Senate and the House of Representatives who are not from Mindanao talk a lot against an extension of the martial law without even considering that most Mindanaons are for it. Silly, so silly," Puri said.
RELATED: Basilan car bomb kills 11
The Furigay couple, who are seeking reelection, separately said Tuesday they drafted resolutions last month in support of extending martial law, which is slated to end on December 31, 2018.
Vice Mayor Furigay said martial law will help secure the May 2019 elections in Mindanao's politically troubled areas.
Elections are not among the justifications for martial law in the 1987 Constitution, which allows the declaration of martial law and the suspension of the writ of habeas corpus "in case of invasion or rebellion, when the public safety requires it."
"We have seen improvements in the investment climate of Lamitan City as a result of the martial law so it must be extended," the vice mayor said.
Konsensya Dabaw, a human rights movement based in Davao City that opposes the extension of martial law, warned in a statement Monday that "Mindanawons are being conditioned to equate martial law with order and respite from crimes, which should be pursues through effective, consistent and reliable law enforcement and rule of law in the first place."
Vice Mayor Furigay said they will not oppose a Mindanao-wide martial law "co-terminus" with the Duterte presidency.
Mangudadatu backs martial law
Local executives in Maguindanao, where there is presence of Islamic State-inspired blocs, are also in favor of an extension of the martial law.
Gov. Esmael Mangudadatu, presiding chairperson of the inter-agency Maguindanao peace and order council, said Tuesday he and members of the league of mayors in the province are not opposed to an extension of the martial law.
"The enforcement of martial in the province since 2017 resulted in the speedy settlement of more than a dozen deadly clan wars involving big clans and the military's collection of more than a thousand unlicensed firearms from people in the province," Mangudadatu said
He said the martial law also restrained political warlords from bringing with them heavily-armed escorts when they go around.
"It will hasten the enforcement by the Commission on Elections of the ban on carrying of firearms as the campaign period comes near," Mangudadatu, whose brother Zajid is on the administration's senatorial slate, said.
Mangudadatu said an extension of the martial law can also ensure the completion of big-ticket government infrastructure projects in hostile territories.
"In Maguindanao, the martial law helped instill discipline among people who love to move around carrying unlicensed guns as `status symbol' and to intimidate political adversaries," he said.
Magudadatu said he has not heard any of Maguindanao's 36 town mayors speak against an extension of martial law.
"We are all behind the president on that regard. Kahit ituloy-tuloy na ni Pangulong Duterte hanggang matapos ang kanyang termino eh okey lang sa amin," Mangudadatu said.
(Even if President Duterte will extend it until the end of his term, we are okay with it.)
(Editor's note: The headline in an earlier version of this story read "Local ARMM officials OK with martial law until 2022". It has been updated to reflect that the views on martial law are from Maguindanao and from Lamitan City in Basilan.)