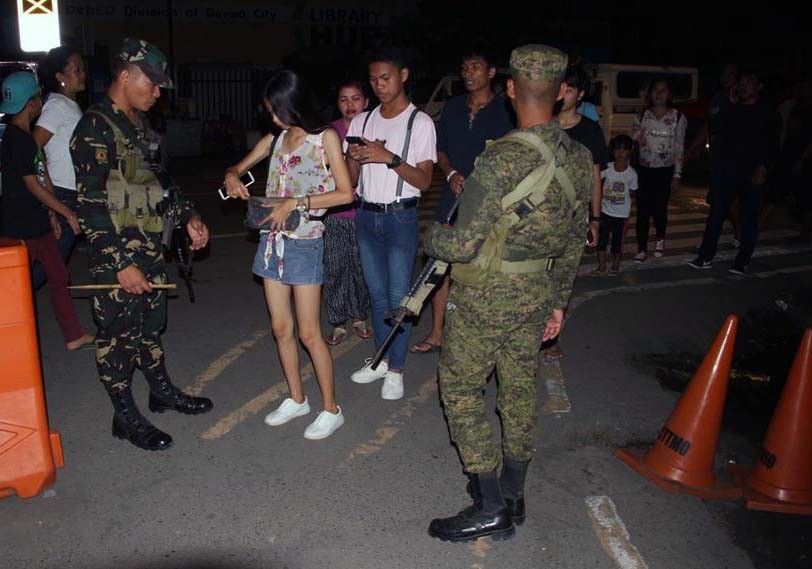 In this photo posted on August 19, 2018, members of Task Force Davao secure the Kadayawan Festival.
Task Force Davao Facebook page
Davao rights group questions need for more martial law in Mindanao
MANILA, Philippines (Updated 6:56 p.m.) — A Davao City-based human rights movement on Monday called on Congress to reject President Rodrigo Duterte's request to extend martial law in Mindanao for another year.
In a letter submitted to the Senate and the House of Representatives on Monday, the chief executive said that security assessment by the police and military indicated that rebellion still persists in Mindanao, thus urging both chambers to extend the proclamation of military rule for another year.
Duterte noted that the Abu Sayyaf Group, Bangsamoro Islamic Freedom Fighters, Daulah Islamiyah (DI) and other terrorist groups continue to perpetuate threat in the entire region.
"A further extension of the implementation of martial law and suspension of the privilege of habeas corpus in Mindanao will enable the AFP, the PNP and all other law enforcement agencies to finally put an end to the ongoing rebellion in Mindanao and continue to prevent the same from escalating in other parts of the country," the chief executive said.
Conditions for martial law 'do not exist'
But Konsyensya Dabaw saw no condition that necessitates the third extension of martial law in Mindanao.
"The president himself declared Marawi City liberated on October 17, 2017. The security sector has been systematically conducting operations against the DI/Maute, which was already pronounced 'leaderless,' and other violent extremist groups," the human rights movement said.
It stressed that another extension would only normalize martial law instead of being an extraordinary measure as mandated by the 1987 Constitution. The Constitution is clear that martial law may be declared only in cases of actual rebellion when public safety requires it.
"Mindanawons are being conditioned to equate martial law with order and respite from crimes, which should be pursues through effective, consistent and reliable law enforcement and rule of law in the first place," it said.
Counter-insurgency motivation
In his letter to the Congress, Duterte also mentioned communist groups, which he said pose serious security concerns.
Konsyensya Dabaw noted that the report of Gen. Carlito Galvez, Armed Forces of the Philippines chief of staff, last month on massive surrenders by New People's Army guerrillas and supporters could mean "either the AFP already wiped out all of the New People's Army in Mindanao; or if the NPA has not yet been contained, then most of the claimed 10,000 surrenderees are, in all likelihood, civilians."
"If the NPA has been significantly weakened in Mindanao, what need is there for extension? On the other hand, if most of those who surrendered under questionable circumstances civilians, who is it that truly benefits from the protection supposedly afforded by martial law?" it said.
'Tapok-hangyo'
The group also warned about the "tapok-hangyo", or "TapHang," where community members suspected of being rebel supporters are herded into mass gatherings and declared as surrenderees.
"Martial law and its seemingly 'indefinite' state has created a climate where those in authority in Mindanao seem to have been emboldened to use brute force or to curtail civilian rights and freedoms," it said.
It pointed out that the Davao City council passed an ordinance in November banning "activities that would cause traffic jams, including streets protests." It said that while "the legislation seemingly still respects the rights to freedom of assembly and free speech but actually contains and limits their expression to designated places in the guise of ensuring smooth traffic flow."
Elsewhere in Mindanao, Konsyensya Dabaw said, "cases of fake and forced surrenders have been documented in recent times in Davao del Norte, Compostela Valley, Agusan del Sur, Bukidnon, Misamis Occidental, and Zamboanga del Sur."
Rights group Karapatan has documented 88 individuals killed by state forces and paramilitary groups from the declaration of martial law in Mindanao on May 23, 2017 to November 30, 2018.
At least 1,450 have been illegally arrested, while around 346,940 people were affected by bombings of communities by the military, Karapatan also said.