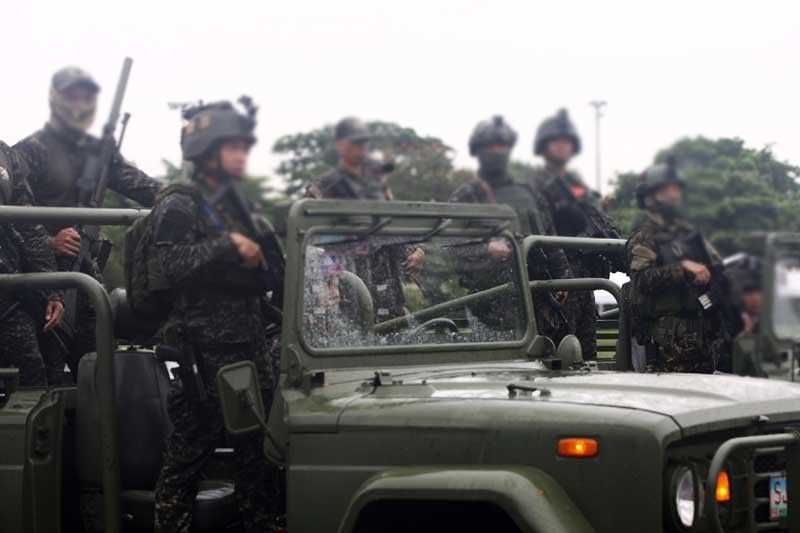 Lt. Col. Gerry Besana, Western Mindanao Command (Westmincom) spokesman, said the military has blow-by-blow accounts of the clash on September 14.
Miguel De Guzman
Westmincom welcomes probe into Patikul, Sulu 'massacre'
Roel Pareño
(Philstar.com) - September 19, 2018 - 4:12pm
ZAMBOANGA CITY, Philippines — The military's Western Mindanao Command is open to any investigation into allegations that seven men killed in Patikul, Sulu last week were fruit-pickers and not Abu Sayyaf members.
"Of course, we welcome (the investigation). If there will be and order, we'll be waiting for it, we welcome that investigation," Lt. Col. Gerry Besana, spokesman of for the command said.
He said the Armed Forces of the Philippines has already issued its statement that the men were killed in a clash between troops and the Abu Sayyaf on September 14.
The military said 17 soldiers and six Abu Sayyaf were wounded in the clash, which involved around 100 militants.
"We have all the documents to prove that and the blow-by blow-accounts are all in documents that we cannot just fabricate," Besana said.
The Regional Human Rights Commission in the Autonomous Region in Muslim Mindanao (RHRC-ARMM), in a statement, said it already sent a team to Jolo, the capital town of Sulu, to gather data and verify the claims that the seven were civilians.
Westmincom: We have documents to prove they were Abu Sayyaf
Besana said the command can provide the documents that detail the operations from the time the encounter started until the seven alleged Abu Sayyaf were turned over to the local government of Patikul. He said troops retrieve the bodies of slain Abu Sayyaf from proper burial.
"It was just unfortunate somebody took a video, photos after the turnover or after the transfer of custody of the dead bodies, then made a story out of it and saying otherwise. All the allegations can be easily belied by the events, all the people who there. It is only unfortunate the people talking are not the ones who are there," he said.
He added the allegations have affected operations "because we are supposed to be focused on running after the Abu Sayyaf group [instead]."
Lawmakers at the House of Representatives on Tuesday filed a resolution for an inquiry into the deaths.
Members of Makabayan bloc, along with Reps. Cheryl Deloso-Montalla (Zambales) and Ruby Sahali (Tawi Tawi) filed Resolution 2186, directing the House Committee on Human Rights to conduct a probe, in aid of legislation, into the incident.
The Makabayan bloc includes Reps. Sarah Jane Elago (Kabataan), Carlos Isagani Zarate (Bayan Muna), Emmi De Jesus (Gabriela), Antonio Tinio (ACT-Teachers), Arlene Brosas (Gabriela), France Castro (ACT-Teachers) and Ariel Casilao (Anakpawis).
According to Moro rights group Suara Bangsamoro, those killed were not Abu Sayyaf but "husbands of Pantawid Pamilya beneficiaries in Patikul who were shot" while picking fruits that they had asked the military for permission to harvest.