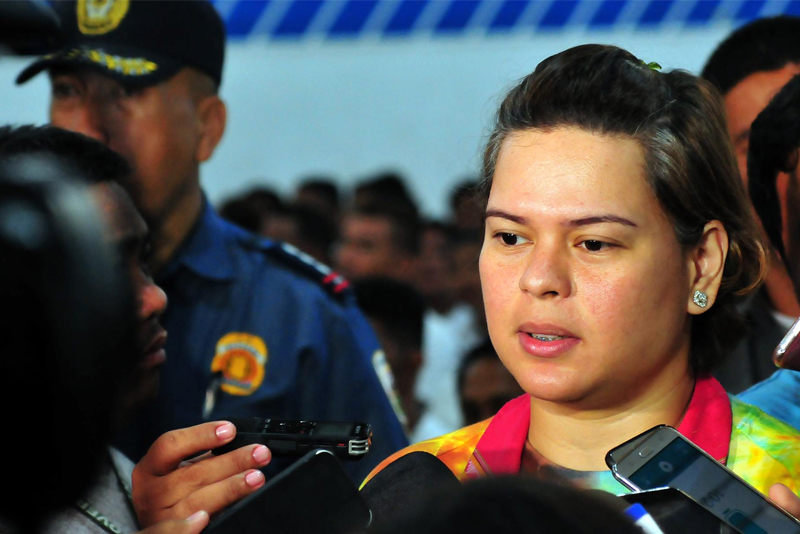 In this May 2, 2017 photo, presidential daughter Sara Duterte, the mayor of Davao City, speaks to reporters. Davao City Government/Released
No longer on lockdown, Davao City under 'hold-and-secure' status
(Philstar.com) - May 24, 2017 - 8:02am
MANILA, Philippines (First published at 1 p.m.) — Mayor Sara Duterte-Carpio on Wedneday revised her earlier declaration placing Davao City "on lockdown" to a "hold-and-secure situation."
The announcements came after her father, President Rodrigo Duterte, declared martial law over the entire Mindanao late Tuesday after government troops clashed with the extremist Maute group in Marawi, Lanao del Sur.
"Mula sa lockdown, we have changed the situation to a hold-and-secure situation," Duterte-Carpio said at a televised news briefing in Davao City on Wednesday.
"We are preventing violence from erupting inside the city. We are preventing violence from entering Davao City. We are discouraging travel to and from Davao City if it's not an urgent matter to attend to," she added.
Individuals are usually discouraged from entering or leaving a place on lockdowns and hold-and-secure situations, but a lockdown is considered the more extreme measure by minimizing the visibility of people deemed vulnerable. When a place is under a hold-and-secure measure, normalcy is still observed within the premises.
She also discouraged Davao residents from traveling to other towns in Mindanao while government awaits further directions on the implementation of martial law.
There will be increased patrolling of areas as she claims having information that there are Maute members inside Davao City.
"They are Maute members, (from the) Maute group. Mero tayong identified individuals inside Davao City but they are under the control of our law enforcement authorities," Duterte-Carpio said.
"Wala sila sa labas, hindi sila nakakalabas. Hindi sila nakaka-roam around the city (They are not outside and able to go around)," the mayor added.
The mayor also said that while there are no reports on a security threat in the president's hometown, the Maute group might divert the attention from Marawi to Davao.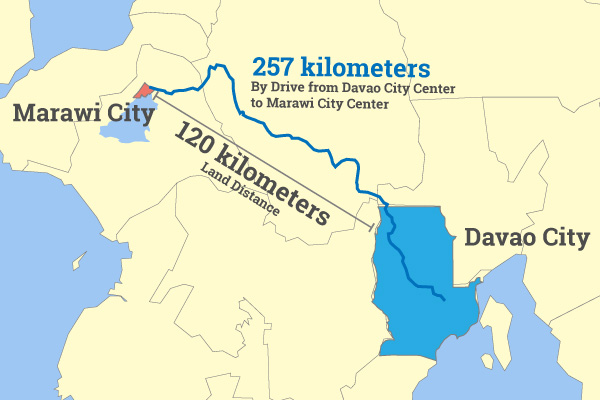 Davao City Mayor Sara Duterte says the armed extremists might divert their attention from Marawi City in Lanao del Sur to Davao City, the hometown of her father, President Rodrigo Duterte.
"They would want to do it here in Davao City kasi number one, nandito nakatira ang president and number two is Davao City is the rallying point of Mindanao," Duterte-Carpio said.
"Yan yung isa sa mga points na ginagawaan namin ng mga aksyon, the possibility of divertion or the possibility of retaliation inside Davao City," she added.
Duterte-Carpio said business establishments, banks and government offices will remain open despite the situation.
"Ang sa amin lang we encourage them to have an emergency plan. We encourage businesses not to retain large amounts of cash inside their premises, and we strongly encourage them to invest in private security guards, modern security equipment and modern fire fighting equipment," Duterte-Carpio said.
Duterte-Carpio said there are no current travel advisories on Davao issued by foreign countries, but they may do so soon "in light of the declaration of martial law in Mindanao."
Security measures
Mayor Duterte-Carpio earlier said local authorities elevated their security presence along shorelines to prevent the entrance of outsiders.
"Sa experience natin dati dumadaan sila sa dagat, nag-babangka sila so kasali na sa consideration 'yun may increased maritime shoreline patrol sa coastal areas ng IGACOS (Samal), Davao City and Davao Oriental," she added.
Despite the boosted security measures, the number of security personnel deployed in Davao City will not be increased and the night market—the site of a bombing in September 2016—will not be closed.
She said, moreover, that the physical freedom of people will not be constraint even as they are discouraged from traveling to other places in Mindanao.
"The declaration of martial law will not prevent the operation of our Philippine Constitution. So lahat ng nasa bill or rights na naka lagay sa Constitution natin, lahat 'yun in effect," Duterte-Carpio said.
"That's why yung guidlines namin nakalagay only discourage unless of course may violation na ng existing laws," she continued. — Infographic by RP Ocampo