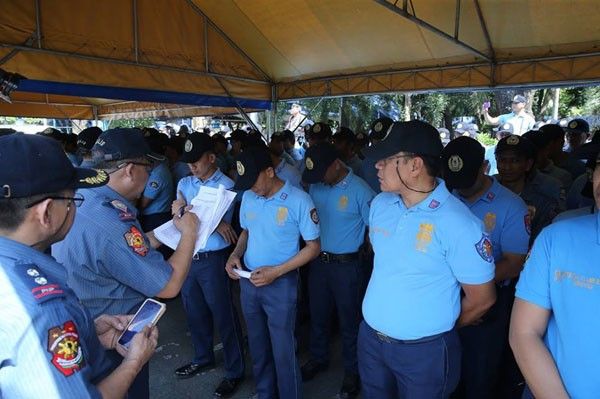 Officers of the National Capital Region Police Office assemble in Camp Crame before meeting President Rodrigo Duterte last Tuesday.
Facebook/PNP, released
NCRPO officers scolded in Palace not 'ninja cops'
MANILA, Philippines — The more than 200 members of the National Capital Region Police Office whom President Rodrigo Duterte scolded in Malacañang on Tuesday are not 'ninja' cops, a source said on Thursday.
"No, they are NOT ninja cops," a source said.
So-called 'ninja cops' are police officers who resell illegal drugs seized in legitimate police operations. The practice came to light last October in House hearings on the illegal drug trade in the New Bilibid Prison.
The NCRPO officers face complaints ranging from absenteeism to taking bribes to extortion, the source said.
The source, however, said that the police officers will still be issued an order for reassignment regardless of the gravity of the charges they are facing. "If you have an offense, it is still an offense," the source said.
Last Tuesday, President Duterte met more than 200 erring members of the NCRPO and ordered them to be deployed to Sulu, Basilan and Tawi-Tawi, where the Abu Sayyaf and Maute group operate.
"Kayo lahat ngayon nandito, kasali kayo sa Task Force South. Padala ko kayo sa Basilan. Tumira kayo doon ng mga dalawang taon," the president said.
The order came after seven police officers were accused of extortion of three Korean nationals in Angeles, Pampanga and after the abduction and murder of Korean businessman Jee Ick-Joo at the Philippine National Police Headquarters in Camp Crame last October 2016.
'Not a form of punishment'
PNP spokesperson Senior Superintendent Dionardo Carlos said on Wednesday that reassigning police officers to other areas is not a form of punishment.
"Hindi po ito parusa. It's an ongoing activity or program in the Philippine National Police," Carlos said in a press briefing at the PNP headquarters in Camp Crame.
The source clarified that sending the erring cops to Mindanao, as ordered by the president, is a form of reassignment and that it is a part of the sworn duty of the police to be law enforcement officers anywhere in the Philippines.
"To complain of your reassignment is defying the order of the president," the source said.