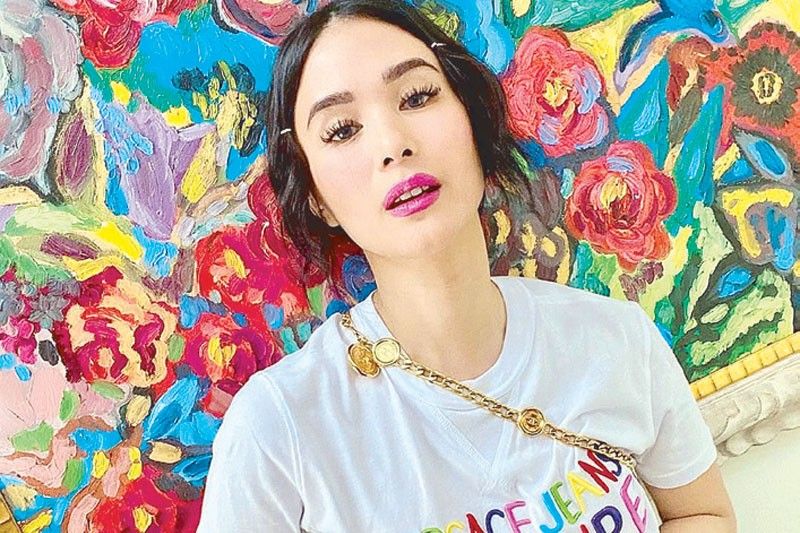 Heart Evangelista wears the newest from Versace Jeans Couture.
Distinqt shopping in the new normal
Where did actress and tastemaker Heart Evangelista shop during the first few days of GCQ? She was spotted at multi-brand concept store Distinqt. Distinqt is a fashion insider favorite for contemporary cult-status brands like Dion Lee, N21 and Zimmermann (which was recently under fire for racist company codes, but they have been quick to learn their lesson and are officially un-canceled by #wokeculture and on the road to redemption).
Despite the economic pause that was the quarantine lockdown, Distinqt opened up new channels to shop the latest from their roster of brands, which now includes Versace Jeans, Donatella Versace's vision of streetwear, elevated.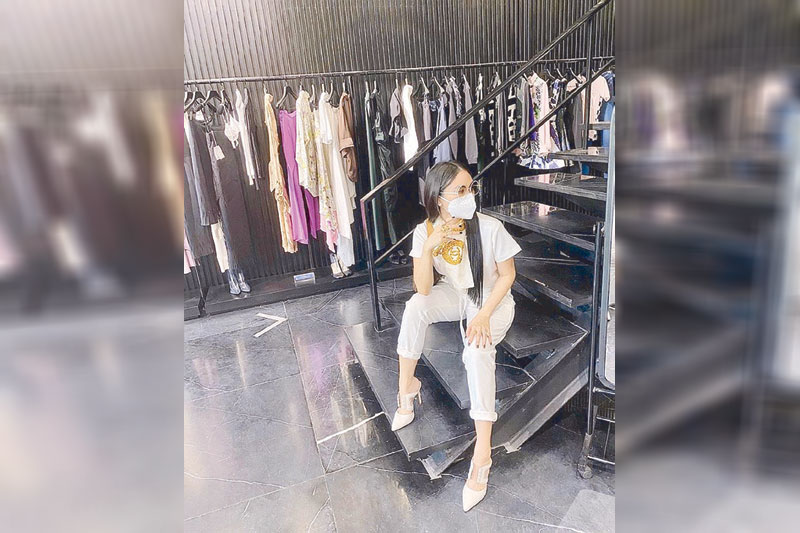 We wanna know: how are they doing? We spoke with operations manager Jan Andrew Naval.
YSTYLE: What are the new protocols in the stores?
JAN ANDREW NAVAL: We have reopened the Distinqt boutique in Shangri-La at the Fort. We made sure that we follow the required guidelines and set in place the protocols provided by the landlord and IATF. Before the reopening we had to conduct deep cleaning and sanitizing of the entire store. We have a sanitation mat before you enter the store. Our customers will be required to put on foot covers with our automatic foot-cover machine. We check everyone's temperature upon entry. Aside from the sanitation spot in the store entrance, we also assigned various areas in the stores as sanitation spots so customers can easily access these when they shop. We have our own UVC machine, which we regularly use to disinfect not only the store but also the merchandise. We have set protocols before and after fitting to assure our clients. We encourage contactless payment and we have installed a counter shield. Our store personnel are also equipped with the required PPE, which we strictly implement when on duty. We had our store personnel tested before the reopening.
What are the changes to Noble House Group's operations?
Since the lockdown, we automatically adapted to a work-from-home set-up. We regrouped and developed new shopping channels that allowed our clients to shop from home. The new shopping channels provided different options to our clients. They may shop from our newly developed ecommerce, Distinqt.ph, through door-to-door shopping, our social media platforms, virtual tours or by appointment in-store shopping.
Distinqt relaunched its ecommerce platform. How did you make it better?
Even before the lockdown, we had been running our own ecommerce, but the lockdown allowed us to further develop it and aggressively promote it to our existing and new clients. We shifted to a better platform, which allowed us to improve the customer experience. We make sure that Distinqt.ph is a mirror of the physical store. We wanted the customer experience to be the same and even better. We constantly update and launch new collections in both the boutique and online. There's still more to come in Distinqt.ph.
Any changes in bringing in the latest collections?
Our brands have shifted to virtual buying. We actively participate to assure that we still bring in new brands and merchandise to our Distinqt clients.
What have people been buying during this period? Any changes in shoppers' habits?
As soon as we relaunched our ecommerce, initially, our clients were more inclined to shop for novelty pieces and accessories. Although now we are gradually getting sales from RTW, with our quarantine slowly easing. People are definitely extra cautious, and with the new shopping channels we are implementing, we can see that our shoppers are gradually adapting to it. It is very important to have the confidence of the consumers to shop once again. We also need to adapt to the changes and provide services that will make it easy and convenient for our clients.