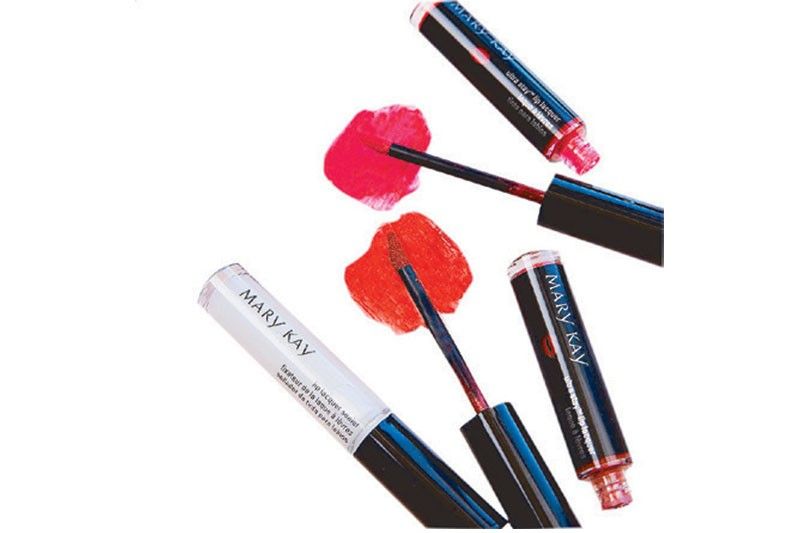 Mary Kay's new Ultra Stay Lacquer Kit won't stain facemasks, nor does it require touch-ups.
The lipstick effect is back
People treat themselves to small indulgences to power through challenging periods in history. Lipstick is exactly that. Coined in response to a substantial spike in lipstick sales during the Great Depression, the term "lipstick effect" has actually become an economic indicator, used during the 2001 US economic slump following the 9/11 terrorist attacks to measure consumer confidence.
Now that facemasks are essential — but our lips will remain covered — we can forecast that, instead of lipsticks, the rest of 2020 is about the eyeliner effect. But adjusting to this change during the past few weeks, I find that putting on eyeliner is just not as easy and effortless as swiping on lipstick to look and feel more put-together.
"Lipstick can help you power through the most adverse situations," says Mary Kay Philippines marketing and customer service director Criscy Camacho. "We wear it for ourselves — to feel empowered and be the best we can be. It doesn't matter if other people don't see it, as long as we feel it."
The direct-selling beauty company's latest launch is a lip product that won't transfer to your facemask. Mary Kay Ultra Stay Lacquer Kit is a three-step system that contains a lip lacquer, sealer and eraser, all equipped with a flexible doe-foot wand for a precise application. There are two shades: Cherry, a bright red; and Rose, a pinkish nude. Both have a luscious, glossy finish without being sticky.
I tried it under a facemask, ate a meal, and kissed my family members (whom I live with!) while wearing it, and trust me when I say that it did not budge. Many lip products claim to be long-wearing and transfer-proof, but this delivers its promise without drying my lips.
It's sure to be a hit now that GCQ is in full swing. "For the first two months, when we all went on ECQ, I think it 'shocked' everyone and spending priorities shifted to self-care and hygiene products," says Criscy. "But from May onwards, things went back to normal. Our beauty consultant's customers went back to their ordering patterns."
She adds, "Almost overnight, we shifted to everything digital. We have continuous training, now done online, and these sessions cover anything from learning the business to working through the shift to social selling with the current situation."
A direct-selling model operates in a non-retail environment, leaving only one-on-one contact between the beauty consultant and the customer. A personal touch is what makes direct selling thrive, whether it's in the age of malls, or today in the boom of ecommerce where purchases are dehumanized and transactional. But Mary Kay has quickly adapted to digitizing their niche.
Criscy explains, "The beauty consultants turn to video calls and are able to schedule and accommodate one-on-one beauty consultations or online skincare classes with three to five people. They also send their samples via mail or delivery. The personal touch never went away as the beauty consultants still provide their personal services to their customers with the availability of an online platform."
What the lipstick effect boils down to is discomfort over an uncertain future, with makeup and shopping as the coping mechanism. But we don't have to deal with all of it alone, even if it means learning how to apply and set a new lip product, or the joy of discovering something that really works, together.
* * *
Email mkpcservice@mkcorp.com.ph or call 0927-6352072 for inquiries. Visit marykay.com.ph or @MaryKayPHL on Facebook, Twitter, Instagram, and YouTube.