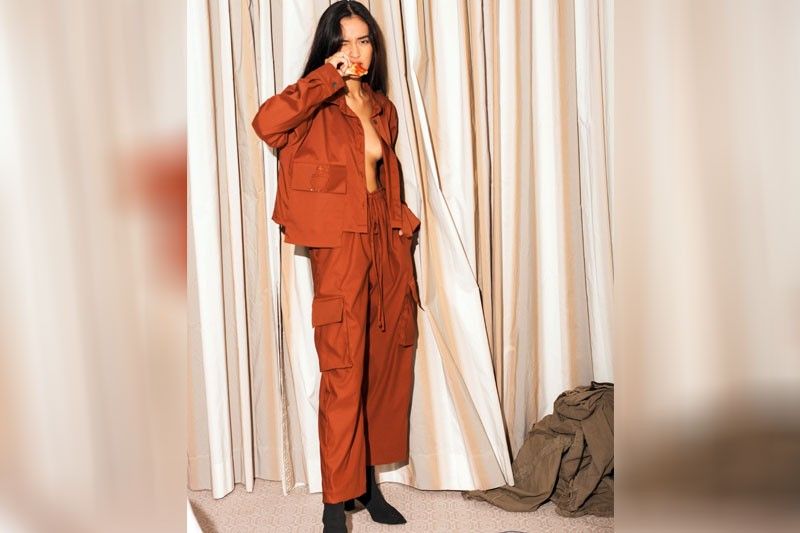 "Easy silhouettes that don't discriminate, not against occasion, style, weather nor body type,"
Mac Villaluna
Eus+Acia & N/Tice collaborate on a collection based on moods
MANILA, Philippines — YSTYLE: Can you tell us who you imagine the Eustacia and N/Tice woman to be?
Stacy Rodriguez: An unapologetic and driven woman who values her individuality.
Antonia Martel: Inspired women who are more concerned with living and enjoying the ride than they are with "dressing up." They are self-aware, style-wise, so clothes never "wear" them — it's always the other way around.
How did the collaboration between Eustacia and N/Tice come about?
Stacy: Antonia and I have always clicked when it came to design and it was really just a matter of time.
Antonia: I approached her after noticing a frustrating void in my closet right before the holidays. I needed things to easily throw on and off, and figured that this could be a common dilemma that we could solve together for other women like us.
What can we expect from the collaboration?
Stacy: Easy-to-throw-on pieces in the most comfortable fabric that are made for all sorts of body types and occasions.
Antonia: Easy silhouettes that don't discriminate, not against occasion, style, weather nor body type. Also we're making the "now" in two of the fabrics we used in the collection. The "now" is the smallest of the duffel bags from N/Tice which I launched with this streetwear brand, Bastard, when we collaborated on a collection exclusively for Case Study. It's the ideal everyday bag and reliable friend — it keeps your secrets and helps you carry all you need to get by.
What was on your mood board?
Stacy: A lot of old our old works! We started with picking out fabric from N/Tice's archives — this was such a pleasure to play around with!
As for the mood that we carried over to the lookbook shoot, the collection was inspired by those nights you never really plan, but take you places you'll never forget or barely remember. Naturally you need clothes cute enough for that but comfortable enough to withstand the spontaneity.
Antonia: I didn't actually have an actual mood board. I guess it was all based on moods, period. Is that ridiculous to say? That's what I felt happened — we just did what felt right and rolled with it.
This collaboration calls out to women that are adventurous. What has been the biggest adventure of your life lately?
Stacy: The biggest adventure for me right now strangely involves a lot of sitting still and thinking inwards. I have a lot planned out for the brand this year and that in itself is a crazy, crazy adventure ahead.
Antonia: Being in your mid-thirties sure is something!
Out of the entire collection, what are your favorite pieces?
Stacy: I love what we call the condo dress, which was inspired by a piece I've done before for Eustacia. I love it because of its versatile nature. It also has cargo pockets — the perfect companion on any adventure, in my opinion. Having said that, both our co-ords (another favorite of mine!) also have those trusty pockets.
Antonia: The not-so-little black dresses.
How did you choose what kind of silhouettes, themes and fabrications worked for the collaboration?
Stacy: It was simple: Antonia gave me creative freedom to choose from N/Tice's fabrics and we took inspiration from a lot of Eustacia silhouettes from the past. As for the dagger heart embroidery, Antonia's genius was mostly responsible for that and it just so happens that it aligns with my obsession with hearts (you'll see it all over my studio and my body through my tats!).
Antonia: Well, the only "theme" here is being yourself so I just kept myself and past memories in mind, particularly those times when I recall my wardrobe or outfit betraying me and I brought those to the table when we'd meet. Always a good laugh but definitely a good place to start when designing with function as a priority. Function is key but never at the expense of taste and style.
How important is collaboration to the both of you?
Stacy: I think I can speak for myself when I say that this means loads for us and our friendship. Everything was so easy and organic!
Antonia: I can only speak for myself. I feel it is very important because I learn so much from the experience and hope that I've taught and inspired those I've chosen to collaborate with in return. It's the least I could do! They've made the experience fun as well. If I wasn't having fun, I would not be doing it.
What's next for Eustacia and N/Tice?
Stacy: In the middle of all of this, I was extending my gratitude to Antonia and told her how much I was enjoying working with her. She responded by saying, "That's why I labeled it Season 1. Let's do more!" So I guess that's what you can expect: more!
Antonia: Who knows? All I know is it ain't over, so stick around and find out.
* * *
Shop the collaboration exclusively from March 12-15 at Kassa on 3322 Harvard Pagkaisahan, Makati.