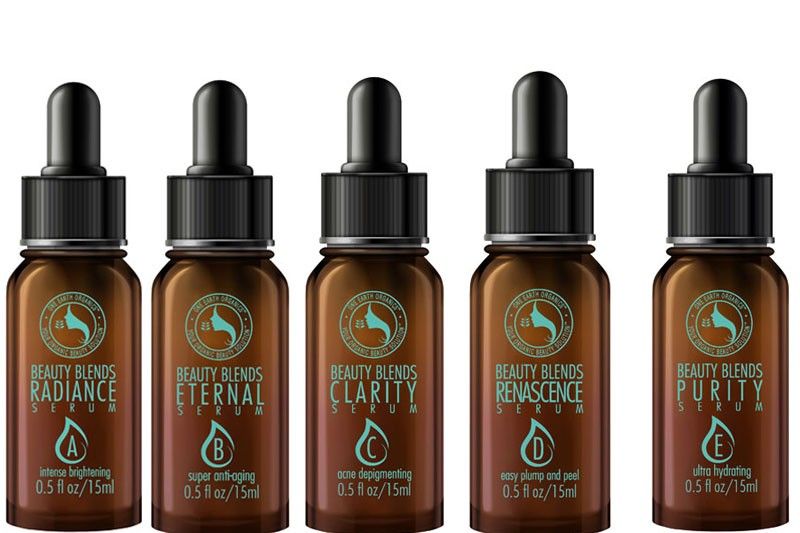 One Earth Organics' Beauty Blends 5D is a DIY beauty serum package containing five solutions that each address a specific cosmetic concern and can be combined.
This Filipino brand allows you to make your own organic skin serum
MANILA, Philippines — The perfect everyday serum doesn't exist. At times you need more hydration. Some days, your skin feels rough and looks dull, which needs more than just hydration but also an exfoliant to lift the dead skin cells. Or it's that time of the month and you feel a breakout popping up. And then there are good skin days when all you need is to lock it down with some anti-aging.
One Earth Organics' Beauty Blends 5D is meant to be all that for your skin, depending on how you mix and match it. The Filipino-owned organic skincare brand's latest product is a DIY beauty serum package containing five solutions that each address a specific cosmetic concern. The serums can be purchased and used individually or as a set. They are all meant to be combined to address a specific beauty problem. If it ain't broken, don't fix it. It's just a simpler approach to beauty.
"Your skin is the largest organ of your body. Giving it only what's best and healthy is a non-negotiable need," CEO and founder Tyffanie Short says. "Our products have ranged from the most common to the most unique skincare solutions. We choose the highest grade raw materials, the purest oils and the finest of other organic and natural ingredients."
First is Radiance, which contains superactives such as grape extract, beta glucan, and magnesium ascorbyl phosphate (a more stable form of brightening vitamin C). It evens out skin tones while also strengthening the skin's protective barrier from environmental aggressors, including blue light from smartphones and other light-emitting gadgets which also dull the skin.
Eternal's antioxidants also enhance the stability of topical applications of vitamins c and e. Altogether, they reduce the effects of free radicals on the skin that cause premature wrinkles.
Clarity is an acne depigmenting serum that also lessens redness.
Renascence is a non-abrasive leave-on exfoliant that promotes skin turnover without the harshness of scrubs and brushes. Within two to three days of use, expect micropeeling. That means dead skin cells and pores are being cleared. When pores are unclogged, the skin doesn't only look smoother with minimized pores and a fresh complexion. It is also more receptive to more skincare.
Lastly, Purity is packed with moisture-locking hyaluronic acid and anti-aging peptides to plump and minimize the appearance of fine lines and wrinkles.
For the face, I recommend the anti-aging combination of Radiance and Eternal. Because my neck area tends to be drier, I add Purity to the mixture. For bad skin days, switch and tone down the peeling effects of Renascence with Clarity. I have also applied Renascence and Purity to smoothen the bumps on my upper arms and it worked. Every day, I am discovering more combinations.
* * *
One Earth Organics Beauty Blends 5D set is P1,895 while each serum is P429 individually. One Earth Organics is available at select Watsons and The SM Stores, and at Beauty Bar stores and beautybar.com.ph. Visit oeorganics.com for the complete list of store locations or follow facebook.com/onearthorganicsbeauty and instagram.com/oneearthorganicsbeauty for updates.