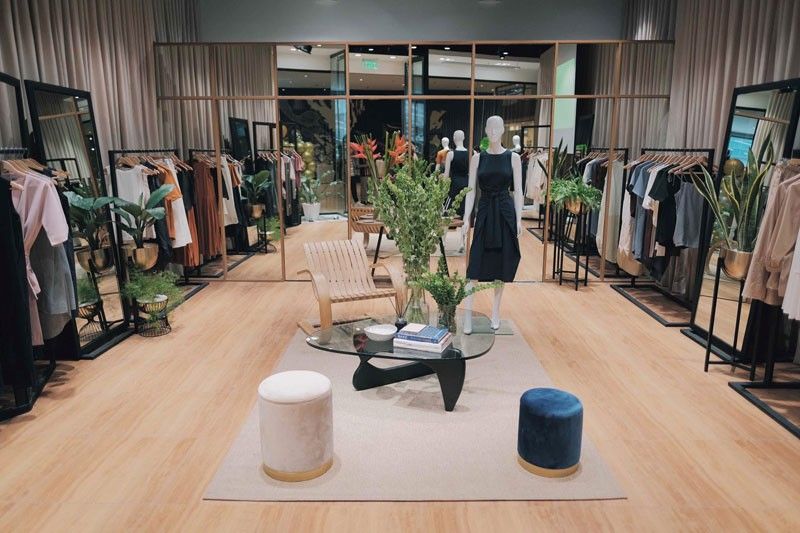 Manila goes 'beyond the vines'
What can one expect from a brand that's called "Beyond The Vines"— or BTV, to a growing online community of brand devotees. "'Vines' just means clothes, actually," shares Rebecca Ting, one half of a couple-turned-pair of founders of the Singaporean-based label. "It was very straightforward since the beginning. We wanted a brand that was more than just clothes on a rack; we're a small contemporary design label that tries to be known for a customer-up and experience-first approach, paying particular attention to how our products feel on the body, and how each silhouette falls."
Beyond The Vines functions as a disruptor in its field. With its small runs (dictated by customer feedback) and month-to-month deliveries in store, the brand DNA hews close to the emerging guard of modern retailers much-like what Glossier did for beauty and Allbirds for shoes.
Founded by Daniel Chew and Rebecca Ting in 2015, Beyond The Vines made its mark for its thoughtful and honest designs. Starting as an online-only store and eventually branching out with several one-off pop-ups, they eventually opened a boutique along Orchard Road. With the recent opening of their first 2,000-square-foot flagship store in Singapore's newly opened Funan Mall in 2019 and Manila soon after, the brand establishes itself across the region with a number of retail outposts in Singapore, Indonesia, Thailand, Australia, and the Philippines included.
"Our shared background is actually in real estate," says Rebecca, "but we knew a creative career was somewhere in our futures." Designing clothing for the everyday person for everyday pursuits, the couple function separately within the business with Daniel handling business development and Rebecca leading design and concept. Their shared mantra is inspired by the Scandinavian movement (think IKEA), where beautiful and functional everyday objects are affordable not only to the affluent, but to all.
With an understated approach, aiming to evoke effortless confidence, the success of BTV lies in its easy-to-wear and versatile designs — all available at an approachable price point. The brand caters to every body type — with sheathes in breathable, natural fabrics and sophisticated tops in flattering silhouettes — and can be worn by all types of women. Whether you're a fan of understated elegant co-ords with clean lines or if you're more into separates with bold contours and hues, there's a lot to choose from at Beyond The Vines.
This modest philosophy behind BTV is also embodied in each of its stores, including its first in the Philippines. Drawing inspiration from minimalist lofts, the bright, open store space with light wood accents and unassuming displays makes shopping at Beyond The Vines different from the usual — a slower experience, allowing the customer to discover the authentic expression of self.
For its inaugural store in the country, Beyond The Vines will be bringing in its latest collection, featuring their signature pant combinations, dresses in maxi silhouettes, and pleated midi skirts in neutral tones and relaxed structures. The label will also be bringing in limited-edition pieces, including its debut unisex capsule collection, which are sure to be style staples in everyone's closets.
With its launch in the Philippines, Beyond The Vines continues to offer women and men everywhere a refreshing take on fashion and lifestyle for an effortless aesthetic journey.
* * *
In the Philippines, Beyond The Vines (BTV) is at Mid-Level 2/3, Shangri-La Plaza Mall East Wing, Ortigas Center.