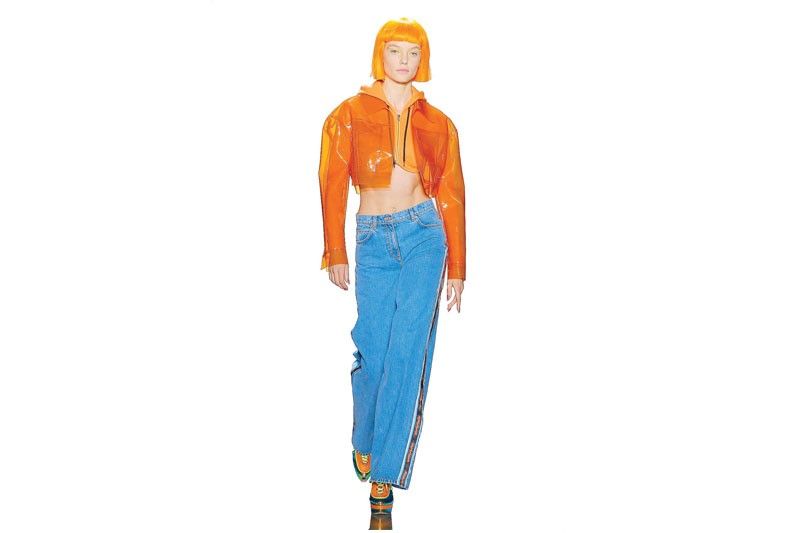 Manila, Philippines —In today's YStyle Look of the Week, we take cues from the fall 2018 collection of Jeremy Scott where the designer referenced to '90s cult classic film The Fifth Element. The collection was transported straight from the '80s with a futuristic flair as seen in the neon accessories and fluorescent and reflective outerwear. Juicy-esque tracksuits, fluorescent fluffs, PVC details and cropped tops flooded the runway. It's quite clear that the king of camp and pop-culture references knows a thing or two about making a campy statement.
So if you're still in Halloween mode (like we are), then stay in the mood and reference these visuals for this week's Look of the Week.
Nails: The Hands Have Eyes
Always feel like somebody's watching you? Los Angeles-based editorial and campaign nail artist —and the fashion set's favorite nail inspiration — Betina Goldstein turns creepy into chic and dainty with this fully matte hand-painted 3D nail art. You can DIY it with 3ina, a Spanish beauty brand that just arrived in Manila (Available in SM Makati and Robinsons Manila and @3inaph on Instagram). Start out with The Smooth Base, get artsy with The Gel Nail Polish for rich pigmentation and longwearing color, and keep it precise with The Nail Polish Corrector Pen. Seal it all in with a matte topcoat.
Beauty: Be Extra (terrestrial)
Area 51 has '50s screen sirens, too. Courtesy of London-based makeup artist @beautyspock on Instagram, the inhabitants of the rumored UFO spacecraft preserved at the highly classified Air Force facility adapt to the sex appeal of American pop culture after living on Earth. Take your look out of this world with this universally flattering come-hither red, Ruby from VMV Hypoallergenics. Perfect for green skin tones.
FILM: Mars Attacks!
If you grew up in the '90s, you probably encountered this wacky retro science-fiction film directed by Tim Burton. Mars Attacks! is a visual feast that is comedic, cinematic, and even features a star-studded lineup.
The film's plot centers around an invasion of Earth by big-brained aliens from the angry red planet. US President James Dale, played by Jack Nicholson, is under the assumption that the Martians come in peace, but his diplomacy soon ends in the obliteration of the US Congress. The extraterrestrial visitors make it clear they've come to take over the planet and disintegrate humanity as all hell breaks loose.
Grab a bag of chips, your coziest companion and prepare yourself for a trippy evening ahead.
Bath: Throw Yourself A Ball
Soothe your tired muscles from all the costume parties with a nice warm bath. But leave it to Lush to add a trick to your bath time treat. Revel in the most beautiful swamp water ever. This cyclops' outer layer creates swirls of pink froth. Below this rosy coverlet, deep blue-purple waters churn with a fruity lime and neroli scentewood adds comforting warmth. Luckily, the UK cosmetics retailer now has a Philippine online home at lush.com.ph.
HAUNTED HOTEL: The Stanley Hotel
Who can say no to a good haunted story, let alone a haunted hotel story?
Whether it's Halloween or not, The Stanley Hotel in Estes Park, Colorado remains one of the most haunted hotels in America, no matter the season. To confirm that title, the hotel also served as the inspiration for Stephen King's The Shining — creeped out yet? Numerous guests have reported paranormal activity during their stay, encounters that include pianos playing themselves, murmurs throughout the night and doors randomly shutting.
Already booked a night to stay in this 142-room Colonial Revival hotel? Then don't forget to sign up for their ghost tours and five-hour paranormal investigation to get the full spook experience.