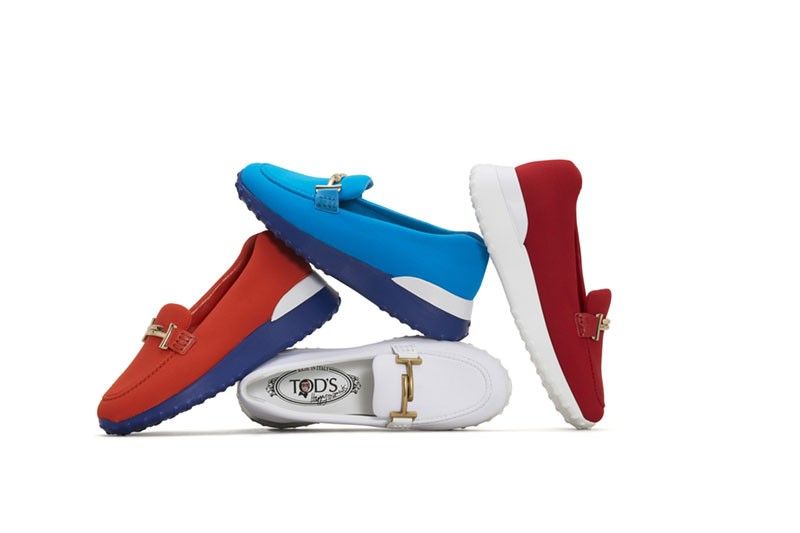 Alber Elbaz found new contexts for Tod's driving shoes in his Happy Moments capsule collection, making them bright, unstructured and mounted on sneaker soles with unexpected materials like neoprene.
Alber Elbaz's 'happy moments' with Tod's: Sneaker soles, neoprene & logomania
Fashion's favorite designer Alber Elbaz is designing again. In a capsule collection with Italian leather goods house Tod's, his signature joyousness is back on footwear that literally puts a spring in my step.
The collaboration comes four years after he was unceremoniously ousted after 14 successful years bringing back to relevance the once-ailing couture house Lanvin; four years that Alber spent soul-searching, navigating the changes in the industry, questioning the market.
He aptly names the collab Happy Moments. "We all need a bit of happiness in our lives and today more than ever. But can we be happy all the time? I'm afraid happiness doesn't always come in big packages but sometimes in small drips and drops. When Happy Moments do come, no matter how small they are, we need to embrace them, cherish them and remember them," he explains.
Tod's indeed inspired his anticipated return to design. Alber was introduced to Tod's chairman Diego Della Valle years ago by their mutual friends, he recalls, "Franca Sozzani, whom I adored, and Anna Wintour, whom I adore just as well. They both thought we should meet each other and we did. We've kept in touch over the years and had many dinners together in Paris as we both love food and fashion. It was during one of these dinners that Diego invited me to work on a capsule collection for Tod's, and I said, 'I do.'"
He elaborates, "One day, Diego invited me to his hyper modern, really impressive factory in Le Marche to show me around to see what they were working on and to meet the workers. Behind the concrete walls, I met a group of passionate and dedicated individuals, true artisans, who bring new projects to life. I met the family of Tod's but, in reality, I met Diego's 'family.' I truly appreciated and respected Diego's vision. It was there that I knew I wanted to collaborate on a special project with him," he shares.
The Moroccan-Israeli designer whose tenure has been largely in Paris reflects on cultural differences: "Italians do not give up on new challenges. Diego was completely open to everything, and so were the Tod's artisans at the factory. They always said 'Come no?' which means 'Why not?' even if the idea was a bit crazy."
"I am a designer, not an Instagram celebrity, or a social influencer, so I approached the project as a designer, reinterpreting the Tod's DNA in my own way," he emphasizes. "(This collaboration) was a relevant exercise dialogue between design, craftsmanship, commerce and to think about how to build a strong bridge to connect the past and the future."
Alber continues, "I'm not a marketing person. When it comes to customers, I am completely transparent and democratic. I love all people of all backgrounds, ages and body shapes. That was one of the reasons I was attracted to Tod's collaboration: to be able to 'dress' everyone in Tod's shoes."
His starting point was Tod's driving shoe, capturing and transforming its true spirit for the next generation. "My initial intuition was simply to make people happy in different moments of their lives, or just different times of the day. I wanted to capture a few happy moments like 'happy to be in love,' 'a big happy family,' for instance. My starting point was how to transform but keep the soul of Tod's iconic driving shoes for today. Driverless cars will be the future and I wanted to create new shoes for everyone for everyday 'driving.'"
The collab will be landing in the Greenbelt 4 shop and Rustan's Shangri-La through two different in-season drops.
He found new contexts for the driving shoes, making them bright, unstructured and mounted on sneaker soles. There is an unexpected choice of material. "When I proposed doing neoprene for the loafers, for instance, they didn't hesitate to give it a try even though Tod's never used neoprene for shoes! As a designer, 'Come no?' is music to my ears! We have to experiment with new ideas to go forward."
Contrary to the direction most fashion houses are going in, there are no sneakers in Alber's collection. "The market is flooded with sneakers and adding another pair in this capsule didn't seem so important. More relevant for me was to add the rapidity, the aerodynamic design of the sneakers that we all love to Tod's DNA, creating a hybrid of new comfortable shoes."
That being said, there are a few pastel-hued sneakers in the brand's main fall/winter collection.
In this collaboration, Alber stands for logomania: "The logo is reassuring, even more so in our confused times where there are thousands of new products from every design and price points in the market. Logo should represent the best of the design and craftsmanship. I added my own whimsical touches to Tod's iconic logo."
Select designs come with metallic finishing for a sprinkle of shine while exotics come in girlish pastels. Alber's idea of happiness touches everything, from the logo to the packaging, from shoes to bags and T-shirts.
The video campaign was filmed in Rome, as selected by Alber. He explains, "How can you resist the beauty of the eternal city where Fellini filmed many of his movies? We wanted to imagine the Italian spirit and Roma is the perfect place to capture happy moments on camera."