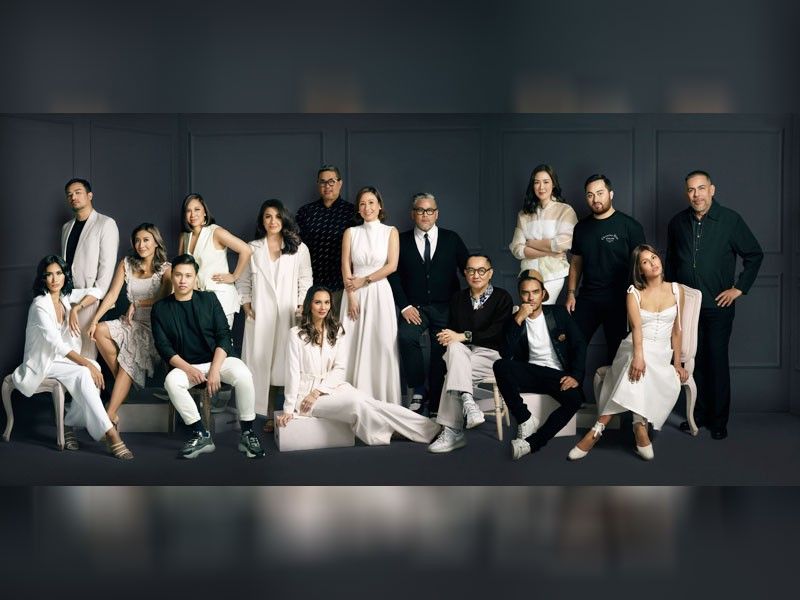 Plains & Prints vice president Roxanne Farillas (center) with Beyond 25 collaborators Cheetah Rivera, Martin Bautista, Rosanna Ocampo, Anthony Ramirez, Maureen Disini, Vania Romoff, Amina Aranaz, Rhett Eala, Rajo Laurel, Randy Ortiz, Mark Nicdao, Patty Ang, Mark Bumgarner, Charina Sarte, and Wig Tysmans.
15 designers and creatives on dressing the modern woman
I really wish we could show you photos of the 30-piece Plains and Prints 25th anniversary collection in collaboration with 15 of the country's fashion trailblazers and rising stars, but we simply cannot steal the thunder from a beloved homegrown brand. We're going to have to wait until next Tuesday, July 23, when the collection aptly named Beyond 25 is shoppable and in stores.
The ready-to-wear brand has been doing collaborations since 2007. "Our first collaborator was Celine Lopez. She did a premium denim line with us but it was not just restricted to jeans and trousers but also metallic dresses," Plains & Prints vice president Roxanne Farillas recalls.
Some Plains & Prints' past collaborators are back to commemorate this milestone and they're joined by newer names who each came up with a silhouette in two iterations — one in a solid, plain hue and one in prints: fashion designers Rajo Laurel, Randy Ortiz, Vania Romoff, Rhett Eala, Patty Ang, Rosanna Ocampo, Cheetah Rivera, Martin Bautista, Amina Aranaz, Maureen Disini, Anthony Ramirez, Mark Bumgarner, Charina Sarte, and photographers Wig Tysmans and Mark Nicdao.
"It took more than a year to put together. It's never been done before, and that's exactly why we worked so hard to make it happen. We gave each artist the task of creating pieces that reflect their personal take on our brand's aesthetics and we couldn't have been happier with the results. What we have here is a collection that has something for everyone," shares Roxanne.
She lets us in on the collaboration process: "We never limited their creativity or told them what not to do. We get to know them better and learn from them as well. It's really a creative partnership, never a one-way thing where one dictates. We support them with whatever they want to come up with. We're known for coming up with printed fabrics. We have a whole design team just creating textile design."
Going back to the theme, what does Roxanne have in mind for what's beyond this silver anniversary year?
"We want to go global. We're active in e-commerce; we're also on Amazon. Right now, Plains is very active in expanding regionally but to go international is the goal."
A collection that celebrates one of the country's greatest assets — the minds of artists in the fashion industry — is a step in the right direction.
Until next week's launch, here's a teaser from the collaborators themselves.
Amina Aranaz
"I wanted it to evoke what the Aranaz lifestyle is about since we don't do clothes in Aranaz. What Aranaz stands for is a leisurely life that is forever stylish. Leisure does not equate to not being well-kept. Even if you are casually dressed, you can still look your best. They are pajama-type suits. Personally, I like pajama dressing. I love how now it's crossed over outside the bedroom. The silhouette is dressy — flared pants, not wide-legged and loose, and a cinched waist to make it dressy. It can work for both the resort and the city with a change of accessories. We're using Aranaz's signature print flamingo and leaf print. The same on our paper bags, wallpapers and desk accessories. We tweaked the colors for Plains & Prints."
Anthony Ramirez
"I created with the career-oriented women in mind. I believe that's what the Plains & Prints clientele is. I went with something that can be worn as office wear; it's structured, but also has an evening appeal. From coffee to cocktails."
Charina Sarte
"I took a design from my original collection, the Gabriela dress. It's as feminine as most of my designs and suits most figures. I love how Plains & Prints did the personalized print including my logo. The colors are very complementary for any skin tone."
Cheetah Rivera
"This is my chance to dress up more Filipina girls so I wanted to make sure the silhouette would be perfect for all body types. Something practical that can be worn during the day and during the night. The best part about it is it's a really comfortable dress. I injected my personal taste by adding the printed bow and printed stitches alongside the seams of every dress and pleats that I am currently doing this season. A fresh vision of my studio incorporated with Plains & Prints."
Mark Bumgarner
"I did a sleek jumpsuit in all black and a printed dress, both with a similar neckline and upper part. The print is inspired by barcodes — linear and geometric, but at the same time, there's a splash of color. Playful. I mixed two colorways together for the barcode. Some are black and yellow but the whole body is black and pink. There's a little contrast that's not obvious until you look at the details."
Mark Nicdao
"It's something really nostalgic and very easy on the eyes. It can transform the look you're going for, depending on your taste. And it's comfortable! The fabric and materials. This photo was taken the first time I went to New York back in the 2010s. I was on a tourist bus going around town and saw this scene. I liked it because of the mix of peace and chaos and the dusk settling in. A bit of melancholy — and a lot of feels."
Martin Bautista
"The collection is inspired by vintage Japanese kimonos and embroidery meets Renaissance paintings by Michelangelo meets David Bowie as Ziggy Stardust. The mix is very me but the aesthetic and attack is very Plains & Prints because it can go from daywear to evening."
Maureen Disini
"I did a drape top and a pair of elephant pants. Both are very me regardless of the print or fabric. I put a drape on the upper bodice just to make it look more special. That could be my signature look. I started out with drapery seven years ago and I still do it today."
Patty Ang
"Everything with this collection fell into place (so) I believe it would be difficult to pinpoint which are our qualities and which are Plains & Prints'. It is really a harmonious sync of both brands. Feathers have become my signature and the feather brooch adds just the right amount of wow factor to the pieces."
Rajo Laurel
"What I did is my version of a T-shirt dress with a bias detail in the hem. It's very me primarily because it's easy, something a lot of body types can wear. You don't have to be a string bean to wear it. One plain and one with a print. The print is a doodle I created specifically for the anniversary collection. I love doodles because it's how I think and how my ideas come about. I want that process captured in a print. The color is chosen six months before they announced the color of the year, Living Coral, so I was happy about this choice. It's a very balanced design that combines our aesthetics in one. The fabric is easy to take care of. You don't have to iron it so much; you can put it in the washing machine. It's important to evolve the way our lifestyles are evolving. This is a dress you can live in. It's for the modern woman who wants an easy dinner dress that they can also wear to work and then go out in."
Randy Ortiz
"It looks like a wrap dress and it's so easy to wear. As for the choice of fabric, I made sure it is very practical, considering that we live in a tropical, super hot country. I made use of chambray for the blue and linen for the white dress. There are distinct little touches of embroidery attached to the dress that makes it a Randy Ortiz. I am a lover of romance, so I wanted to put those elements. It does not look too structured and can be worn to the mall or an occasion depending on how you style it. I have been collaborating with Plains & Prints for so many years and they always give me creative freedom."
Rhett Eala
"The print is hand-drawn by me. The qualities and shapes are very Plains & Prints. I used lace in my design."
Rosanna Ocampo
"I wanted to create something synonymous to my aesthetic so people can instantly recognize that it's mine. I work with a lot of color and texture and really wanted to do dresses because I haven't focused on dresses for quite a while now. For this collaboration, I worked with lace. My pieces can be used for various occasions. The way I see Plains & Prints is that they embrace femininity which is also very easy for me."
Vania Romoff
"The idea was all about the Plains & Prints woman. I've done a few collaborations with them before, so I already have an idea of the kind of woman who buys from Plains. I wanted these dresses to be accessible. I did a red dress specifically because red is such a celebratory color — what better way to celebrate the 25th anniversary than with a red dress? I'm a big fan of volume on the sleeves, so I did that. I love shirt dresses. These are comfy, cut on the waist just right on the sash to emphasize the smallest part of your body. The little details, the pleatings on the center of the dress give an illusion of a shapely silhouette."
* * *
Plains & Prints has 88 stores across the country. Follow @plainsandprints on Facebook and Instagram or visit plainsandprints.com for updates and promos.