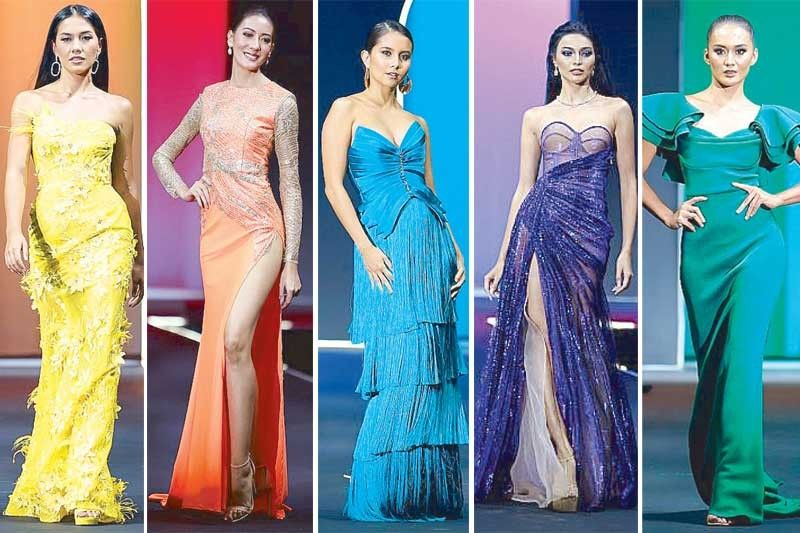 Rethinking The Naked Dress
Top designers envision this year's Binibining Pilipinas candidates as Miss Universe in the colors of the Pride rainbow.
MANILA, Philippines — The tried-and-tested "formula" to bagging the beauty pageant crown goes: a glittering nude, almost-sheer, skin-tight gown with a thigh-high slit, topped off with a sweetheart neckline to frame the cleavage — but leave it to the Filipina to debunk that, make her own rules, and jumpstart a new precedent. Pia Wurtzbach brought home the crown after decades of Miss Universe drought in 2015 in an electric blue Albert Andrada. In the latest edition of the world's most prestigious beauty pageant, Catriona Gray's sculptural "Mayon" lava dress by Mak Tumang stood out in a competition of naked dresses.
In the recent "The Universe Gives Back" Charity Fashion Gala hosted by Binibining Pilipinas, Miss Universe Philippines, and FrontRow Cares, eight top Filipino designers took the concept further for the benefit of Wurtzbach and Gray's chosen advocacies: Love Yourself and Young Focus, respectively. Coinciding with Pride month, they worked with the colors of the rainbow and created queen-worthy gowns for the 40 Binibining Pilipinas 2019 candidates: co-chairperson Andrada in tangerine, Rhett Eala in teal, Michael Leyva in cyan, Ito Curata in chartreuse, Jot Losa in orchid, Avel Bacudio in Kelly green, Cherry Veric in scarlet, and Martin Bautista in ultraviolet.
Ito Curata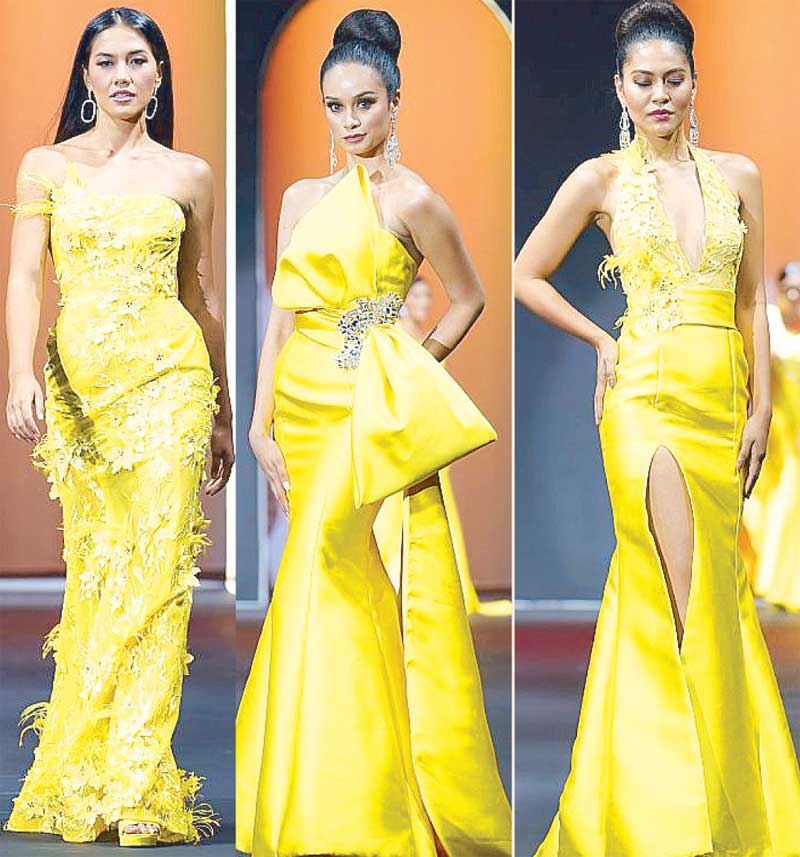 "I found that all the Binibining Pilipinas contestants I met were strong examples of modern, empowered women and this was certainly true of the five women I dressed for the charity show. Each of them exuded all the qualities of a modern Filipina: inner and physical beauty, intelligence, dedication, perseverance and fortitude. Hopefully, the vibrant color and strong silhouettes of my creations not only highlighted these natural attributes but, in some way, enhanced them. This was done to match my idea of what is required of a modern Filipina who aspires to become Miss Universe."
"Color, form, construction, balance and an hourglass figure all played a major role in my design process. I did not stray too far from the basic design aesthetics I have used for years."
Albert Andrada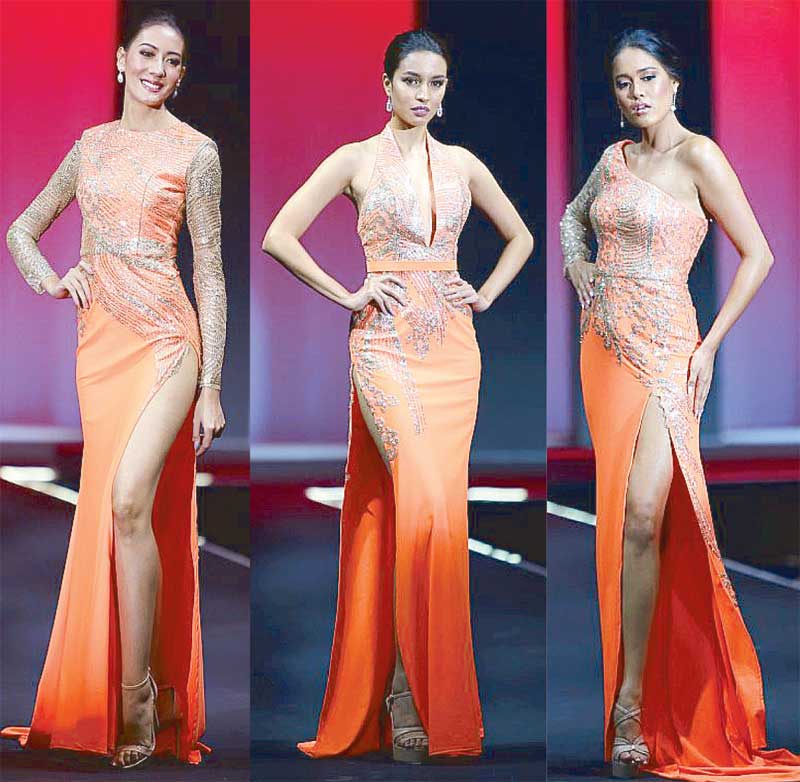 "The Filipina as Ms. Universe is as a woman of strength and determination. She possesses the freedom of expression, which is important to fulfill her advocacy as Miss Universe and an ambassador of our country. These characters are closely associated to the shade of orange that I used in our Miss Universe Philippines Charity Gala."
"My techniques are more simple than the usual as not to overshadow the beauty of the candidate but still remains elegant for the Filipina. I used fabrics which cling and hug the body of the candidate to show her beautiful figure."
Rhett Eala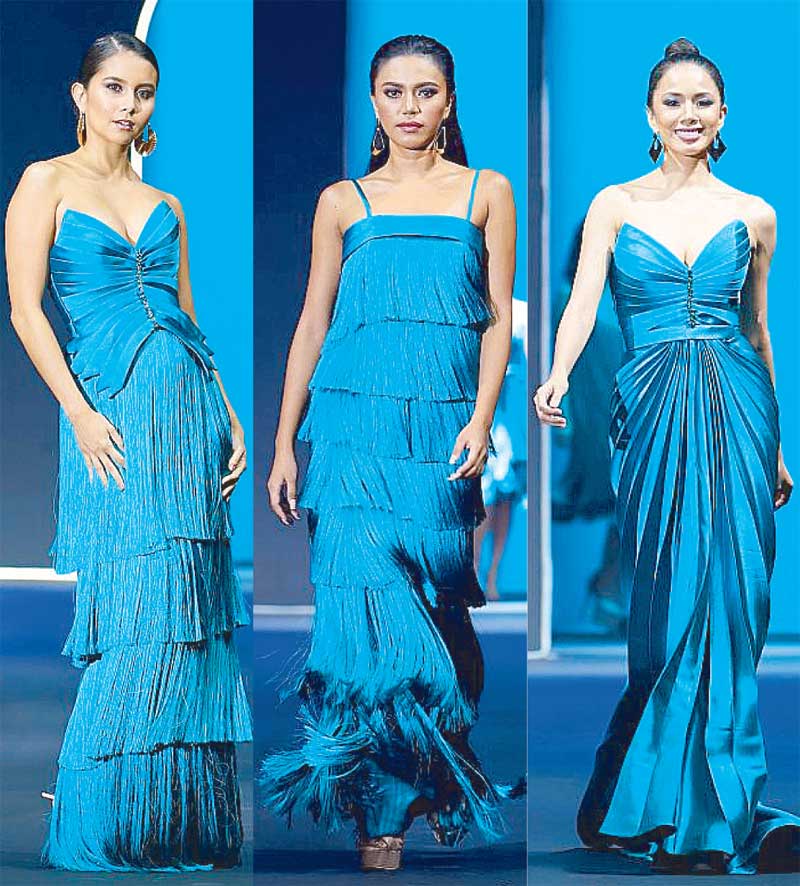 Rhett Eala's Miss Universe Philippines embodies the levity of a flapper girl with gowns and midis that accentuate a woman's graceful movement in fringe in varying lengths and pleats that create a similarly layered illusion, much like the boundless, infinite sea that inspired him.
Jot Losa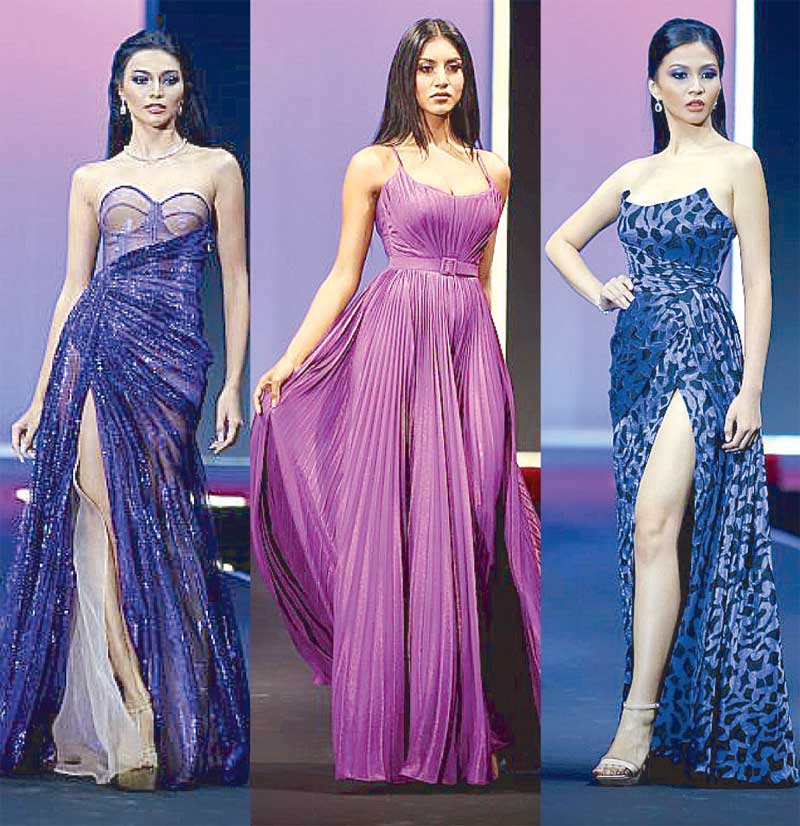 "A Filipina as Miss Universe should be effortlessly chic. She should stick with the basics, but also should not forget to add some glam."
"I am inspired by the elegance of classic corsetry —the structure of the bones, underwires, the bodices and all. I often use silk or chiffon, but this time, I replaced it with French and metallic tulle, an inexpensive and lightweight fabric that can still deliver sheer amount of elegance when used right. Pleated, draped and expertly cut, we manipulated the fabric to create Neo-Grecian dresses any Binibini would wear in a heartbeat."
Martin Bautista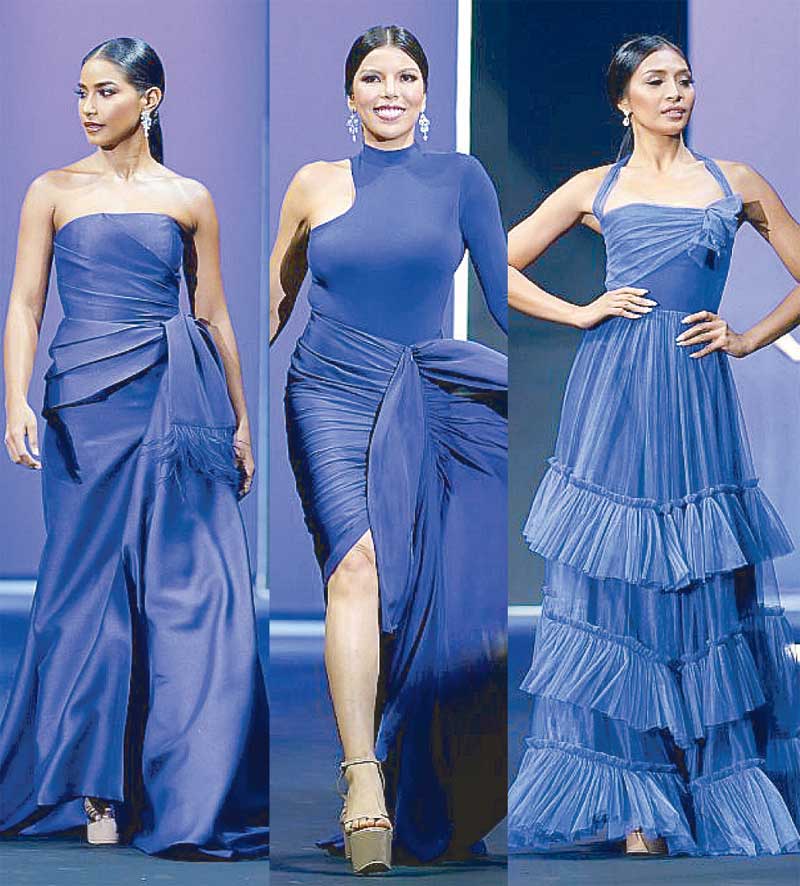 The modern Filipina as Miss Universe is also a glamazon. It is refreshing to see Martin Bautista's signature silhouettes — his draped asymmetrical silk skirt with a sleek bodysuit, fringe accents on dressy separates, and ruffled tulle ball gowns — in the context of a beauty pageant. In ultraviolet, the sumptuous textiles are regal.
Avel Bacudio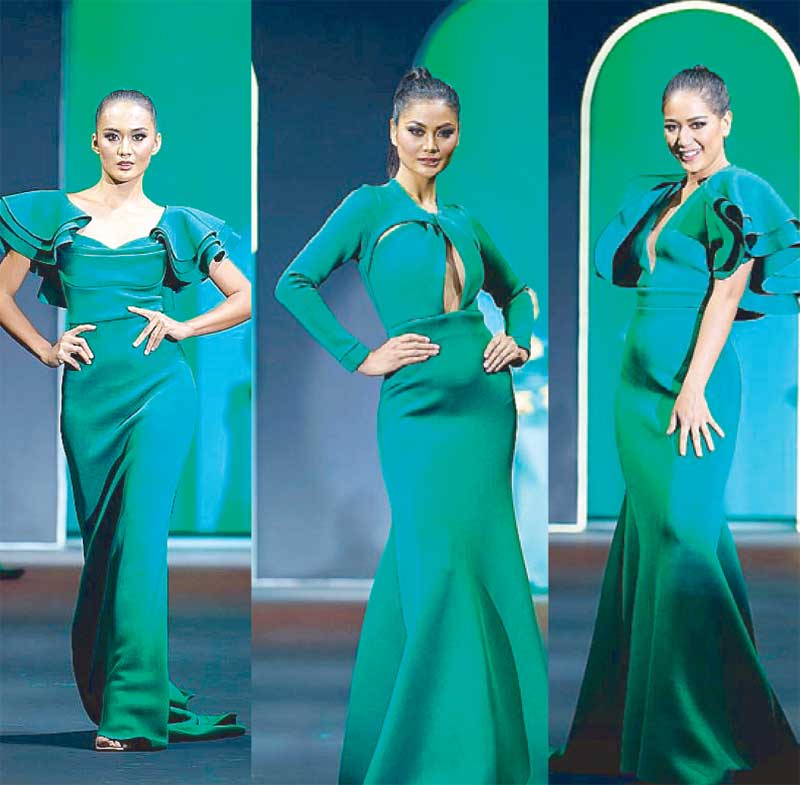 "I usually get inspired by architecture, but for this selection, I was inspired by dragonflies. Their wings are very architectural and structured and, surprisingly, their wings weren't like that before. Their wings were originally short and they have evolved. I think the Filipina is very much the same. The Filipina has adapted and transformed into a better version of herself, far from the Maria Clara type. She can conquer new heights, no matter how fragile her wings might be — all this, she does gracefully.
"It's comfy couture. Compared to my other works, which are usually structural, (my current collaboration is very masculine, raw and edgy) this is still structural but with an elegant flow. The gowns are made with neoprene in Kelly green. I love using this fabric, from pullovers to gowns. It's so versatile, smart and adaptive."
Michael Leyva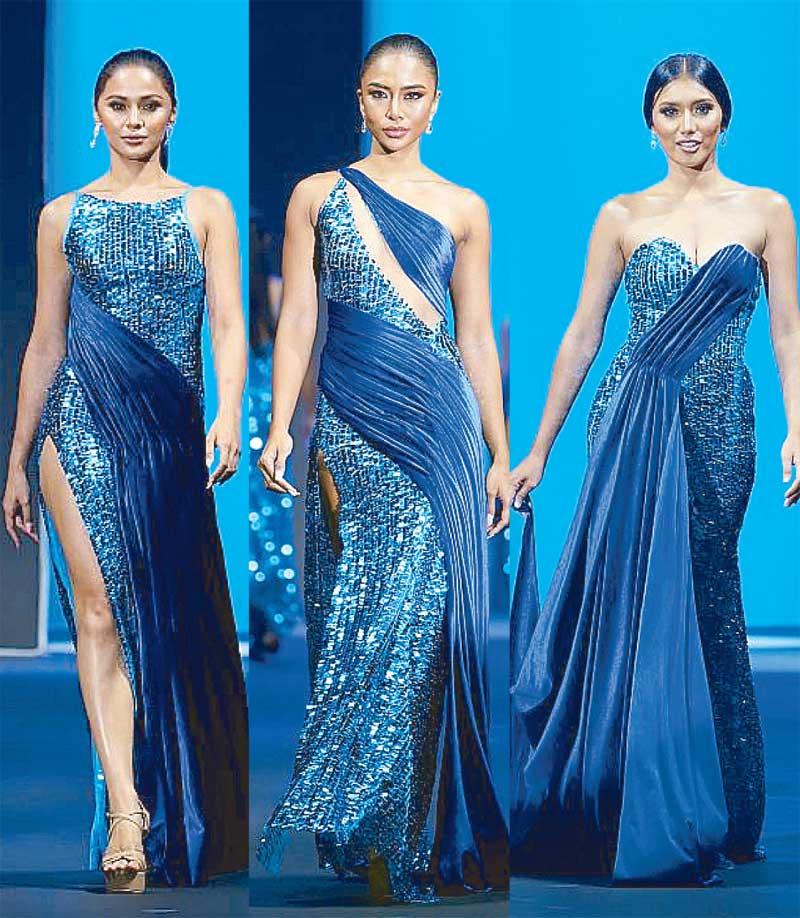 Serenity is given sparkling life in Michael Leyva's sparkling lineup of body-skimming, pailette-covered long gowns and dynamic pleats. A show of skin is executed with an athletic flair, not unlike something the goddess Nike would wear, as seen in his diagonal cutouts, deep v's, and thigh-high slits.
Cherry Veric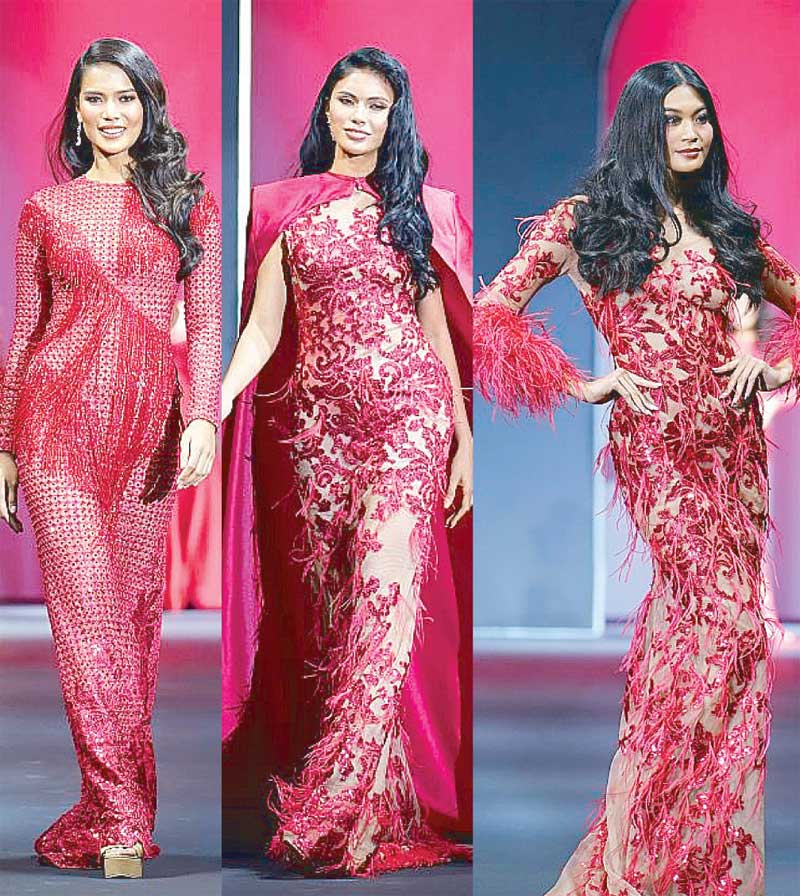 "We are increasingly becoming aware of the diversity of the Filipina as an identity. The Filipina, for instance, can be purely native or interracial. Today we also recognize the transgender women. They, too, represent the Filipina. No matter the gender category or racial classification, however, the Filipina for me should always stand for expressiveness, for passion, and for beauty. These are the qualities that I try to capture in my designs: the passionate intensity of red and the innate beauty of fluid silhouettes. The Filipina for me is an empowered kind of beauty — unafraid of passion and confident with her form."
"I highlighted what makes Cherry Veric known as Cherry Veric: flattering lines, detailed ornamentations, astonishing looks."