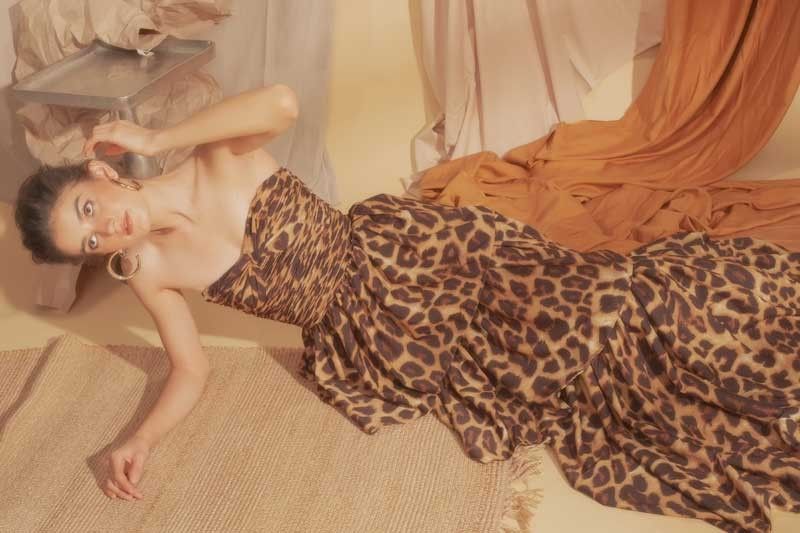 Inspired by escape, the collection comes in a rich palette of rich ivories and jungle greens—with a tasteful splash of leopard and tribal prints.
'I listen to women on what they want'
Vania Romoff debuts her latest ready-to-wear collection for spring/summer 2019. YStyle takes the first look.
Vania Romoff continues to reinvent her business in fashion. In terms of where she is, what she's making and who she's speaking to — the designer continues to make products that move the proverbial needle. She knows her audience — it's the romantically-inclined customer (and from what we've seen: they've grown many)—and she speaks to them with a shared language.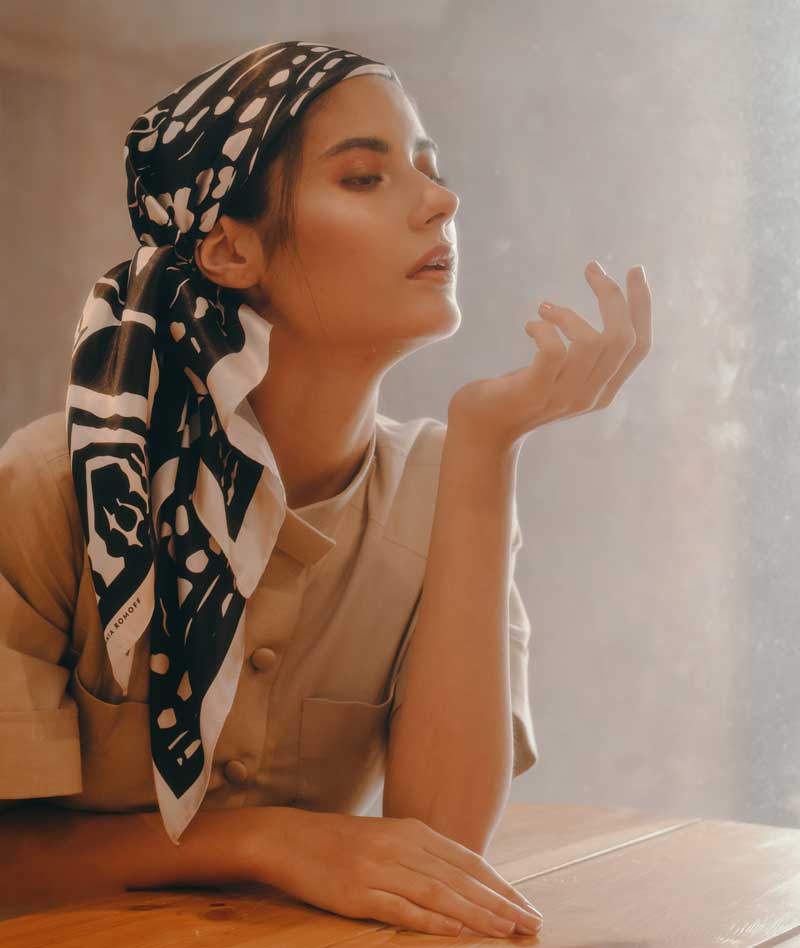 The proof? It's in the clothes––unabashedly feminine, always effusive and fluttering––and also in the almost 10-year business Vania has built on the gossamer threads of custom gowns and ready-to-wear collections, e-commerce initiatives and not far away now, the upcoming first anniversary of her Power Plant Mall boutique.
"We always like to give our girls something to look forward to every season," shares Vania, "but we listen to them as well." And with every outing, they come for the floral appliqués, the rich textiles and the impeccable finish. They come for the swoon of a bow, the flounce of a tiered ruffle––and just as much, the effortless sigh of a sleek silhouette. Whether it's for a ball, a cocktail party or an every day trip to the grocery––Vania's success (outside of her talent and tenacity) owes itself to her capacity to spin a deep sense of romance into each seam.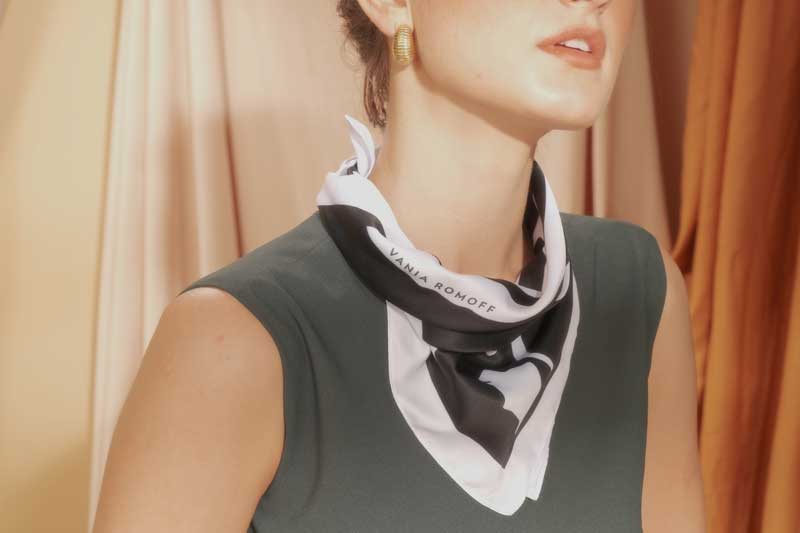 Venturing into accessories, Vania Romoff developed a dainty collection of printed silk scarves to accompany the pieces.
Fresh from her first solo gala show last year, Vania Romoff grounds her couture signatures into a new RTW collection for spring/summer 2019. The inspiration? An escape into a muse's own idea of paradise. It's choose your own adventure but for the couture set.
"Obviously I need a vacation," Vania laughs, "I'm completely projecting, and you'll see it in these clothes." With the collection, the designer is quick to highlight a focus on practicality with utilitarian shirt dresses in generous cuts or an immaculate cocktail frock that comes in a sumptuous ivory. But the lineup is not without show pieces, that sensibility never left; you can see it in Vania's signature ruffled tops in plush taffetas (last season saw these in leather––point of fact), ruched cropped tops paired with matching gathered skirts, and of course, the sleek column gowns known to be a house staple in structured silks.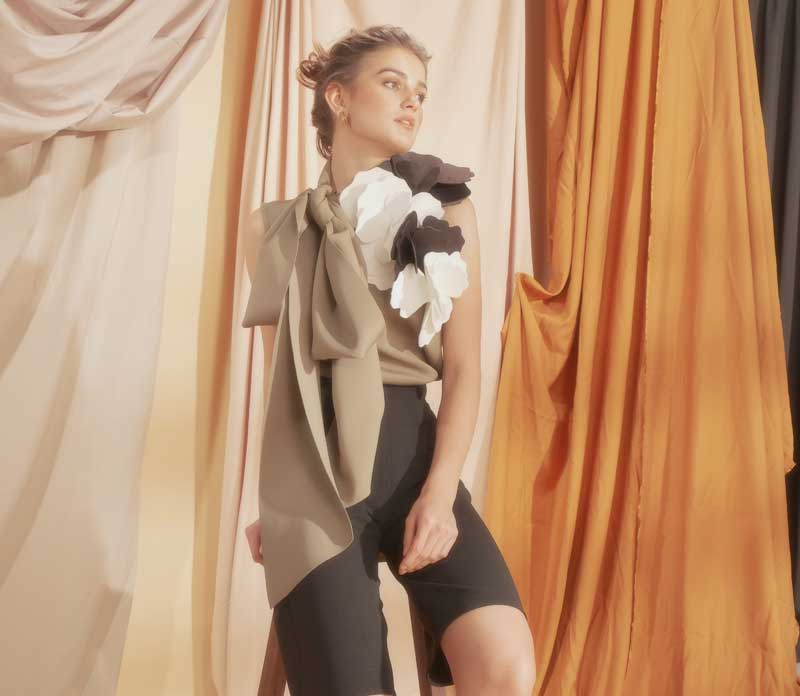 Vania Romoff RTW spring/summer continues to spin her signature romance and femininity toward a practical collection of wearable pieces.
Outside of her signatures, clients will find more to unpack. "There are some wild prints; simple shifts in a bold leopard or a basic cocktail dress in a vibrant jungle brocade. We explored tailoring as well, we made a cool oversized blazer with an unexpected ribbon detail on the sleeves, paired with a Bermuda short."
And for her newest venture: accessories! "Every time we do a collection, we always style them with accessories from other brands to complete the look." Says Vania, "Last year, we styled our pieces with our own velvet ribbon accessories with cute monograms––and they were a hit!" This season's interpretation is a mini capsule of Studio Vania Romoff accessories in the shape of silk printed scarves and fringed mini-bags. The scarves feature recreated prints to accompany the clothes––dainty head wraps or neck accents to mix and match with the pieces.
As an ode to the couture sensibilities of fringe, the designer produced a series of fully-fringed mini-bags.
As for the fringe bags—a motif we've seen before from the designer, "it's really a response to the demand for our silk fringed dresses. Each piece of fringe is attached one by one, done by hand, and therefore the cost is really high for a something like a dress or a gown. The mini-bags are a fun and easy way of being able to take that idea home."
Soon to be available at the Vania Romoff boutique at Power Plant Mall, the designer celebrates her first anniversary inside the mall—and she notes, it's not without its own challenges. "It's so crazy! Time flew by so fast! And right now, we're still continuously adjusting to the pace of RTW. We're trying to understand our local client base more and more, but what's next for us? Definitely look out for our online presence and a re-established e-commerce platform with the hopes of being able to slowly pursue the international market. We're a small team, but we have big dreams."
Be it the fantasy of an urban escape or the high romance of a trip to the Sahara, Vania Romoff will probably have clothes for that. And we can't wait to see where she take us next.