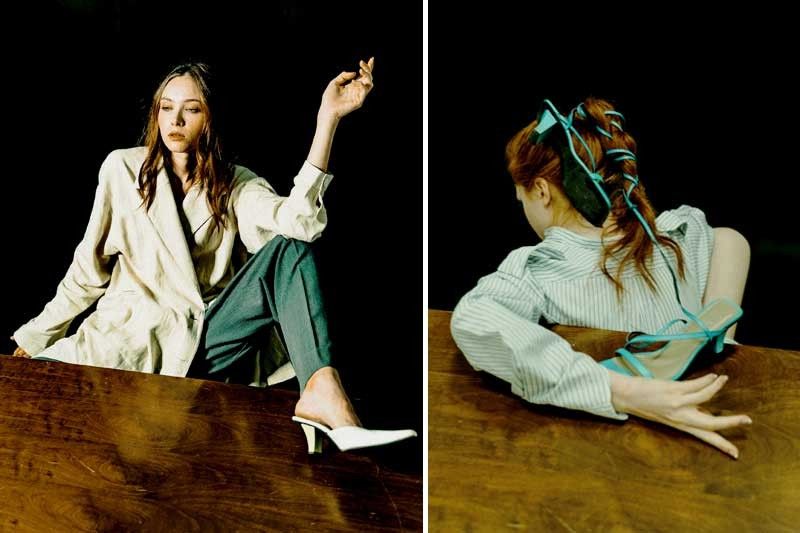 (Left) The Method mule. (Right) The Fettuccine multi-way sandal.
MANILA, Philippines — I first learned about Josanna while Anna Canlas, Karen Bolilia, and I were one of the few gals in heels traipsing the cobblestoned paths of Las Casas Filipinas de Acuzar for Bellas Artes Projects' Art Weekend last March. There we were by the very Venetian man-made canal, shimmying to Spotify on loudspeaker, liberated by a bottle of wine and a radiant full moon — in retrospect, it was a picture of what their brand was poised to become.
I asked about their shoes. They said they're from a '90s women's shoe line by a fourth-generation shoemaker in Marikina, that the pairs were one of many that survived the flash floods of Ondoy — and apparently the swift tides of changing fashion trends. Square-toed with an indented block heel and a pronounced arc, both in fun colors like seafoam and pink — the archive pieces they were road-testing were so current that I was expecting them to be by an Insta-famous indie shoemaker from Barcelona, but shoemaker Rico Sta. Ana has been working with these codes since the '90s for his shoe line Josanna. His dad, Jose Sta. Ana — the inspiration behind the name — was the first in Marikina to ship shoes to the United States in the '60s and supplied shoes to Saks Fifth Avenue. The girls pointed out the ever so slightly lifted toe – it's a thoughtful signature by Rico to prevent your toes from spilling out.
Anna shared she had just found his archives through the recommendation of her sister. She returned with Karen, they wanted to wear everything; and then came the light bulb moment to revive the brand for a new kind of consumer. Months and a Carl Jan Cruz Paris showroom sneak peek and look book debut later, Josanna makes a three-piece comeback under the creative direction of Anna and Karen.
All made by hand with special-order materials, it takes an average of six to eight weeks to create a small batch of pairs of one style. The price points range from USD$200 to $350. The shoe bags that come with every pair are designed with Carl Jan Cruz and are meant to be reused as a going-out pouch.
YSTYLE: What's your relationship with shoes like?
ANNA CANLAS: I live in an apartment so space is scarce, and any item including a shoe needs to be worth the space it takes up. That is, it needs to work hard — look good, team up with many things, and let me hoof it, as I do like to walk around exploring neighborhoods on foot.
KAREN BOLILIA: I've always thought of shoes in relation to my clothes and body. What's in proportion with my small frame, does it pair well with the rest of my stuff? And like Anna, I enjoy a walk too. And a dance! Movement is a key point.
Before the fateful visit to Josanna's workshop, was starting a shoe line or a fashion brand something you dreamed of?
ANNA: Not really, but seeing those magical archives, it felt like it had to be done.
KAREN: Clothes were a very consistent interest for us, but when we found the workshop — or maybe the workshop found us — it was very instant.
How would you describe the Philippines' shoe-making industry now? What needs to change to bring it back to its glory days?
ANNA: There's a lot of renewed pride in crafting shoes in the Philippines, especially by small businesses, and especially in Marikina. To bring it to a new golden age, a good place to start would be more cooperation, perhaps an integrating body, between different artisan workshops that do different kinds of services. Before we took a crack at making shoes, we didn't realize that those who sculpt shoe lasts, those metalworkers who engrave then press your brand on the foot bed, those who assemble the upper to the soles — they are all working at different workshops, with their own changing schedules, and that does tend to stall the making of a collection. Specialization is good, I agree, but to coordinate these different parts so fluidly that a young shoe designer could be in trance to the creative process, would be a dream.
What informs your work at Josanna?
ANNA: Previous work experience as a beauty and fashion editor [Anna and Karen are both Preview magazine alums, and in business planning from my time in the corporate world.
KAREN: Previous publishing experience, and my work as a consultant (for a designer and an artist) really taught me R&D, and fleshing out ideas. But also honestly anything. I find that there are a lot of intersections between random everyday stuff and super highly informed cultural/art references. Our weather too for sure. The pace and cadence of how we go out. The female form. Dancing. Tender phrases found from things we've read — Anna and I share those with each other a lot.
How's it like working with Josanna's Rico Sta. Anna, updating the shoes from his archives?
ANNA: He and his daughter, who manage their R&D workshop, were so open when we approached them with the thought of reviving the brand. We are always mindful and respectful of that.
KAREN: He's amazing and a true artist. He's also as enthusiastic as us when it comes to working on the archives. He would call up his old suppliers from all over the country to help us secure some specific skins! Just from watching him I've picked up a lot of things in terms of which raw materials to use. What works, what doesn't, what's possible.
Will Josanna be all about high-heeled shoes?
KAREN: No, not at all. I wear Airwalks pretty much half the week. We strongly feel that those can coexist, and are working on representing that side of the coin.
ANNA: It's always going to be about shoes with ease.
Will Josanna make more Filipinas wear high heels?
KAREN: I don't think it's necessarily about that—and currently, all our heel heights just sit a little over an inch—it's more about stepping into a pair of shoes that you may have instinctively liked, moving with it, growing your wardrobe with it. Everybody's got their own relationship with shoes and to fancy ourselves as a brand that will "make" people wear heels would be didactic; we trust that in choosing to pick up a pair of Josannas, you get to fulfill a personal want/need that isn't dictated by us. The one thing we'd maybe insist on is the make of our product: it's handmade and it's intimate. We're proud of that.
Long-term plans and dreams for Josanna?
ANNA: We are keen to expand too into other objects that have that element of new-old.
KAREN: We really see the project as a functioning studio down the line. So we'll see!
What can we expect from your pop up next month?
ANNA: Our three styles from the first season—the Fettuccine multi-way sandal, the Method mule and the Alat slide (made of betilla fish skin that comes from a local tannery), in our complete range of sizes so guests can try it all on and find their perfect fit.
* * *
Email info@josanna.studio for inquiries.