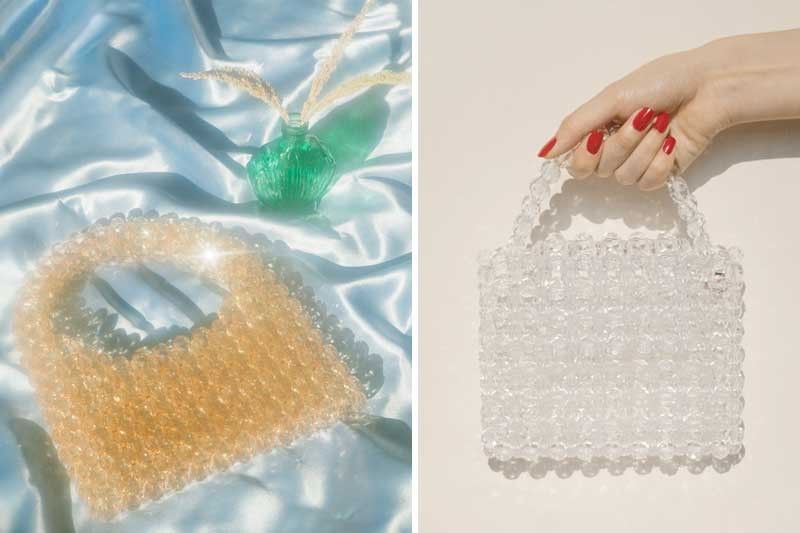 (Left) Cocktail bag in tootsie. (Right) Mini Evening bag in ice drops
MANILA, Philippines — Tap into your childhood nostalgia with a trend that has been seen all over social media. Enter: beaded bags. The style is seeing a resurgence care of cult brands Shrimps and Susan Alexandra, and is seen on the arms of Instagram's most famous influencers. In today's issue of YStyle, we get to know Melissa Gatchalian and Nicole Santos of "From_____" (yes, that's the name of their brand; no, that's not a typo). Their homegrown label is set to inject a playful attitude to your wardrobe care of their bead-encrusted bags that's made locally by hand.
YSTYLE: How did the idea of your brand come about?
Melissa and Nicole: It was really an excuse to travel! We went on an all-girls trip to Bali and saw these woven bags that we thought our friends back home might like too. After seeing the response to our photos and stories, we thought it would be nice to go on other trips together to find more cute things from wherever we're headed to next hence the name from_____.
Who's behind From_____?
Nicole: Melissa and I started From_____ with a few partners — our friends from Sunnies Studios. Not all of us are bloggers, but we do tend to take Instagram a little more seriously than most people (comes with the job). And we've all taken Mel's photos at least once (laughs)! The two of us used to sit right next to each other at work — I would write the copy for her graphics. That's essentially what we still do now for From_____. In between JOs, we would sneak a peek at brands and fashion bloggers we love from all over the world and would always catch each other double tapping the same things. Even long after we stopped working together, we would still see each other all the time on other people's posts — right among all the likes. These days, aside from copywriting and graphic design, I oversee production and our finances while Mel takes care of styling and content. Managing orders, sourcing and the overall brand direction are a joint effort. It's a tiny tiny team so we often find ourselves doing things we've never done or haven't done in a while (like sewing) and restocking does take time, but we wouldn't have it any other way!
How has the brand evolved since its conception?
Even though the concept of From_____ basically means we're traveling and sourcing for things to sell, we've always had future plans to create something we love with the help of local craftspeople. We were actually working on a shoe collection that we couldn't exactly get quite right yet when we noticed the sudden revival of something very familiar — the beaded bags we remember carrying around as tweens! We felt this wouldn't take as long as our dream shoe collection to refine so we got in touch with an aunt who started a livelihood program for the women in her community teaching crafts and other skills to help us start the new project.
Tell us more about the inspiration for the current collection.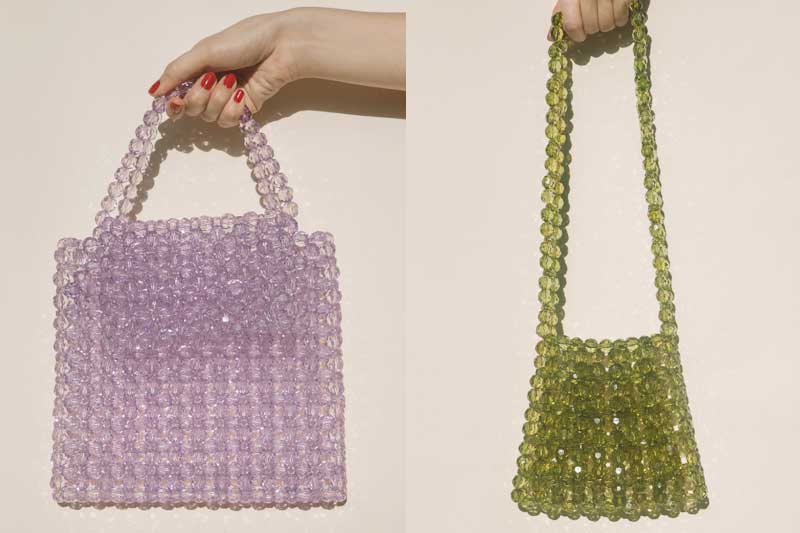 (Left) Evening bag in sugar plum. (Right) Mini Tote in lime
As fond as we were of the bright and colourful beaded bags and phone cases we used to own (along with those glitery butterfly clips), we wanted the colours to be more muted and wearable and the silhouettes more elegant. Also did a lot of digging into '90s off-duty model looks for inspiration!
Can you talk to us about your creative process?
Our creative process is basically just sending each other photos of what we like through WhatsApp (old habits die hard). It's like a very long wish list of things we wanna do since 2016.
In terms of growth, how does the brand plan on expanding?
Remember our WhatsApp wish list? We're going through every single item that's on there — with our own line of locally made shoes being the ultimate dream! Everything will be handmade and produced thoughtfully in small batches. We're in no hurry to expand in a big way. We find that working with a small group of people and being involved in every step of the entire process quite fulfilling.
What's next for the brand?
We're experimenting with other beads and also non-beaded bags for next year!
Where can we find your pieces?
They're only online for now: instagram.com/fromblank_ and facebook.com/shopfromblank. We're also working on our website!
* * *
From_____ is set to restock their collection in December in a series of new colorways and styles, so keep an eye out on their next drop.