Ystyle trend report: Spring/Summer 2019 Collections
YStyle checks in on the ready-to-wear collections for 10 of the most notable shows for our spring/summer '19 roundup.
Blue screen of death
Balenciaga
"I have 15 minutes to tell these people what Balenciaga wants to tell," shares Balenciaga creative director Demna Gvasalia with The Business of Fashion. "Every silhouette we show, our priority has to be modern beauty and modern elegance and what they represent." In what could've been the most immersive show from the season (with Chanel's man-made beach a literal close second), Gvaslia collaborated with Montreal-based artist Jon Rafman for a video-mapped 2,000-square-meter tunnel that served as a runway; with images of disk boot failure, the cosmos and molten lava dissolving into the floor and onto the clothes. The look was Blade Runner replicants — in strong (and I mean strong) shouldered coats with nipped waists — that evolved into slick-cut separates and satin shirtdresses. I would argue this is Gvasalia's Balenciaga at its most technical in its precision, and at its most wearable too. Undeniable.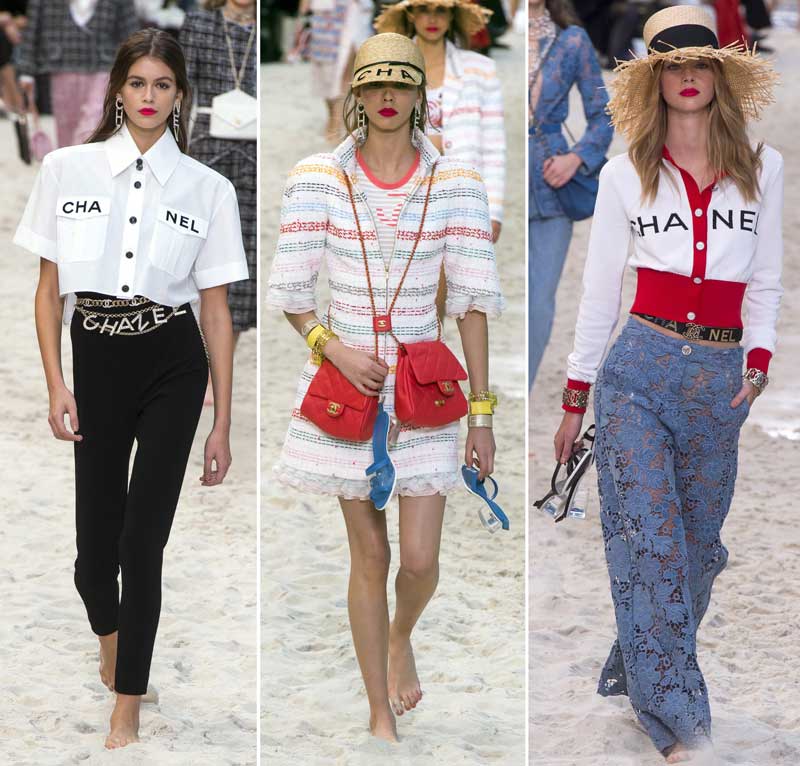 C-side views
Chanel
Karl Lagerfeld is no stranger to making waves in the fashion circuit and for Chanel's recently concluded spring/summer presentation, this means transforming the Grand Palais into a seaside fantasy, complete with sandy dunes, thatched-roof huts and, yes, gently undulating waves. Models walked barefoot on the sand — lucite block-heel sandals and quilted bags in hand, of course! — wearing oversize tweed suits in sorbet hues, parasol-print tunics, and frothy baby doll frocks. The house logo was also cheekily indiscrete, finding its way onto cashmere skirt sets, drop earrings, embellished chain belts and woven straw caps. Welcome to the deep blue "C." —MJ Benitez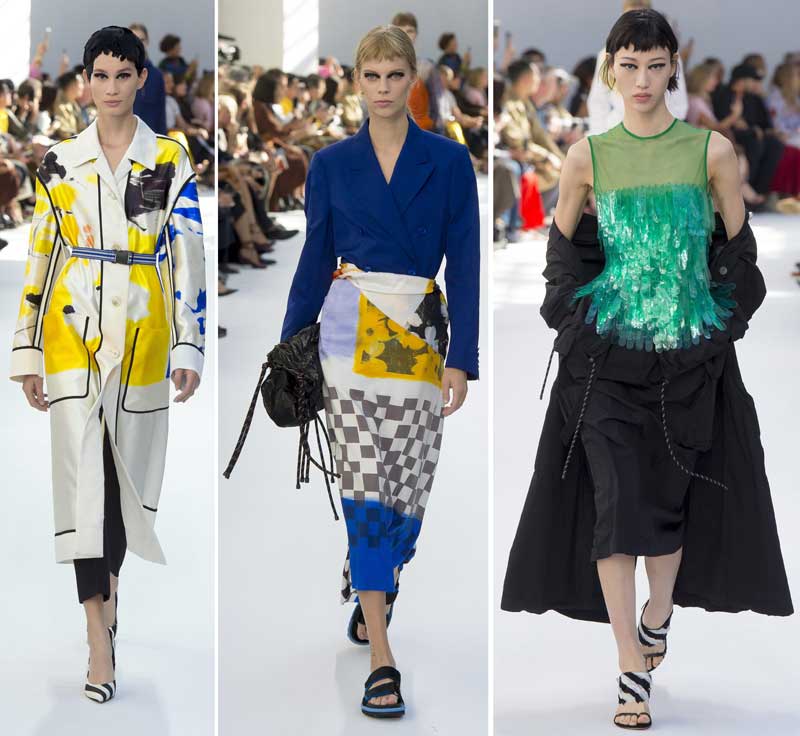 Make it work
Dries Van Noten
Workwear gets a refreshingly jovial spin at Dries Van Noten's spring/summer collection as utilitarian pieces are injected with color, texture and pattern. Cases in point: a cobalt anorak is paired with an embellished canary skirt, a sleeveless button-down is worn with a sheer floral side-drape skirt, and a plain white tee goes from basic to dramatic with the addition of a big black bow tied around the bust. Diagonal stripes and checkerboard patterns also featured in some of the designs, giving the looks a chic, graphic edge. Polished but uncontrived, whimsical but highly wearable, this collection is truly made for the modern woman. —MJB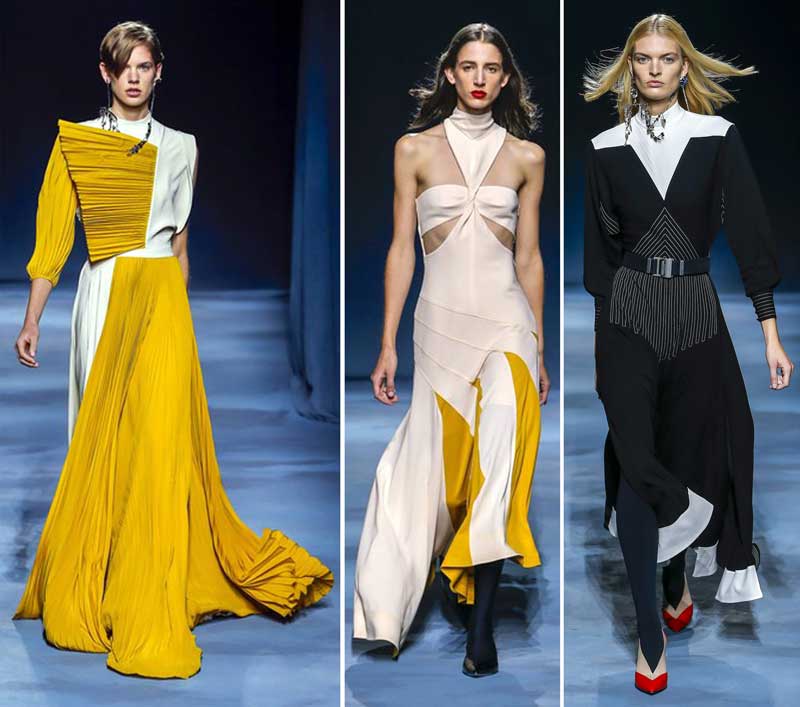 Gender neutral
Givenchy
For spring 2019, Clare Waight Keller blurs the lines between masculinity and femininity with a collection that spells luxe and sophistication. Taking cues from the life of Annemarie Schwarzenbach — a writer, photographer and traveler in the '30s who embraced her androgynous side at a young age — Keller was able to capture the cultural icon's modesty and femininity in every silhouette. One of the key pieces was a show-stopping sky-blue asymmetrical skirt that had soft accordion pleats. Apart from the fact that every single dress that went down the runway was fluid and sensuous, Keller also made it a point to highlight the waist with high-waisted trousers and cargo pants. Accessories were kept to a minimum, which helped give focus to the looks.
Packed with immaculate tailoring that still highlighted the female form, we saw looks that reflected womanly sophistication whilst keeping the boyish allure intact. Bravo, Givenchy, bravo. —FG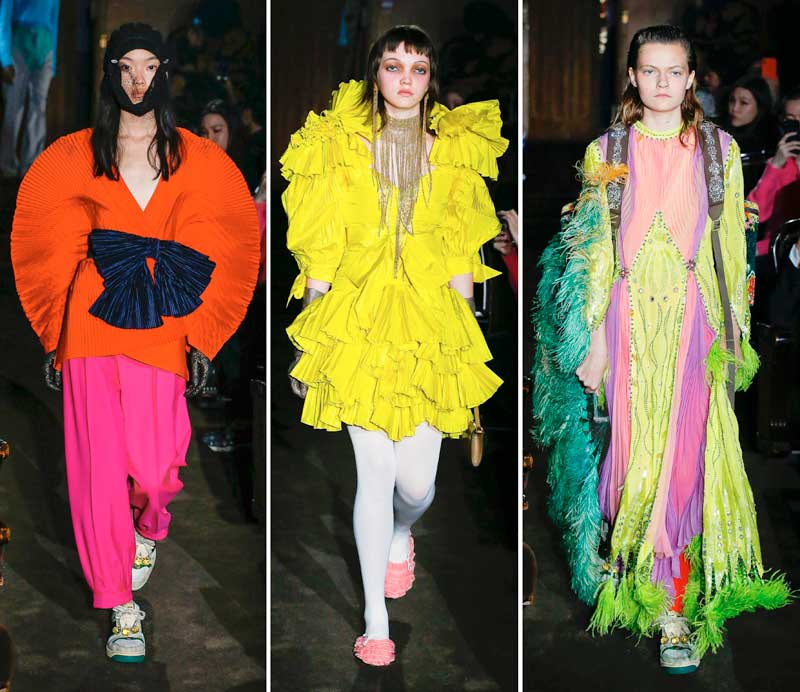 Club Kid
Gucci
If there's one thing that we're all certain of, it's that Gucci has a distinct brand DNA that shines through every season. The show was held inside the history-rich Le Palace theater where the likes of Andy Warhol, Karl Lagerfeld and Paloma Picasso were seen partying so it's only fitting that the Italian fashion house pulled out all the stops and presented a collection that's filled with a vibrant '70s flair. It also wouldn't be a collection by Alessandro Michele if the lineup weren't a spectacular display of color, ruffles and glitter — not to mention a live bird hanging onto a model's shoulder. Like always, accessories continue to be a highlight to the fashion house, and for this collection, the designer continued its high fashion collaboration with Disney through Mickey Mouse pop-art handbags. There was '90s Americana vibe to the show because of the denim jacket that had Dolly Parton's face, sweatsuits and spaghetti strap dresses.
Gucci time and time again continues to be an inviting show that's fun to watch, and we can't wait to see what other curiosities Michele's got up his sleeves. —FG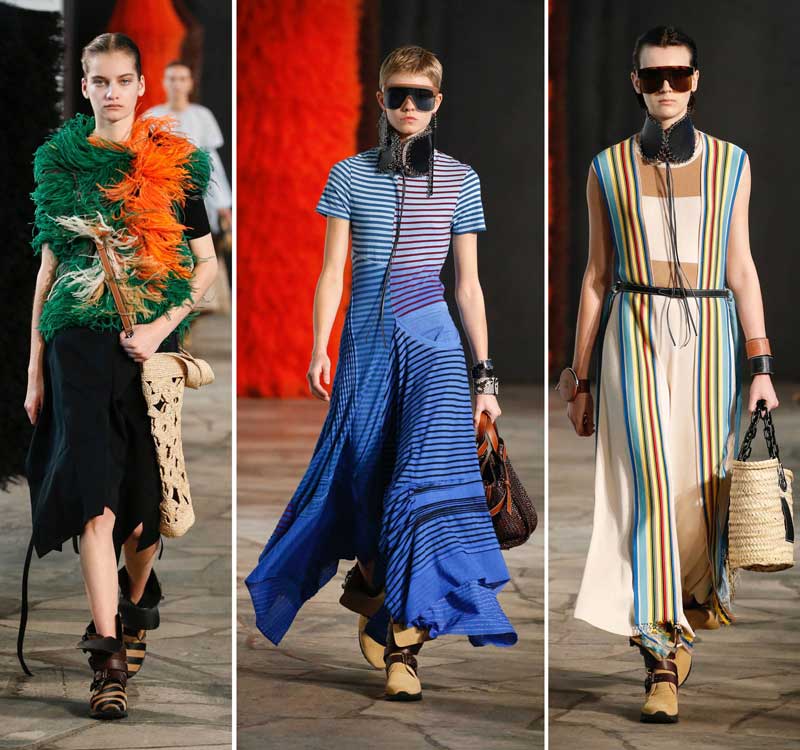 Patch Perfect
Loewe
When it comes to designing a new collection, it's all about innovation for designer Jonathan Anderson. Expect a series of textures meticulously handcrafted around the concept of movement and exaggerated proportions. Pops of color walked down the runway as well as patchwork quilting, printed fabric, woven and knitted textures. There were also a slew of bags that featured leather fringes, crocheted raffia and canvas. —FG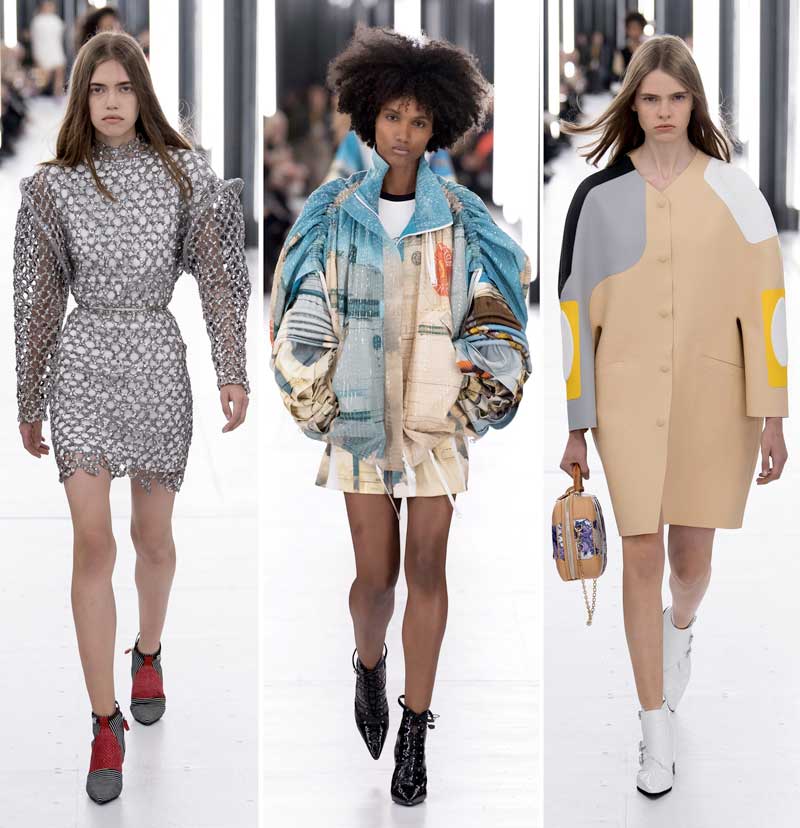 Future proof
Louis Vuitton
It was a kaleidoscope of high-tech fabrics, embellished space suits and exaggerated leg 'o mutton sleeves for Nicolas Ghesquière's Louis Vuitton. The designer brings back his sci-fi-tinged aesthetic — a motif he developed in Balenciaga, but which flourished in his earlier outings at Louis Vuitton. Where cyberpunk meets chic dystopia, the French house takes us on an interstellar leap for spring/summer 2019.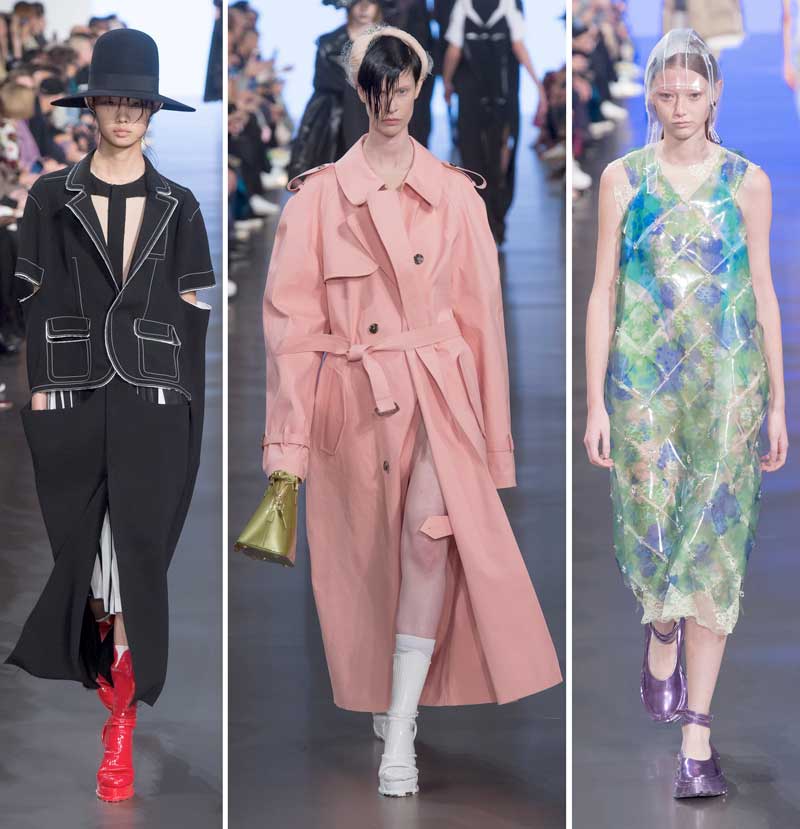 Rule breakers
Maison Margiela
Dubbed "Coed," Maison Margiela's latest collection focuses on transformation and breaking convention. Mid-century bustiers in golden brocade are worn atop contemporary gray suits, holographic skintight pants under sheer lace sheath dresses are worn by male models, and knit cardigans constrict movement as its sleeves are tied around the arms. Creative director John Galliano also explores the idea of "nomadic couture," which means that a garment is not limited to its traditional purpose and can therefore change to a completely new one. Observe: herringbone skirts are slashed and made into capes, double-breasted blazers are fashioned into swimsuit silhouettes, and trench coats are deconstructed into dresses. After all, in Galliano's world, "there are no rules — you write the book." —MJB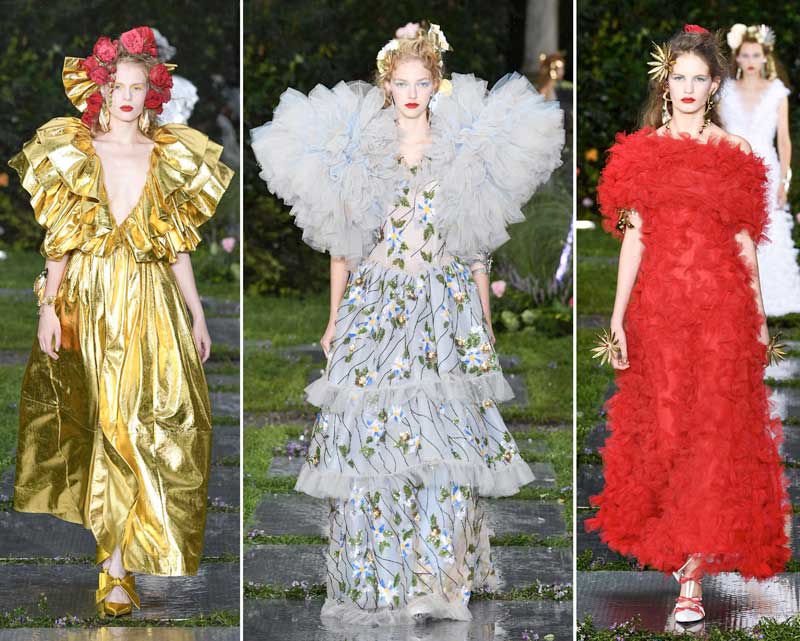 The haunting
Rodarte
It's been two years since the Mulleavy sisters Kate and Laura took Rodarte and their couture-like sensibility on the road to Paris. And now they're back in New York for spring/summer 2019. The designers chose the city's Marble Cemetery as the set for their presentation; not quite Gucci's haunting Arlesienne graveyard as resort, but otherwise unearthly on its own — with a sudden downpour of raindrops, glistening on the models as they trounced and stomped, taking care not to wake the dead. The clothes were otherworldly, spectral in diaphanous tulles and silks, but also preternatural with their ruffled finish and attention to detail. All evident in their exquisite embellishments and laborious detailing. The show was classic "spectacular spectacular" with gowns and dresses, decadent enough to match.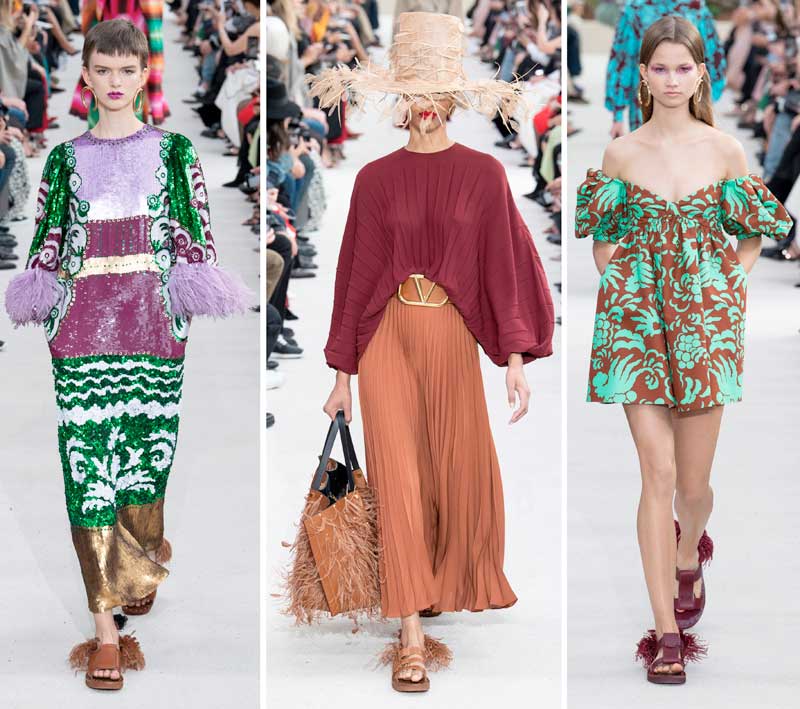 Desires of the fresh
Valentino
"Real freedom is to be whoever you want to be, wherever you are," Valentino creative director Pierpaolo Piccioli begins. "You don't need to escape; I don't like escape." A slew of all-noir looks opened the show (among them a billowing off-shoulder tunic in crêpe de chine and a sharp tuxedo suit worn with a frilled tulle blouse) but what it lacked in color, it made up for with impressive technique and structure. And just when Piccioli had us considering an all-black summer wardrobe, a sudden explosion of exuberant print and color — a bubblegum pink taffeta dress with balloon sleeves here, a jewel tone sequined column trimmed with feathers there — and gorgeous frocks decorated with Matisse-inspired prints everywhere. Stunning. —MJB