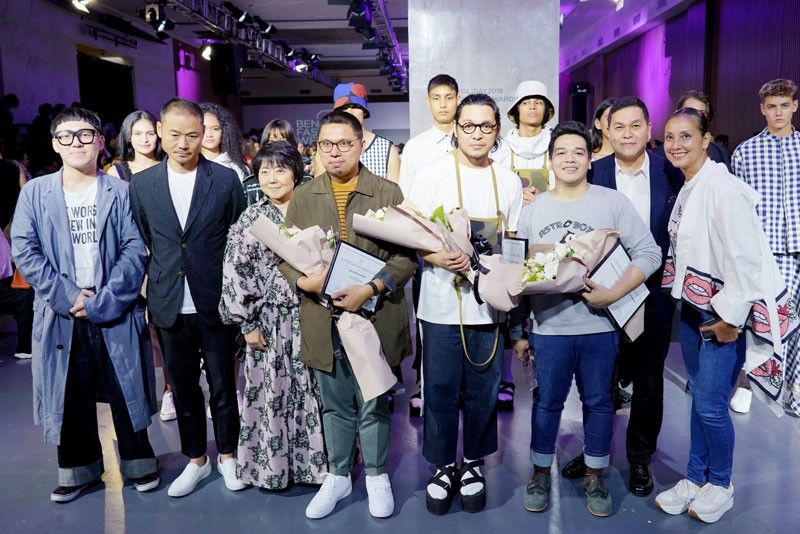 Bench Design Awards 2018 jurors and awardees: Suyen Corporation chairman Ben Chan (second from right) and (from left) panelists Yoshio Yokobori, Shige Kaneko, Akiko Shinoda, Tetta Matera-Ortiz (far right) and (center) awardees Renz Reyes, Otto Sacramento of Ottomondi and Christian Dalogaog of Ched Studio.
Photos by Walter Bollozos
Bench Design Awards 2018: Runway report
10 emerging designers presented their collections as finalists at the Bench Design Awards competition. In time for spring/summer 2019, meet the three winners who will be sent to Japan for Amazon Fashion Week in Tokyo.
In its 31st year, homegrown #LoveLocal brand Bench celebrates the second edition of its emerging fashion design competition – the Bench Design Awards. Having risen to the top of the retail arena, the company continues to support local creatives by giving voice to their talents.
With the goal of discovering young Filipino designers who are ready to take on the world's runway, the competition creates a platform for emerging fashion designers to be seen and heard. Not to mention giving them the opportunity to compete on the global stage.
After the nationwide open call last June 8, 10 finalists were selected to present their collections on the final day of Bench Fashion Week. The panel of judges included Akiko Shinoda, director of International Affairs of Tokyo Fashion Week; Yoshio Yokobori, international consultant; Shige Kaneko, Tokyo-based runway and fashion show producer; Tetta Ortiz-Matera, former model and AMFT Philippines Project Consultant; and finally, Ben Chan, chairman of the board at Suyen Corp.
The new crop of designers brought fresh energy to the runway. The creativity was through the roof, but in the end, only the top three were awarded the opportunity to present their collections alongside Bench at Amazon Fashion Week spring/summer 2019 in Tokyo. For the second edition of the Bench Design Awards, and in no particular order, the collections of Ottomondi, Ched Studio and Renz Reyes were selected for the top prize.
In this YStyle runway report, meet the 10 finalists and their collections from Bench Design Awards 2018.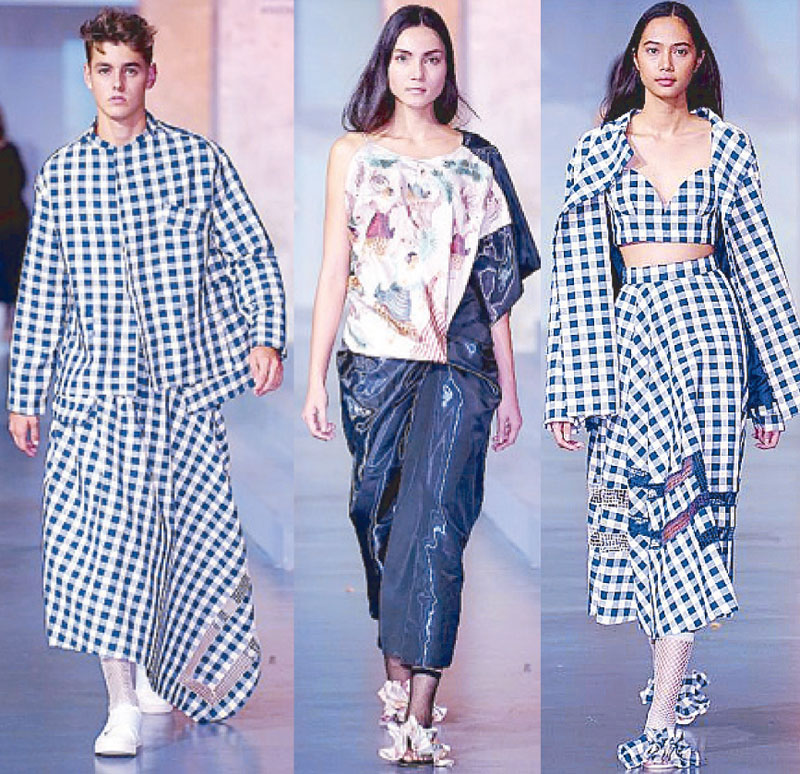 CHED STUDIO - Winner
In the generous volume of silhouette, the precision of tailoring and the indulgence for opulent fabrics — we see feminine strength and quiet confidence in the oeuvre of BDA 2018 awardee Christian Dalogaog. For his namesake label Ched Studio, the designer pays tribute to the relationship between nostalgia and modernity with his collection titled "Manila: Reflection of the Past in Contemporary Fashion," presenting arguably the most commercial-facing lineup from the group.
There was a palpable sense of effortlessness in his pieces, a somewhat knowing and assured sensibility that these clothes are meant to be worn, to be lived-in and loved, over and over. His sense for cut and drape show confidence in his use of materials; from rich ginghams, to manipulated callado embroidery, to swathes of luxe lurex, and digitally printed nylon taffetas imported from Japan. With a collection that exudes craft and technique, there's a lot to digest, and a whole lot more to admire at Ched Studio.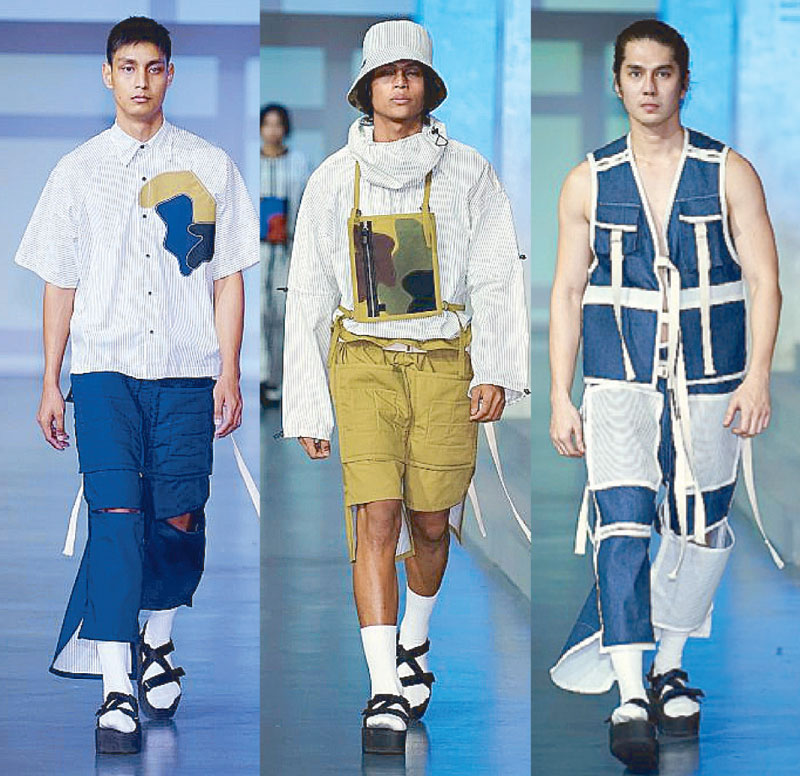 OTTOMONDI - Winner
Otto Sacramento's worldview is a cross between the 2018 version of what Samurai warriors could look like and a highly utilitarian approach to dressing. According to the judges of this year's Bench Design Awards, it's a winning combination for the designer's namesake label Ottomondi.
Inspired by "a calvacade of modern warriors trooping down the mystical Karst mountains," notes the designer, his collection is a mélange of East Asian influences, specifically martial gear, reinterpreted for a contemporary context. His instincts lead to ample detail work in his clothes — either a multitude of pockets or a sensual approach to zips and ties that go on to fasten panels together, the effect recalls an ancient fencer's jacket or today's modern Kendo practitioner. Ottomondi makes the case for his own arsenal; wooden stick swords might just be the only thing missing.
All things considered, the aesthetic is quite "now" with louche, pared-down silhouettes shored up with just enough interest (in this case, a fine-tuned sense of detail). Ottomondi is a brand to watch, and we hope the world pays attention — starting with Tokyo's Amazon Fashion Week 2019.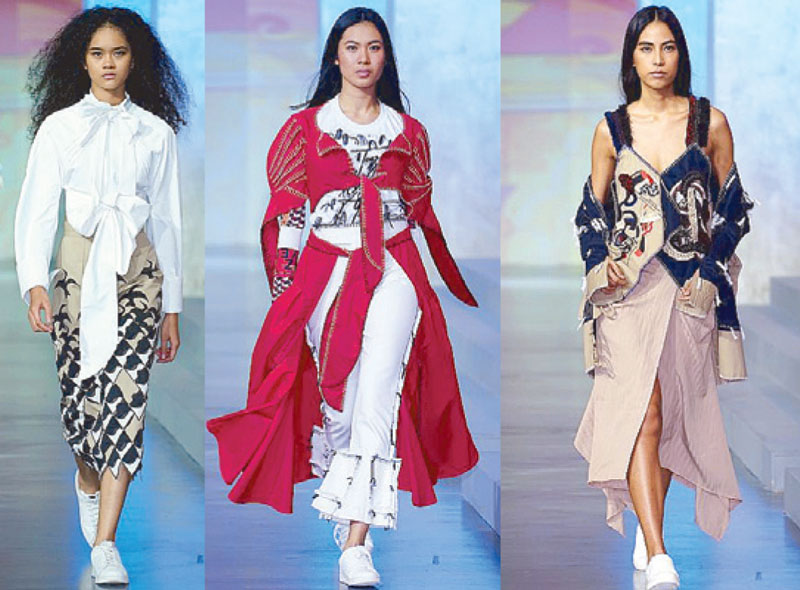 RENZ REYES - Winner
There is a distinctive Hitchcockian tenor to the collection titled "Tear You Apart" by BDA 2018 awardee Renz Reyes. It's no coincidence that the designer notes Art Noveau and the master works of Italian horror filmmakers Dario Argento and Mario Bava as some points of departure. There is tension in these clothes, articulated plainly even from the first look — pairing the effusive romance of a pristine pussybow blouse constricted by stark, avian tessellations printed on a pencil skirt. You can see it in the soft feminine shapes made severe by rigorous whip stitching; the exaggerated notions of large buttonholes and oversized bows adding new interest to his otherwise utilitarian silhouettes. Coupled with his Suspiria-inspired color palette and his penchant for silk scarf prints, this heavily embellished collection goes on to hit all the right notes — be it dread, desire or both.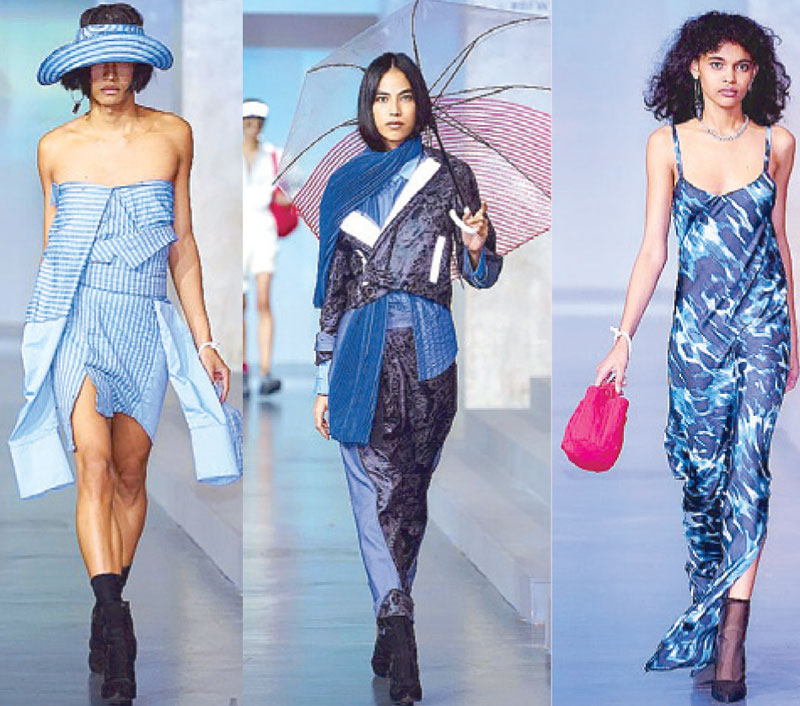 TOQA
It's still the post-resort, post-tropical cool girl for Isabel Sicat and Aiala Rickard's Toqa. And why not? It's sustainably made — presenting a collection sourced entirely from retasos and dead stock fabrics — and expansive, in its own quiet way. The brand exists to create clothes that break free from the "flawed and constrained" perceptions the world associates with "island tropical" fashion. There's still so much to say and based on this outing, the designers have proven able to evolve their restrictive body-con, sport-resort aesthetic to more wearable pieces (that haven't lost their teeth): highlights include a summer cotton sheathe wrought with textured machine stitching and a silk dress with just enough slink in a tie-dye print.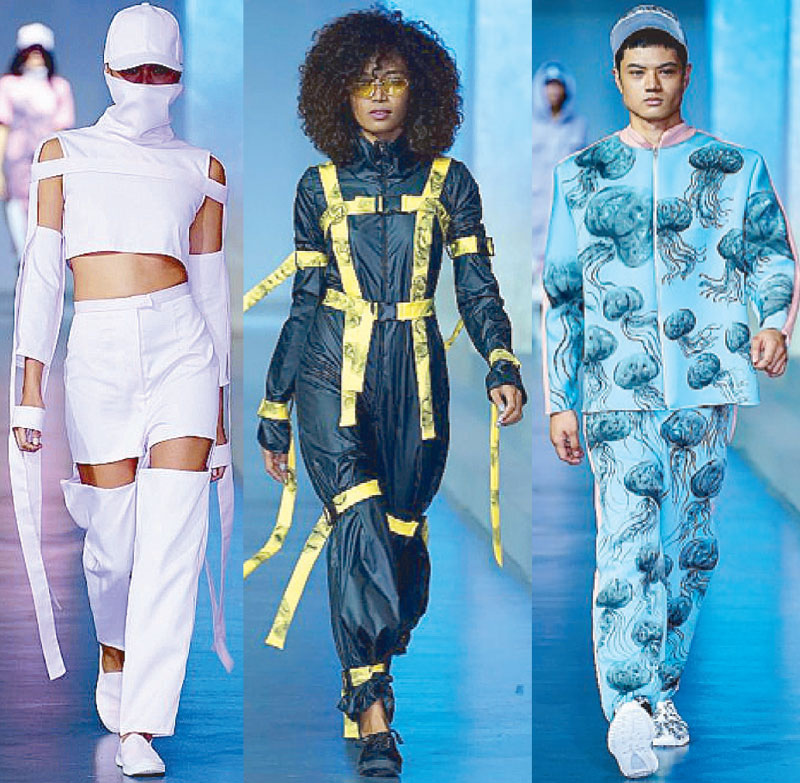 MARVIEN
Marvien Dason makes his case for "tech-wear" with his collection for Bench Design Awards 2018. The collection presents a mix of scuba-wear meets Tenchu Stealth Assassin garb in a pastel palette of hushed pinks and sea foam greens. Dubbing his collection "Gyotaku" (citing the centuries-old Japanese art form of prints made with fish), Dason was inspired to hand-paint his pieces with sea creatures and other aquatic motifs.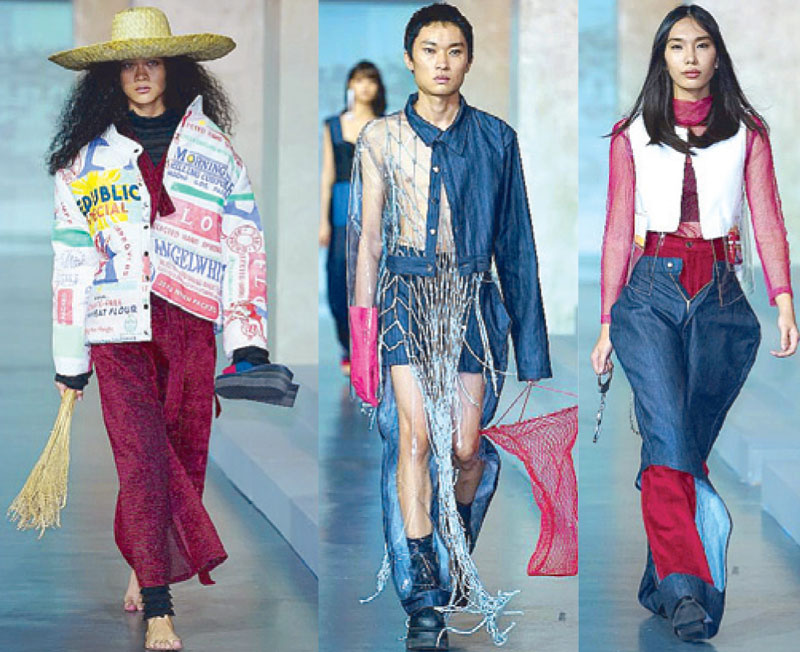 ANTONINA ABAD AMONCIO
Set to a projected backdrop of Manila and the pulse of Filipina MC Ruby Ibarra rapping over an urgent hip-hop beat, Antonina Abad Amoncio's collection doesn't fail to make a statement. Dubbed "Para Sa'Yo," Amoncio describes her work for this year's BDA as "a contemporary streetwear collection, which pays tribute to the Philippine workforce." Underneath each of the eight archetypes she chose to represent, the designer wanted her pieces to explore socially relevant issues such as modern feudalism, and contractualization, not to mention systemic poverty.
It's a lot to take in for an eight-piece collection but the use of unconventional materials and non-traditional silhouettes was successful in delivering the message. Picture these: a PVC-spliced jacket worn over loose knit lambat or fisherman's net, a look that comments on the Scarborough Shoal conflict; a quilted denim puffer jacket, worn with a balikbayan box strapped on the model's back as accessory recalls "brain drain" and the reality of overseas Filipino workers, according to the designer. Amoncio was at her most compelling with her iteration of the farmer archetype — an oversized jacket made out of actual sako fabric, worn over a stretch oxblood pinafore. Given the task at hand, the clothes were cogent enough in its message (albeit literal at times). Amoncio definitely brings a perspective as a designer and we're interested to see more.
JANN BUNGCARAS
Titled "Wanderings of a Child Prince," it's no big surprise when the designer cites Saint-Exupéry's The Little Prince as his main inspiration. And for Jann Bungcaras' Bench Design Awards debut, the clothes themselves get quite literal as well. The collection was a march of lost boys in a palette of whites and grays, topped with childlike crowns and aviator-inspired flight goggles. There was deft tailoring to be appreciated here in crisp, wearable separates and deconstructed suiting. There's also triumph in the knit embellishments adorning the clothes — taken all together, the clothes didn't wander far from the naïf-chic the designer set out to find. And that kind of commitment is commendable all on its own.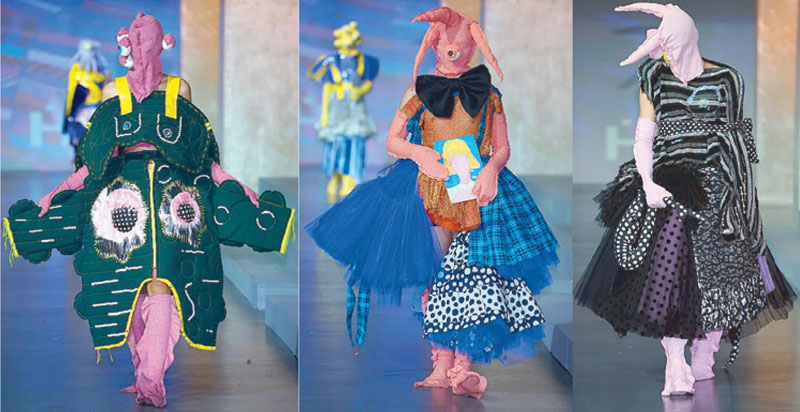 HA.MÜ
Taking inspiration from childhood fears and the adult-sized inner demons they grow up to be, design duo (and crowd favorites) Abraham Guardian and Mamuro Oki presented a larger-than-life collection that is quintessentially HA.MÜ. "How we imagine the monster under our bed inspired this collection," shares Guardian, conjuring images of mysterious shadows and misshapen forms, googly eyes and alien-like tentacles. True to their signature, the collection was a rigorous clash of texture and material, print and color; a 3D stuffed appendage for every exaggerated pleat or ruffle.
All said and done, HA.MÜ approached their BDA showing the same way Thom Browne would. "When we participate in fashion shows" explains Oki, "we showcase our work by highlighting the art form and the technique we experiment with. For our wearable pieces, we dissect and get inspiration from here." With a rumored ready-to-wear collection in the works, this collection shows promise as to what we can expect next from the brand.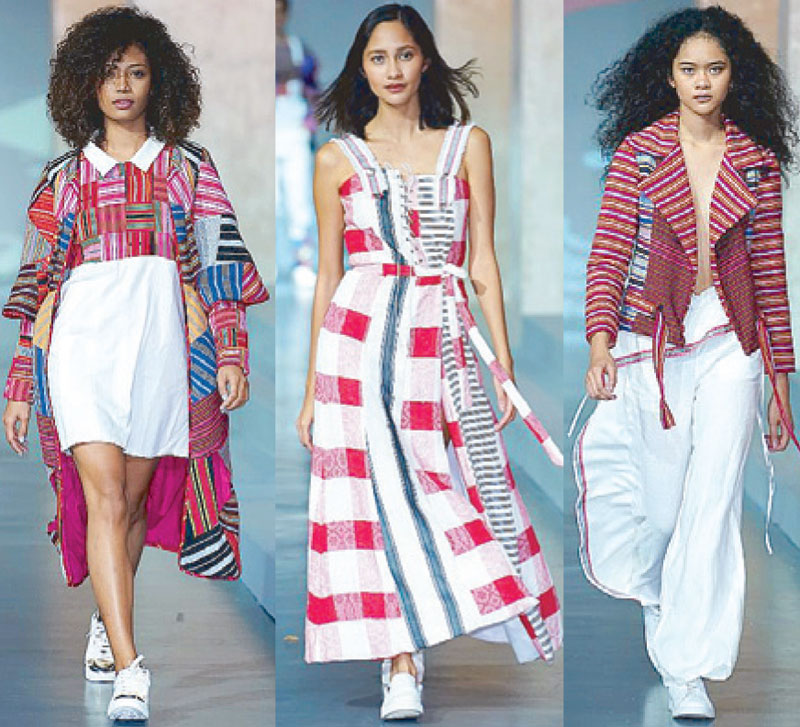 HARVIC DOMINGUEZ
With designers who take the path of modernizing indigenous motifs and traditional textiles, there are questions that come baked in when it comes to the work and its consumption. Be it questions of ethically sourced materials or closed loop productions (where does the credit belong, truly? The loom or the factory?) Some answers have become difficult to trace, and sometimes impossible to really discover — but all that said, designer Harvic Dominguez still makes a formidable case for celebrating Filipino craft.
By using a mix of prints and color, Dominguez sources "Inabe" weave from different parts of the Cordillera region to make clothes that speak to local artisan enthusiasts. "I hope that I will also be able to contribute in supporting Philippine indigenous communities by patronizing traditional hand-woven textiles of independent weavers to help the local weaving industry."
Sustainably-made? Maybe. Well-intentioned? Sure. Altogether new? Not really. If the demand for well-made, traditional meets contemporary fashion continues to grow, then Harvic Dominguez is your guy.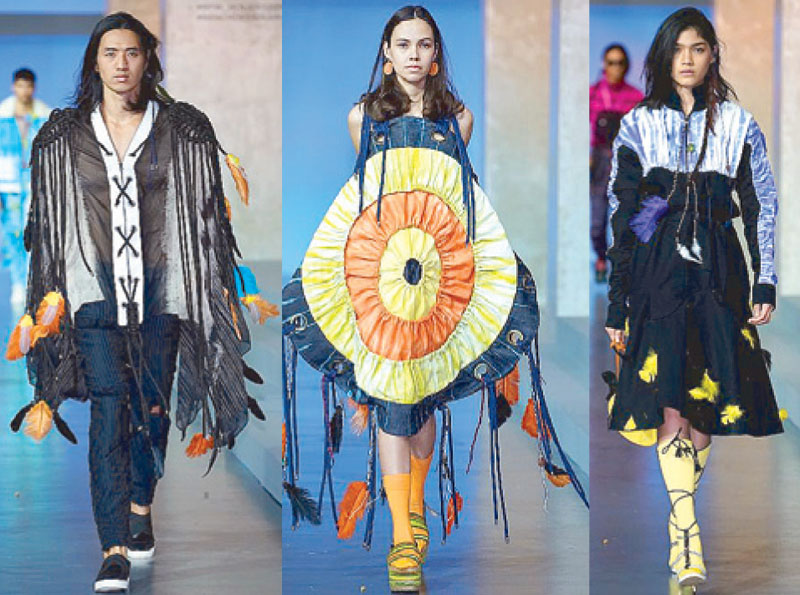 REYSAN ORNOPIA
Inspired by a recent trip to Siargao, Reysan Ornopia builds a collection caught inside the sprawling web of a Dreamcatcher. Colorful feathers, beads, protective charms, tie-dye treatments, bleached prints and persistent North American motifs (questions of cultural appropriation aside) detail the collection.