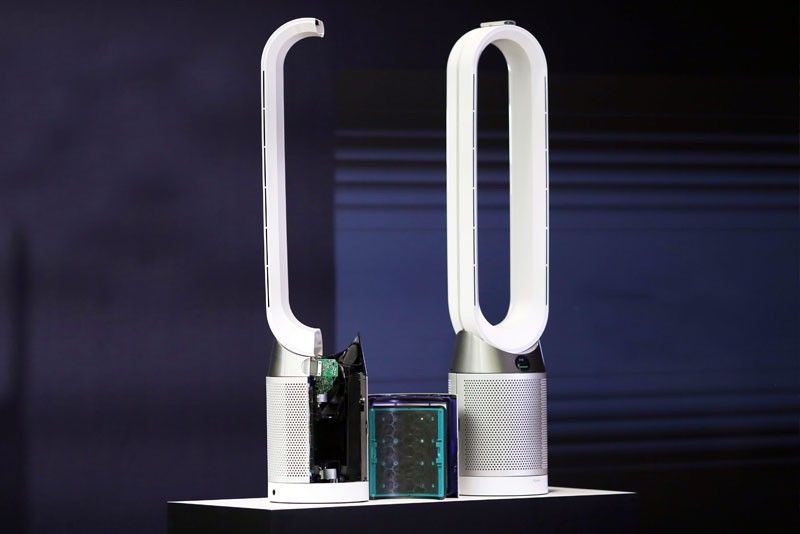 In with the bad, out with the good: the advanced filtration system of the Dyson Pure Cool captures up to 99.95 percent of airborne pollutants and allergens, ensuring the release of cool, clean air.
MJ Benitez
(The Philippine Star) - May 25, 2018 - 12:00am
The new Dyson Pure Cool purifying fan is the sleek, innovative solution to indoor air pollution.
MANILA, Philippines — We always look for a problem first then design a solution afterwards," explains Dyson Category Intelligence engineer Mark Heard. We're at the Glasshouse in Kuala Lumpur for the regional press launch of Dyson's latest invention and, interestingly enough, the problem the global tech company addresses this time can't exactly be, well, seen.
"Indoor air pollution can be up to five times worse than outdoor air pollution," Heard reveals. "We spend 90 percent of our time indoors and what enters our homes are pollution sources from outside such as car fumes, particulate matter and pollen combined with indoor sources such as pet hair, scented candles, cleaning products and cooking fumes." Ironically, while homes today are becoming better sealed to comply with energy efficiency or insulation requirements, the downside is that these unwanted pollutants effectively get trapped, compromising airflow cleanliness and circulation.
Now, as someone who's formed a habit of lighting multiple scented candles in my bedroom to cap off days-that-won't-seem-to-end (which happens much too often for my taste but let's not go there), it's not particularly fun to hear that your bedside stress reliever contains chemical substances that release ominous-sounding carcinogenic substances like benzene and formaldehyde into the air. And the possibility that the pollution inside my room is five times worse than in Metro Manila's city streets? I'd be lying if I deny the mess is there but I guess I never really thought about the microscopic part of it (and how it's not something I can just hastily shove under my bed). No wonder my allergies go haywire in the morning…
Enter: the Dyson Pure Cool purifying fan. Combining their expertise in airflow, filtration and electronics, the Pure Cool is their ultra-stylish cooling solution to getting rid of those nasty air pollutants. Available in two sizes — a large oval tower format for floor placement and a small circular desk format (which you can tilt at an angle!) for worktops and compact living spaces — the smart machine gets the job done with a 360-degree fully-sealed filtration system that's actually a combination of two filters: activated carbon to remove gases and Glass HEPA to capture 99.95 percent of microscopic allergens and pollutants in the room. Coupled with their Air Multiplier technology and brand new 350 oscillation, the bladeless beauty projects and circulates up to 290 liters of purified air per second around the room, easy peasy.
Room cool enough for you? You can switch off the machine's cooling features with its purification-only mode, which creates a more diffused airflow and consumes less energy.
Okay, so these features are all well and good but how would you know if it's actually cleaning your space? A cool (no pun intended) feature the Pure Cool has is an all-new LCD display that actually senses and reports present pollutants in real time while simultaneously reacting using a unique Dyson algorithm to remedy the problem. Each fan is also integrated with a handy Dyson Link app, which you can use to control the device and assess the filter's lifespan, as well as track indoor and outdoor pollution, room temperature, and humidity levels. Granted, this rundown of advanced features is a mouthful but essentially, the Pure Cool serves a multipurpose function, acting as a purifier, cooling fan, air quality sensor, and with its ultra-sleek design, even a chic home accent. Talk about mighty impressive. It's important to note, however, that good things don't come cheap and this innovation is no exception. While the Dyson Pure Cool Desktop purifying fan retails for P34,500, the Dyson Pure Cool Tower purifying fan is priced at P44,500.
Hefty price tag aside, this thoughtfully designed device is really quite the stunner (both in function and aesthetic) and one that's really finding its way high up on my wish list. Can't wait to get your hands on one? You're in luck because the Dyson Pure Cool purifying fan is available in stores starting today. Time to breathe easy.
* * *
Available in white/silver and black/nickel colorways, the Dyson Pure Cool purifying fan is available at the Dyson Demo in Greenbelt 5, SM Aura Premier, and Podium Mall. It will also be available in Century City Mall, Greenhills Promenade and select Rustan's and True Value stores.