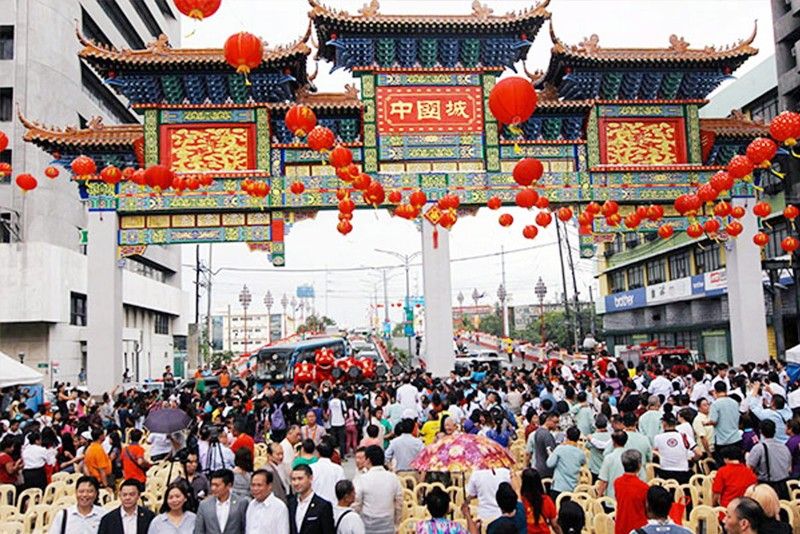 The world's biggest Chinatown traditional arch gate is located at the foot of Jones Bidge at the entrance of Binondo district, reputedly the world's oldest Chinatown. It stands 63.8 feet high and 74 feet wide, taller than Washington's 60-foot Chinese friendship arch which was previously the world's largest.
Traditions & good luck beliefs in the world's oldest Chinatown in Manila
Although many members of the local ethnic Chinese minority have for years moved their homes out of Manila's historic Binondo district — reputedly the world's oldest Chinatown and still an important financial hub as well as wholesale trading center — our age-old traditions are still celebrated in the annual ni-tao or Chinese Lunar New Year.
Other modern-day, informal Chinatowns of Metro Manila that have flourished since the 1960s include the Banawe area of Quezon City (complete with huge traditional arch gates) and the Greenhills area of San Juan City.
"Kiong-hee Huat-chay" is the Chinese new year greeting in the Hokkien or South Fujian province language of Min-nan that most local Chinese use here — different from the "Kong-Hei Fat-Choy" of Hong Kong or Macau Cantonese people or the "Gong-xi Fa-chai" in Mandarin.
Here are some of the timeless and essential traditions that many of us local ethnic Chinese and even an increasing number of non-Chinese of the Philippines practice during this most auspicious festival:
Giving of ang-pao. Kids, teens and usually still unmarried members of the family are delighted to receive their ang pao (literally, "red envelope") in Hokkien ("hong-bao" in Mandarin) during this festival. Non-family members and friends, even non-Chinese, are often given the annual ang-pao gift to bestow blessings.
It is believed that both the recipients and the givers are blessed by this generous ang-pao tradition, with its blessings of good fortune and long life. Some say the amounts given should be in even numbers, and ideally that the paper bills should be new or crisp, not old or damaged paper currency.
It doesn't matter how big or small the money inside the ang-pao is; it is the act itself that generates blessings for both giver and recipient.
Personally, even when I was just starting out with my small real estate business years ago, I'd already made it my company tradition to give ang-pao annually to all people.
Family reunion dinners. Families, sometimes extended clans, gather every year on Chinese New Year's eve for this annual reunion dinner. Traditionally served dishes include steamed fish symbolizing bountiful surplus, noodles symbolizing siu or long life, and bountiful, round-shaped fruits.
In the past, family reunion dinners were mostly held at home, but nowadays, with the proliferation of so many good Chinese restaurants in our cities, many families dine out in restaurants or even hotels.
Eating and giving tikoy. Locally, it's called tikoy, which means "sweet pastry" in the Hokkien language (since most members of the ethnic Chinese minority here trace our ancestral roots to Min-nan, or south Fujian province); it's known as nian-gao in Mandarin, this glutinous rice cake that has become a popular symbol of Chinese new year. It's a favorite dessert during this festival and a popular gift to friends and kin.
We have many unique ways of cooking and eating tikoy in the Philippines, but usually it's dipped in beaten eggs and the cut pieces are deep-fried.
It is believed that the sticky quality of the tikoy represents the tight-knit closeness of families and clans, which hold the hopes, goals and ideals of most ethnic Chinese, according to Filipino Chinese Bakery Association, Inc. (FCBAI) president Peter Fung and honorary president Enrico Ah.
Wearing red. For thousands of years, the color red has been the favorite of Chinese civilization for celebrations like the Lunar New Year, birthdays and even traditional weddings. In contrast, unlike the Western custom of wearing black for mourning, white is the traditional mourning color in Chinese culture.
Wearing red clothes and having red-color decor are part of the Lunar New Year tradition, because red symbolizes celebrations, good fortune, happiness and positive energy, according to Anvil Business Club (association of young Filipino Chinese entrepreneurs) honorary president Reynold Siy.
Dragon and lion dances. For ethnic Chinese worldwide, especially overseas Chinese communities in diaspora, dragon and lion dances are enacted to herald celebrations of the Lunar New Year. In contrast to the negative image of dragons in the West, most of East Asia from Korea, Vietnam, China, Singapore, Malaysia to Japan revere and celebrate the mythical dragon as the ultimate symbol of benevolence and power.
In Metro Manila, dragon dances and lion dances are done by Chinese-style martial arts and athletic associations based in the Binondo Chinatown area such as the 81-year-old Kong Han Athletics Club located at Zacateros Street, Manila or the Ling Nam Athletic Club.
Some schools like San Juan City's Philippine Chen Kuang High School led by philanthropists Dr. Alfonso Uy, Alex Yap, Jeffrey Ng and principal Steve Wong have their own in-house student dragon and lion dance troupe.
Due the popularity of this tradition with even non-Chinese families or businesses inviting Chinatown athletic clubs to perform dragon and lion dances everywhere during this season, their officers told this writer that they often hire young, agile non-Chinese dragon and lion dancers to fulfill all requests.
According to the Facebook page called Binondo Heritage Group (BHG), Kong Han is one of the two earliest martial arts clubs to set up in Manila, founded by the late grandfather of the current master Henry Lo. Among the young people who trained in Chinese kung fu or wushu martial arts here included now Federation of Filipino Chinese Chambers of Commerce & Industry, Inc. (FFCCCII) honorary president Jimmy Tang and EVP Henry Lim Bon Liong.
Fireworks. An ethnic Chinese billionaire once reminded me: "Unlike the West which transformed gunpowder into weapons for war, the original purpose for this ancient invention of the gunpowder was for celebrations like the Chinese Lunar New Year, weddings or opening of new enterprises."
Since ancient times, Chinese people traditionally believed that lighting fireworks such as firecrackers would scare away evil spirits in the homes, neighborhoods and communities and welcome good luck.
Philippine Fireworks Association president and Anvil Business Club (association of young Filipino Chinese entrepreneurs) honorary president Jovenson Ong told the Philippine STAR that celebrating the new year based on the Western Gregorian calendar and the ancient Chinese lunar calendar with fireworks has become a time-honored Filipino tradition.
Ong said he is hopeful that President Duterte will still allow the local manufacturing and sale of pyrotechnics (called pa-ilaw in Tagalog and yen-he in Hokkien) that are safe, and said his group supports Duterte's decisive reform to stop firecrackers (paputok in Tagalog and pang-phaw in Hokkien).
Annual cleaning of homes. Most ethnic Chinese spend the holidays doing an annual cleaning of homes and even offices before the onset of the new year, believing that a cleaner environment is more welcoming of blessings, good health and fortune. Feng-shui or geomancy experts also advise adopting cleanliness, since harmonious environments are ideal for success and good fortune, while chaos, filth or even malodorous bodies of water are considered negative.
Paying off debts. Many traditional Chinese worldwide believe that settling one's debts and other obligations before the Lunar New Year augurs more success, prosperity and good fortune.
FFCCCII president Domingo Yap told this writer: "We encourage our community's entrepreneurs and professionals to continue our ancestors' positive, good traditions, such as honestly honoring our obligations and debts on time, not only during the Lunar New Year, but throughout the year."
It is also important for many traditional ethnic Chinese entrepreneurs to uphold and protect their shinyong, or trustworthy reputation, by paying off debts punctually and honorably, not only for good luck and good karma, but because often this is their most important asset and more essential than written contracts in business dealings with fellow ethnic Chinese whether in the Philippines or internationally.
Praying at temples (or churches). Like ethnic Chinese and other East Asians worldwide, the Lunar New Year is also the time when a lot of people visit Taoist or Buddhist temples to thank God for blessings and to pray either by lighting joss sticks, burning incense or making offerings.
FFCCCII honorary president Ambassador Francis Chua told me that the largest and one of the oldest Buddhist temples in Metro Manila is the Seng Guan Temple located in Narra Street in Divisoria area of Tondo district, Manila.
For some Christians, this annual festival is an ideal occasion to pray in either Catholic or Protestant churches or at home to thank God and to seek a better future.
Happy Chinese New Year of the Dog!
* * *
Thank you for your feedback! Email willsoonflourish@gmail.com or wilsonleeflores@yahoo.com. Follow @wilsonleeflores on Instagram, Twitter, Facebook, read my blog wilsonleeflores.com.