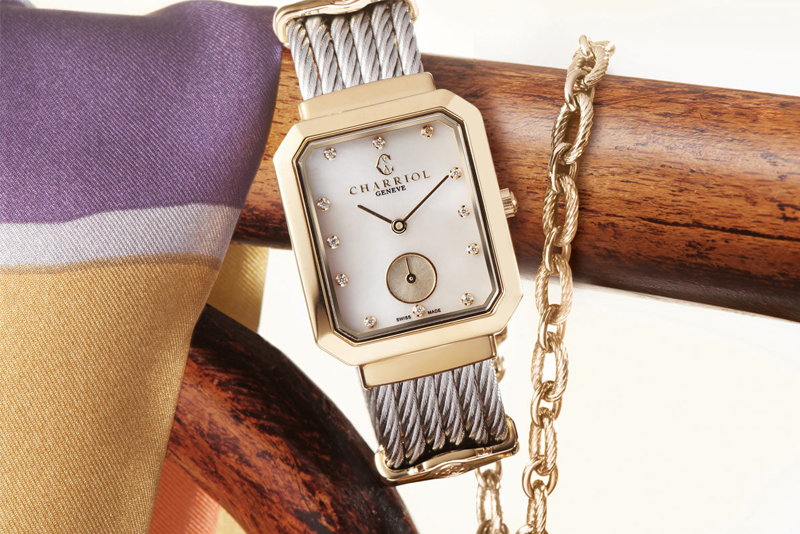 St-Tropez Mansart: An understated way to wear jewelry. Its octagonal face is inspired by 17th century architect Jules Hardouin-Mansart's Place Vendôme.
The femininity and masculinity of Charriol
MANILA, Philippines - When Philippe Charriol created his namesake label's signature twisted steel cable jewelry 34 years ago, he envisioned it to be a men's line. "Steel – it's strong, it's masculine. It's not something feminine and delicate like silk. Yet it took fire in the feminine side!" he admits his surprise during a recent visit to Charriol's Greenbelt 5 boutique.
After all, the idea that a strong woman is exclusively cold and androgynous is inaccurate; one who embraces her femininity, wearing her heart out on her wrists, fingers, ears, or around her neck, if she so desires, is just as strong. Not many materials are as strong as steel cables, which Charriol goes more feminine with in its three latest collections.
Philippe reveals that his daughter, Charriol creative director Coralie Charriol-Paul fought for his approval of Pont d'Amour. The new line of bangles and rings is sleeker and more contemporary than everything else that's been released by the brand. It has a polished u-shaped clevis in stainless steel (which also comes in blue or black) or rose gold, contrasted by a twisted steel cable latch with white topaz."It's designed like a bridge bringing people from opposing sides together," Philippe explains the look inspired by the engineering of Pont Alexandre III, Pont Notre-Dame, and Pont des Arts. Bridging people together is a tradition Charriol has kept alive since 1988 with special concept lines for couples. Paris, after all, is the city of love.
Its most mystified inhabitant, the Parisienne, comes to mind. To break down the secret to her allure, Philippe tells an anecdote about Boni de Castellane, the leading tastemaker of the Belle Epoque era. "One day a guy came up to him, 'Monsieur de Castillane, you're so well-dressed!' He was taken aback and he said to the guy, 'If you notice that I am well-dressed, then I am not well-dressed,'" tells Philippe. "It shouldn't be too obvious. Not ostentatious."
Charriol's St-Tropez line is one understated way to wear jewels. The new collection Mansart is inspired by 17th century architect Jules Hardouin-Mansart's octagonal Place Vendôme, home to luxury brands, hotels, and couture houses, interpreted in a petite rectangular case (25mm and 30mm) with angled edges. It comes in yellow-gold, a rose-gold variant with diamonds at each corner of the bezel, or a steel version set with 61 diamonds. The dials are either in white mother of pearl set with diamond counters and an opaline seconds counter, or an engraved white mother of pearl and seconds hand at 6 o'clock. It's also a look at what's to come from Charriol. Philippe says, "I am going to work in this direction, adding more small secrets, more watches that look like a piece of jewelry than jewelry that looks like a watch."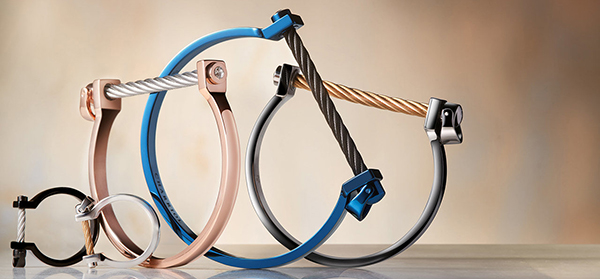 Pont d'Amour: Taking cues from Paris' legendary bridges the unisex Pont d'Amour range can signify a couple's togetherness and strength when worn.
The same twisted steel cable, wound neatly between two rims like the thread on a couturier's bobbin in past Forever collections, is used vertically in the Forever Waves collection and set between steel or pink-gold PVD arching wave rims running through the centre. Coralie designed it to echo the sea's rippling waves, be it for the water signs of the zodiac, Pisces, Scorpio and Cancer or free-spirited individuals who love the water.
Forever Waves, like Pont d'Amour, is unisex, but Philippe understands men don't wear jewelry like they used to. There's the idea that it challenges their machismo; not even a skinny cuff next to a timepiece. "Men of power used to wear a lot of jewelry like our famous Louis XIV in Versailles covered in diamonds all over," he compares.
But Philippe insists on one essential jewelry piece for men, whatever his views on femininity and masculinity may be: "Cufflinks. It's important to have variation that goes from steel to diamond. It is far more elegant to have cufflinks than buttons."
***
In the Philippines, Charriol is located at Central Square in Bonifacio High Street Central, Gateway Mall, Greenbelt 5, Newport Mall, Podium, Power Plant Mall, Robinsons Magnolia, Robinsons Place Manila, Rustan's Makati, Rustan's Shangri-La, Rustan's Ayala Cebu, SM Mall of Asia, TriNoma, 158 Designers' Boulevard (Alabang Town Center and Marquee Mall), Kiss & Fly Terminal 3, Abreeza Mall in Davao, and Veranza Mall in General Santos City. Visit facebook.com/CharriolOfficial or follow @charriolph and @ssilifeph on Instagram for more information.