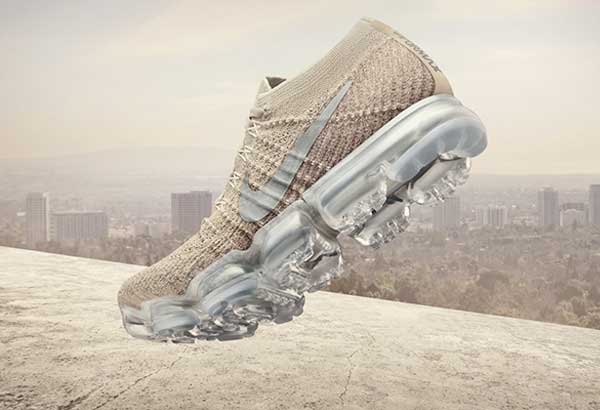 Combining two of the brand's greatest technologies - The FlyKnit and Nike Air - Nike VaporMax promises to change the way shoes are made forever. Available in Chrome Blush and Black Hero for P9,445.
Combining blushing aesthetics with performance
I used to be one of those people who didn't appreciate the idea of investing in active wear (i.e. clothes that you sweat in). And I guess during the early days of trying to transition from a couch potato (or as my yoga teacher put it, "Thinking my body was just there to carry my brain around") to having some form of exercise, I didn't really need it. I showed up to my basic yoga classes and easy jogs around UP in oversized pambahay shirts and whatever leggings happened to be lying around the house.
I wasn't especially driven or intense about working out, but I was consistent—which turned out to be the secret. Eventually you get stronger and naturally start doing more, dropping in on the advanced classes you swore you'd never take part in—and then you get why sports bras were invented. Suddenly your body is no longer this silent vehicle for your head, but is its own entity, with its own needs and demands. These days, I buy active wear more often than I buy regular clothes, and I'm always excited to try on new ideas.
NikeWomen Fall 2017 Collection
Early this week, NikeWomen invited select members of the media to preview their new Chrome Blush collection, created to empower women to reach their full potential in style. It may sound frivolous, needing your active wear to be cute and to come in hues of millennial pink — especially since I myself look anything but when I'm in the middle of a workout (I once tried to take a post-run selfie, opened my front camera, and was immediately horrified). For the longest time I just needed my workout wear to, well, work.
But aesthetics has a subtle yet potent way of influencing performance — a truth I stumbled upon when I decided to curl my lashes and swipe a bit of tint on my usually bare, ready-to-sweat face. It was a tiny difference, which I did simply because I was feeling a little less lazy. But seeing a more open, slightly more contoured, "blushing with health" reflection of myself in our barre studio's mirror inspired me to power through—made me suddenly aware that I was just going through the motions of the class, and that I could do so much better.
There is a world of difference between working out to look good, and working out as someone who already feels good about who they are and what they see. The former feels like an uphill climb and is routine at best. The latter reminds me of how someone once told me that giving 100 percent actually feels effortless, because you're in the zone and just eager to make the most out of the privilege to work on yourself.
The Nike Indy Bra
So cute workout wear that's also built for performance? Get on that. Their power is real. Our favorite was the Indy Bra, which offered a lot more support and compression than other sports bras I've tried. I personally am lucky enough to have "no-maintenance" boobs when it comes to movement and selecting apparel. But for women for whom chest pain and scandalous bouncing are perennial issues, it did its job. We got to test it out over a short but challenging yoga session led by NTC trainer Tanya Aguila, and everything stayed in its place — even for my more endowed companions (I hear downward dog and other inversion poses are notorious for suffocating busty women with their own chests, but we were all fine). The Indy Bra's support and dry, comfortable fit makes it perfect for low-impact and high-energy workouts.
And the great thing about the different exercises we get to try at Nike events is that they're all available for free on the Nike+ Training Club (NTC) App. With NTC Yoga, athletes and fitness enthusiasts can increase their physical and metal endurance, strength and mobility, with yoga routines lasting between 15 to 45 minutes, catering to both beginner and advanced athletes.
And while the general consensus in the room was that we hated (but acknowledged the need for) cardio, the most coveted item of the Fall 2017 collection was the Nike Air VaporMax, which combined the best of the brand's technologies. The upper part utilized Nike Flyknit's lightweight precision support and dynamic adaptability, while the sole featured Nike Air's contour to cradle the foot, replacing rubber with a specialized traction pattern for a soft, protected and bouncy feel as you hit the pavement. Applying three decades of expertise, the Nike Air VaporMax promises to change the way shoes are made forever. And maybe, just maybe, it will make us actually look forward to our weekly runs.
* * *
The Nike VaporMax and Chrome Blush Collection are now available in select Nike stores nationwide.