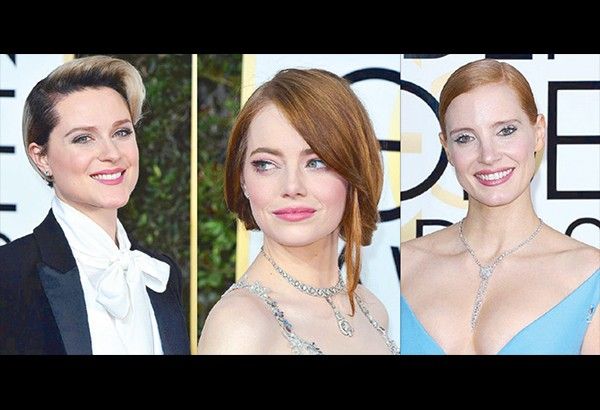 Pastel eyes Evan Rachel Wood, Emma Stone in Nars and Jessica Chastain Pastel-colored eyeshadow brings back memories of our first makeup palette, but on Golden Globe Award winner for Actress, Motion Picture, Musical or Comedy Emma Stone's (in Nars) turn-of-the-century look , Jessica Chastain's '40s film star silhouette, and Evan Rachel Wood channeling Marlene Dietrich, it was the touch that brought us back to the present.
YStyle'S Golden Globes Beauty Report
MANILA, Philippines - Awards season is upon us! It's hard to beat Meryl Streep standing up to the orange-skinned, toupee-wearing elephant in the room or Ryan Reynolds and Andrew Garfield surprise lip-locking upon Ryan Gosling's win in terms of news-making buzz. But for something we can actually apply to our decidedly more beautiful lives this new year, apart from lining up award-winning movie night choices, the Golden Globes' red carpet beauty this year was one to watch.
We see a refreshing return to playful polish. A majority sported deep V's from here to Cleavage Town, but it was done with luminous skin that simply looked hydrated; no wild contouring or in-your-face push-up underpinnings. Seemingly product-free hair that still managed to never be out of place was the order of the evening on top of glowy makeup with absolutely no harsh lines, nary a liquid eyeliner cat eye in sight. Everybody turned into a stealthy cat eye using eyeshadow. Luminous peach powder acted like a filter on every skin color, applied in all the right spots to keep oiliness at bay while still looking ethereally glowy, poreless, lit from within. As for that extra high beam, that's highlighter's usual metallic look gone creamy. Many embraced markedly '90s and '00s trends to pack a pared-back punch. It was also about hair that moves: with the exception of Ruth Negga's space age flapper, slick was an adjective seemingly banned this evening.