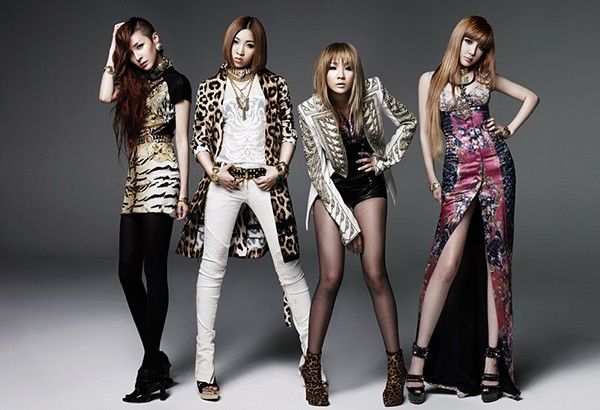 An eclectic mix of Balmain, Versace and Roberto Cavalli for their I Love You comeback performance.
2NE1 is arguably the flagship South Korean girl group to have brought the visual aspect of K-Pop to the fore. Amplifying the sonic dimension of EDM-tinged beats and catchy lyrics with an eclectic crush of designer collaborations and underground independent labels, 2NE1 was set to celebrate their seven-year reign as K-Pop's ultimate style queens. But two years after releasing their final album "Crush" in 2014, 2NE1 recently announced it will officially disband as of Friday, Nov. 25, 2016. A dark day for K-Pop fans everywhere.
Known for their fearless approach to music and fashion, the once-quartet of idols — CL, Dara, Park Bom and Minzy — have left an indelible mark on K-Pop, let alone the rest of the world.
2NE1 began their ascent in 2009 with their debut single of Fire but they only achieved worldwide recognition two years later with the Billboard chart-topping success of I Am The Best. Last week, YG Entertainment announced through an official release that the agency was "deeply saddened to let 2NE1 go," renewing only the contracts of CL and Dara on the premise of furthering their solo careers. The other two, Park Bom and Minzy, were left in the dust.
Through their No. 1 hits, concert tours and best-selling albums, it can be said that 2NE1 set new standards for K-Pop early in their careers: with their ascent, style was given a premium role — the way pop acts dress, the way pop acts dream up their concepts. Gone are the days when a K-Pop group worth their style salt would demand a seamstress-assembled set of matching outfits.
When the girls took the stage in full runway-ready looks in early 2010 — cut to their first comeback with Can't Nobody in a wardrobe of Proenza Schouler scuba knits and Rick Owens leathers, followed by a performance in blinding metallic Gareth Pugh ensembles from spring/summer 2012 — I felt a palpable moment when the global audience sat up and the fashionable powers-that-be started to pay closer attention. 2NE1 did that.
2NE1's pioneering foray into designer threads and collaborations was soon replicated by label mates at YG Entertainment: Big Bang's love affair with Saint Laurent in Fantastic Baby, Psy's insidious banger Gangnam Style wearing drop-crotch jodhpurs and tailored jackets by Alexander McQueen, then eventually boy-band Winner wearing Thom Browne, and YG's newest female foursome Black Pink (a spiritual successor in my mind) continues in Alessandro Michele's Gucci and designer-of-the-moment Vetements.
K-Pop has grown to pride itself on its over-the-top imagery — the visual clash of mink intarsia Fendi furs paired with slick Saint Laurent leathers has become the gateway to this klieg-lit world, the first point of impact. It's the first thing you'll see with most groups worth following — and that's when the establishment took its cue. With the girls sitting front row at fashion week in New York at Hood by Air and in Paris at Moschino, hailed as the muses (and sometime campaign stars) for both Jeremy Scott and Alexander Wang, French luxury juggernaut LVMH taking a $80 million investment in 2NE1's parent company YG Entertainment, countless features (from American Vogue to Hypebeast, among others), numerous editorials and magazine covers later, 2NE1 had their moment as a force (with a pan-Asian provenance) to be reckoned with.
With Seoul slowly replacing Tokyo as the Asian style capital of the region (with the South Korean city as the site of Chanel's 2016 resort show, and reports of leading e-commerce driven sales everywhere), our girls went above and beyond the trend — making it impossible to deny the influence and the modern style power K-Pop held over the world. 2NE1, without a doubt, had a hand in that.
In digs by Sam MC London and Nasir Mazhar, optic white Alexander Wang's and punchy printed Mary Katrantzous — YStyle looks back at some of 2NE1's most iconic fashion moments.