(The Philippine Star) - January 7, 2016 - 9:00am
MANILA, Philippines – 2015 was called a lot of things — the year of the nerds, the year of festivals, the year of fashion exits and fashion house overhauls, the year that love won, the year that Philippines won, among others. We expect 2016 to be just as colorful and possibly controversial, if not more. Fashion reigns are ending and new guards are making waves. Music is blurring genres. Beauty comes in all shapes, colors, sizes and genders. Even Pantone is breaking tradition by announcing two colors of the year. Here are things we look forward to most this year, in fashion, beauty, art, entertainment and travel.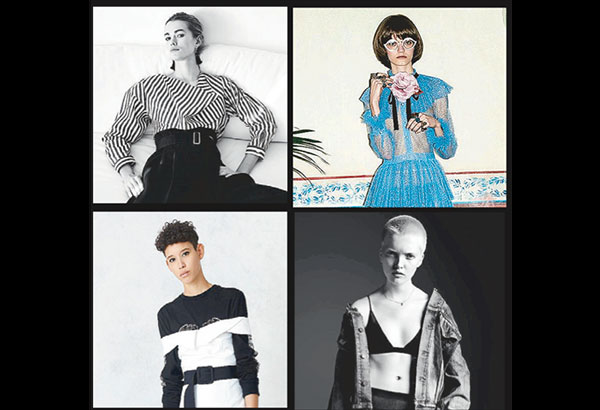 Models of the moment
These models may be new in the 'biz but they've sure got plenty of promise. Brit model Ruth Bell's platinum buzz cut has become her signature look, garnering attention as she made her Milan debut at Alessandro Michele's Gucci show before playing rock star muse for Saint Laurent Paris' Cruise 2016 campaign. Speaking of striking hair, 17-year-old Peyton Knight and her offbeat bowl cut is also pretty hard to miss, especially when you see it again and again on the runway (she made her debut at Alexander Wang's spring show but has walked for the likes of Prada, Marc Jacobs and Chanel). Another catwalk favorite is bushy-browed Danish newcomer Mathilde Brandi who, besides fronting campaigns for Celine and Victoria Beckham, has been spotted walking for Calvin Klein, Acne and Coach. Meanwhile, New York native Dilone's androgynous look and svelte frame lends standout appeal, allowing her to show face at Opening Ceremony and Jason Wu's pre-fall lookbooks. We're calling it — these fresh faces are set to take 2016 by storm.
-MB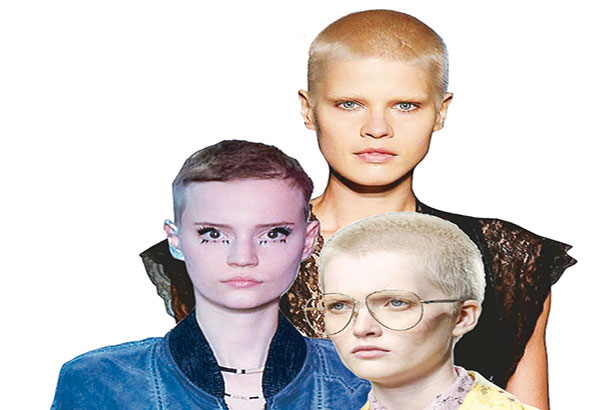 The buzz (CUT) of 2016
Ruth Bell at Gucci, Lina Hoss at Louis Vuitton and Kris Gottschalk at Gucci. The buzz for 2016 is literally a buzz cut. The last time we've heard of this full out use of razor was during Britney's crazy heydays. The '90s most influential hairstyle is making a comeback — this may or may not be influenced by Mad Max's femmebot Imperator Furiosa.
-DM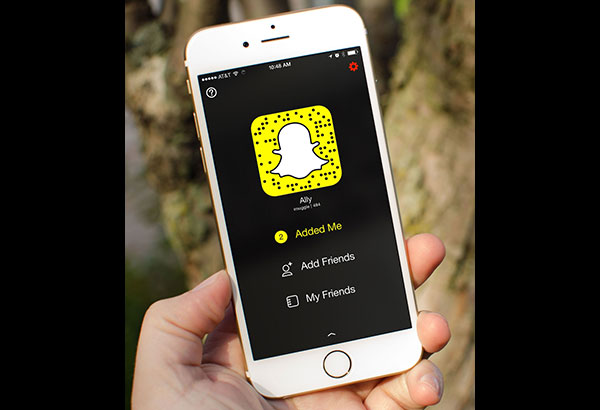 Snapchat Redux(2016 is the year of Snapchat, in fashion at least)
"I hate Snapchat, I don't get it." My exact words pre-Snapchat. A week later, I gave in to temptation and my life has never been the same again. The video/photo sharing app, which stores your content for only 24 hours, has been around from quite some time. It was only until last year that it got attention for people who have short-attention spans and crazed narcissism (see word: Millenial). And did I mention that the 25-year old Snapchat CEO and Stanford alum Evan Spiegel is a maje cutie?
An early adaptor, British fashion house Burberry previewed its spring '16 show during fashion week via the app. And on October last year, the brand, together with photographer Mario Testino, posted behind-the-scenes clips of the ad campaign shoot exclusively on Snapchat. As of press time, social media's first lady Kim Kardashian is now on the app. It's only a matter of time until this trickles down to everyone's smartphone. Welcome, everyone. Snapchat has finally arrived.
-DM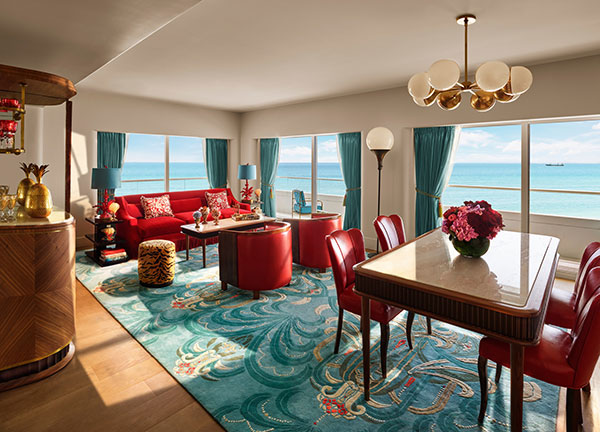 BAZ LUHRMAN FOR Faena Hotel
If his films The Great Gatsby and Moulin Rouge are any indication, Baz Luhrmann and Catherine Martin's lavish aesthetic is big enough to come to life offscreen — take the Faena Hotel Miami Beach, for example. Hired as creative consultants to Alan Faena's newly opened hotel, the Argentinian hotelier and his business partner Len Blavatnik tapped the filmmaker and his Academy Award-winning designer wife during the Cannes Film Festival in France and both were more than thrilled to be a part of this venture.
With over 111 suites and two penthouses the couple took inspiration from the Chateau Marmont, opera houses and added Art Deco influences to the mix. Each hotel floor comes with a butler, not to mention an ocean-view restaurant that's headed by award-winning chef Paul Qui. The compound boasts a 15,000-square-foot spa that features a slab of semiprecious amazonite for the ultimate Turkish bath experience and also includes a screening room, a wine cave and a 3,000-square-foot cabaret. Meanwhile, residing by the poolside is a gilded skeleton frame of one of the last species of mammoths to have existed, created by artist Damien Hirst.
Hotel Faena is finally operational so be sure to book that one-way flight to Miami, stat. -FG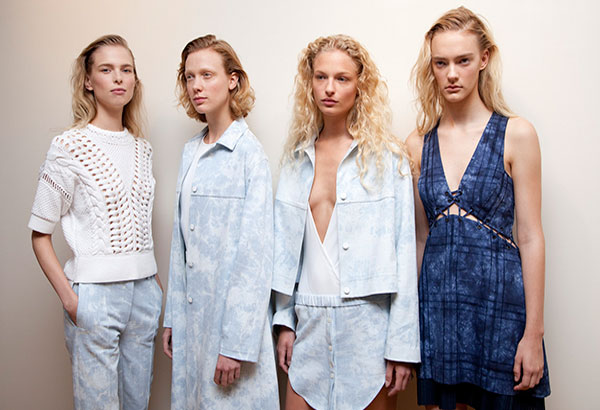 NOW FASHION
With the demands of a fashion calendar that skeins tighter and tighter, relentless show schedules and reports of designer fatigue par for the course (Raf Simons exiting Dior as 2015's biggest cautionary tale), 2016 seems perilously ripe for an industry slowdown.
All roads lead to conscientious expansion and sustainable practice. But as the 2015 trends suggest, we're not quite headed in that direction.
With Moda Operandi's pre-order operation and Versus (or Bill Blass) e-commerce "shop the runway" platform for s/s 2016, Thakoon Panichgul (and his NY-based eponymous label) plans to take the notion of insta-fashion even further with a "show now, see now, buy now, wear now" (phew!) business model. Intelligence reports that Thakoon has acquired Vivian Chou's Hong Kong-based investment vehicle Bright Fame Fashion. As controlling partners in Panichgul's business, the company is slated for major innovation.
2016 is primed for an even more high-stakes approach to all sides of the industry; will this be the dawn of a new age of real-time fashion? Stay tuned. -MY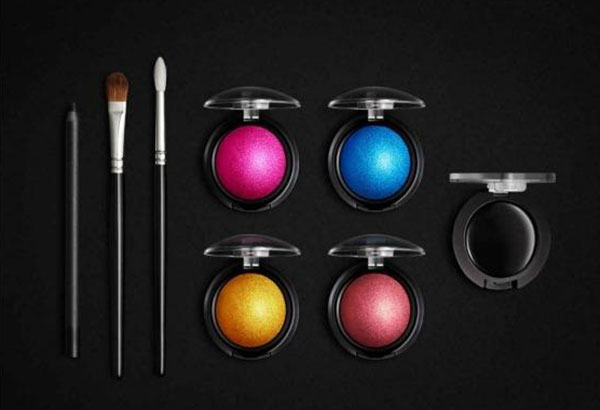 MAINSTREAM INDIE MAKEUP
In 2015, best-selling independent brand Anastasia gave beauty addicts ubiquitous "on fleek" arches with their brow pomade; Too Faced gave girls lashes that were, as their mascara is called, "Better Than Sex"; while Melt and the more controversial Limecrime allowed for super-pigmented, very matte lips. In 2016, a diverse market gets makeup the best validation since Charlotte Tilbury's film star aesthetic: Pat McGrath gives the fashion crowd editorial-quality pigmentation with her line and the laidback, semi-androgynous gal gets her own skincare-cum-maquillage courtesy of Milk Studios' Milk Makeup (available on Feb. 8). Instragram-famous selfie queens have lots to look forward to from the Kylie brand, expanding to contour, brow and mascara kits this year. Like the Kylie Lip Kit, it may or may not be sold out in seconds. -MT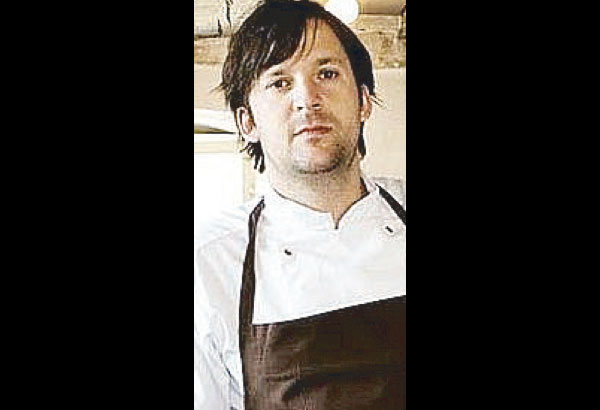 POP-UP CHEFS
In 2015, pop-up restaurants and food trucks gained quite the following. In 2016, pop-up dining takes on a new form as renowned chefs migrate to different countries for limited periods, creating a global dining experience like no other. Take Danish chef Rene Redzepi, who will be bringing his lauded Copenhagen restaurant Noma to Sydney for 10 weeks starting Jan. 26 and Michelin-starred Spanish chef Albert Adria, set to start his 50-day London residency at Regent Street's Hotel Cafe Royal this February. Now here's hoping Manila gets in on the action. -MB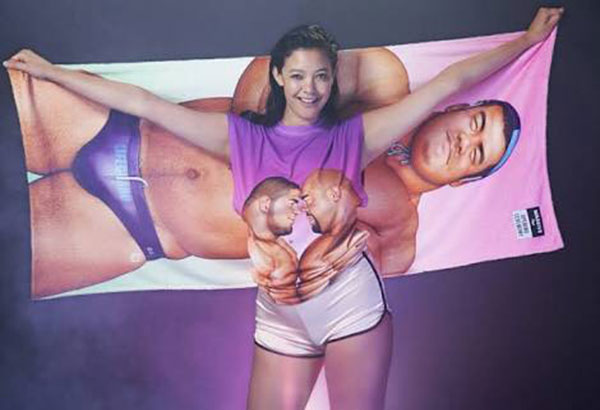 BEEFCAKE BODS
I discovered "bara" (an online catch-all term for hyper-masculine Japanese gay art) on the great sprawl of Tumblr during the halcyon days of the Internet. The homo-erotic genre depicts a hirsute (to say the least) version of masculinity as drawn by Japanese mangakas (or comic book artists) in niche serialized format or single-shot stories. These aren't your beautiful BL boys with lithe frames and Junoesque features that populate the more popular yaoi genre; the drawn images of bara frequently feature strapping lads with hairy barrel-chests, refrigerator-sized Dads (a term used loosely) with boulder-sized arms and big bellies. A pantheon of masculinity that comes close to resembling the "bear" category that originates from Western gay culture.
It's art meant, primarily, to woo and seduce above anything else. You get the picture? As a nascent gay teen in the throes of self-discovery, I was more than, shall we say, involved.
Cut to 2016, with the coalescence of wearable technology 2.0, geek and video game culture (Final Fantasy's Lightning as the heroine of Nicolas Ghesquière's Louis Vuitton s/s campaign) and all things couture, fashion meets Tumblr-obsessed otaku in MASSIVE for Opening Ceremony. The label's founders Anne Ishii and Graham Kolbeins dreamt up a collection of digitally sublimated shirts that feature the gachimuchi art (slang for muscle-chubby) of Japanese mangaka of cult-acclaim, Jiraiya. A fast selling lineup of photo-realistic beefcake pinups that has been making waves since its inception in 2014.
Sold online at http://www.massive-goods.com and in Opening Ceremony sites across the globe, in 2016, we'll settle for wearing the man of our dreams. -MY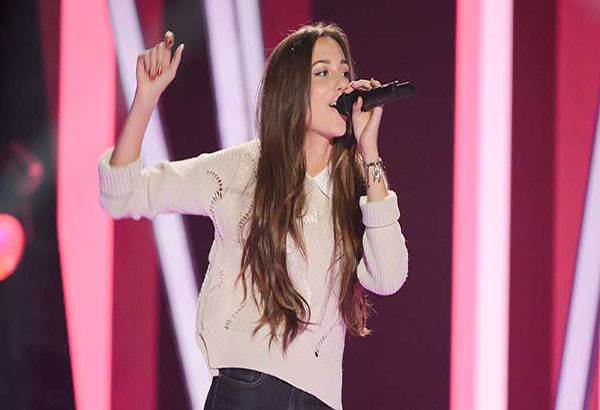 Kaity Dunstan a.k.a. Cloves
People are calling her the "female Bon Iver." Listen to her debut EP "Xiii," a collaboration with Justin Park (Lana Del Rey, Rihanna, Sia) and Rich Cooper (Mumford & Sons), and you'll know why. But keep those comparisons to yourself because she doesn't like it. In an interview, she said, "I have definitely experienced the lazy critiques and comparisons constantly made about female artists, often dumbing our work down to just appearances." Angsty — and so contrary to the sweet sorrow in her music. If 2015 was the year of EDM, maybe this year we'll see more stripped-down songs about feelings? We'll see. -CT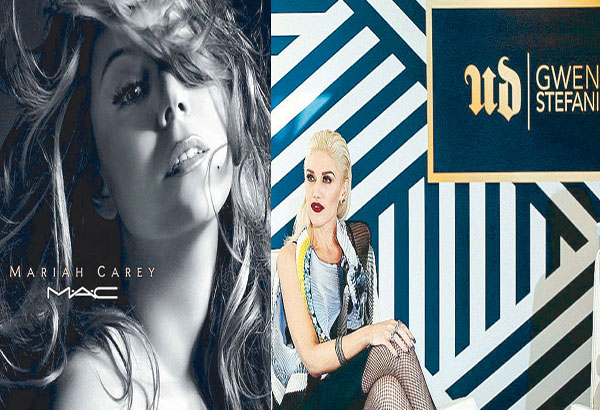 Makeup collaborations: designers and divas
Designer and celeb makeup collections are a dime a dozen these days. Like last year's Nars x Christopher Kane collection, Anthony Vaccarello for Lancome's three Hypnose eye palettes are keepers for the sexiest blue, green and gold smoky eye — the makeup look of the year. Collab powerhouse MAC has a packed year, opening with a sparkly nude lippie over the holidays aptly named "All I Want" from the Mariah Carey collection. We'd get any one of the poppy reds by Charlotte Olympia for MAC (out March 2016); the retro packaging is reason enough. For its first collab, Urban Decay has rock royalty on board, releasing a range of red lipsticks by Gwen Stefani come spring. -MT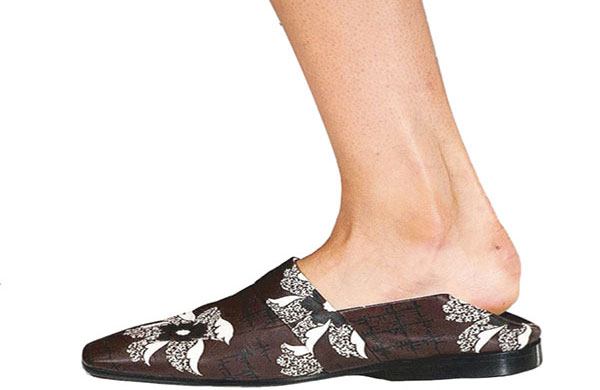 FLATS ON THE RISE
While ugly sandals and pool slides found their footing in 2015, this year's favored flat takes on a much sleeker form. From Balenciaga's lace stepper and Edun's tasseled take to Alexander Wang's embellished calf leather version, flat mules proved to be spring 2016's footwear of choice. But don't think it doesn't have any staying power; the trend continues on for Resort and pre-Fall with 3.1 Philipp Lim's loafer-mule hybrid, Opening Ceremony's sliced-front flats, and Celine's pointed-toe babouches. Super slick and super comfy? We'll take it. -MB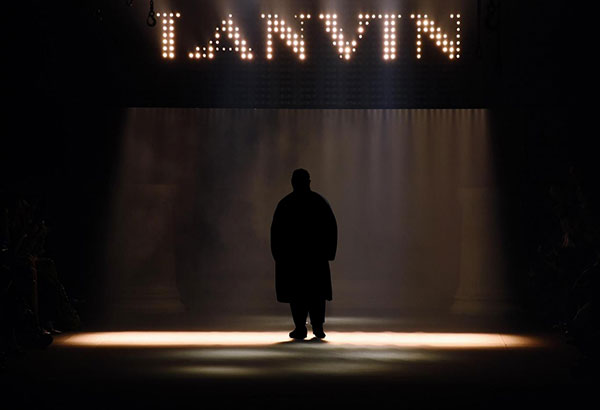 The new faceS of fashion
2016 will be the year that the fashion world sees a major shift in some of its biggest players. Last year, two of the industry's most beloved icons drastically left their respective posts within a week — Alber Elbaz in Lanvin and Raf Simons in Dior. Also last year, designer Alexander Wang left Balenciaga; the company immediately announced his replacement in newcomer Demna Gvasalia of street label Vetements.
Many names have been circulating to take the thrones at Lanvin and Dior. Rumor has it that Alber Elbaz might actually move to Dior; other contenders include Jonathan Anderson, Jonathan Saunders (who recently left his namesake brand last year) and Chitose Abe of Sacai. As fashion's game of musical chairs continues, 2016 will be all about these new names who will be at the forefront of runways and headlines this year.
-DM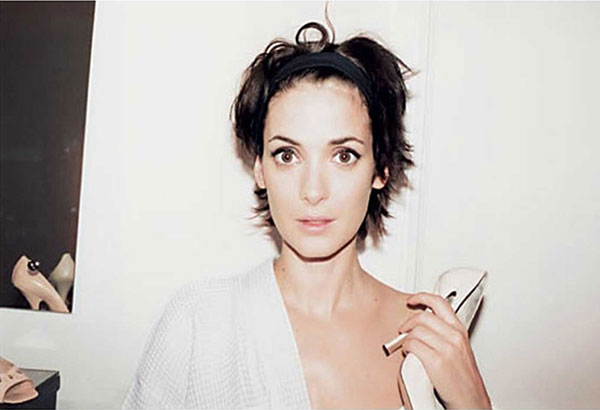 Winona Ryder's comeback
Our favorite '90s grunge girl is back with a new Netflix series, Stranger Things, out in July, proving that Winona is, indeed, 5ever. In the series, she plays Joyce, a single mom whose son disappears. While we're wrapping our heads around the fact that Winona is now playing mom roles (she also played the mother of Spock — a grown man — in Star Trek), we're looking forward to seeing her on the small screen. As for the big one, she's reportedly been cast in Beetlejuice 2, the follow-up to the 1988 comedy that will again be directed by Tim Burton. Our next thought: Edward Scissorhands 2, please? A Depp-Ryder reunion is in order. -CT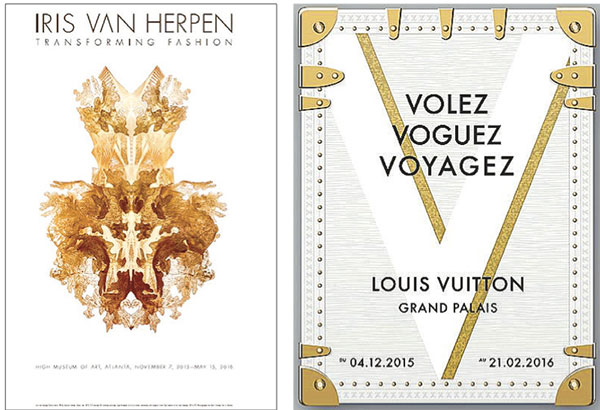 BEHIND THE SEAMS
Sure, you know your designer labels but do you know their storied histories? School yourself on all things fashion with these nifty exhibits—Louis Vuitton's "Volez, Voguez, Voyagez" exhibition at the Grand Palais retraces the label's journey from 1854 to the present via depictions of the French fashion house's founding members and those who help shape its future. Meanwhile, the "Iris van Herpen: Transforming Fashion" exhibit at the High Museum of Art offers a glimpse into the designer's innovative and dynamic vision by featuring 45 couture outfits from 15 collections spanning a seven year period. The stunning collection is up for viewing until mid-May. -MB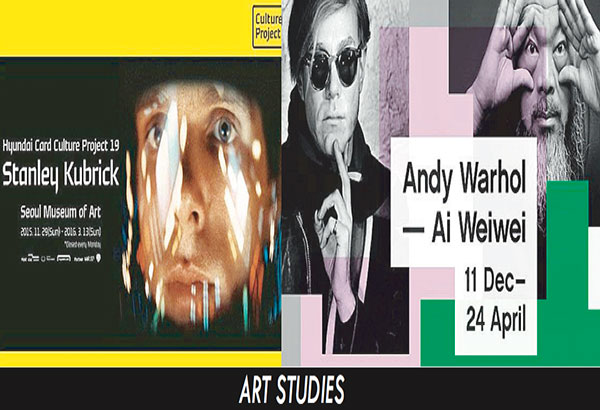 ART STUDIES
This year, we're getting in touch with our artistic side. The perfect place to start? The Musee Picasso in Paris, where up to 900 of Picasso's works and documents will be put on display until March to celebrate the museum's 30th anniversary. We're also eyeing the "Andy Warhol / Ai Weiwei" exhibition — an exhibit exploring the influence of the two outspoken artists on modern and contemporary art — which will run from June 4-Aug. 28 at The Andy Warhol Museum in Pennsylvania.
For the cinemaphiles, The Stanley Kubrick traveling exhibition showcases a wealth of props, costumes, photographs and other archived material highlighting the breadth of the directional filmmaker's career. Having already traveled to 11 international venues, the Kubrick exhibit is currently housed at the Seoul Museum of Art and will run until March 13. But if you're more of a Martin Scorsese fan, you've got until Valentine's to head to the Cinematheque Francaise in Paris and check out the retrospective exhibition paying tribute to the American director's body of work. -MB

Female superheroes
Sometime last year, Marvel released a comic book series called A-Force as part of "Secret Wars." What's interesting about it: it's Marvel's first all-female assembly of Avengers — and it looks like inclusiveness in the realm of superhuman-centric fiction will not stop there. With Star Wars actress Daisy Ridley's workout routine making its rounds on the web, and Supergirl and Jessica Jones successfully kicking butt, we can say "strong female characters" are moving on from novelty to norm. Watch out for Gal Gadot, who makes her debut as Wonder Woman in Batman V Superman, and Alexandra Shipp, who plays the new Storm in X-Men: Apocalypse. -CT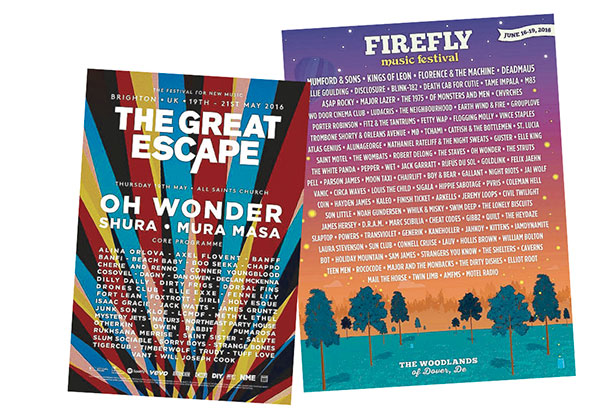 BEST OF THE FESTS
Summer signals the start of festival season and we've already marked these two on our calendars: Happening from May 19-21, The Great Escape is an annual three day music festival in Brighton, UK, which showcases over 400 up-and-coming artists from all over the world. So far, 50 artists under various genres have been announced in the lineup, including Oh Wonder, Shura and Mura Masa. We're also rarin' to set up camp at the Firefly Music Festival, which will be held at the Woodlands of Dover in Delaware from June 16-19. Set among verdant wooden landscapes, the four day fest boasts over 100 acts with headliners such as Mumford & Sons, Kings of Leon, Florence & the Machine, Tame Impala and Death Cab For Cutie. -MB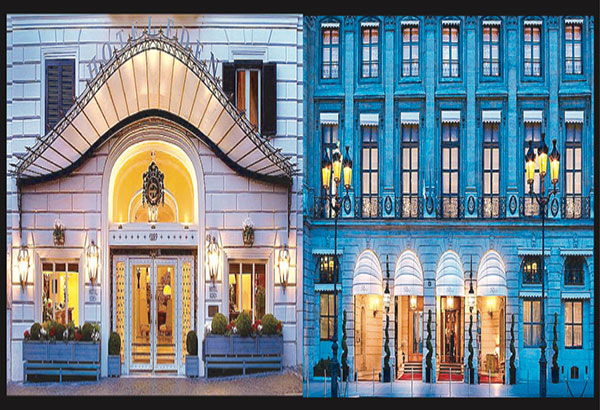 THE SUITE LIFE
Whether you're exploring a new travel destination or simply revisiting a favorite city, traveling is so much better when you've got a swanky pad as your temporary retreat. Which is why we're so excited that several of our choice accommodations are reopening this year. On March 14, the Ritz Paris is finally set to open its wrought-iron doors after a three year restoration period. A Parisian fixture since 1898, the storied hotel's refurbishments include the addition of a paparazzi-proof private tunnel leading to an underground car park, a high-end shopping gallery, and the world's first ever Chanel spa. Another institution reopening in the fall is The Dorchester Collection's Hotel Eden in Rome. Built in 1889, the luxury hotel will introduce renovations to its lobby and dining establishments (its Michelin-starred rooftop restaurant La Terrazza dell'Eden included, of course), as well as a new spa and blow-dry bar. Check-in, please! -MB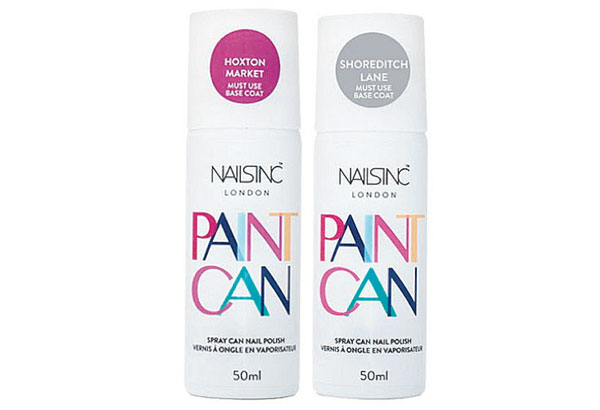 Insta-nails
The Instagrammable nail art trend came and went — too high maintenance — and the perpetual gloss of gel nails, as many who have tried it have come to learn, wasn't worth the rough nail beds it resulted in. Spray-on nail polish that dries in a minute sounds like a beauty trick from The Jetsons, but it's 2016, and Nails Inc. Paint Can does exactly that. It comes in silver called Shoreditch Lane and the Alexa Chung-approved hot pink, Hoxton Market. It's sold out at nailsinc.com as of press time, and doesn't launch until March 2016 outside the UK. -MT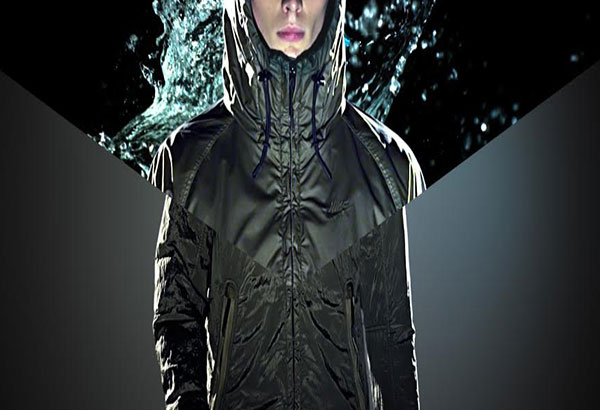 SPORT MEETS TECH
Everyone is a "wanderer" on Instagram, and commercial brands have noticed. Nike is calling 2016 the Year of the Windrunner, referring of course to the classic jacket designed in the '70s. This year, Nike partners with Stone Island, known for high-performance garments, for the Nike Windrunner Jacket. Meanwhile, Adidas is collaborating with Yosuke Aizawa's White Mountaineering for a new collection of footwear come spring/summer 2016. Sportswear is blowing up to Olympic proportions this year — expect to see the gear on the streets as much as on the trail.- CT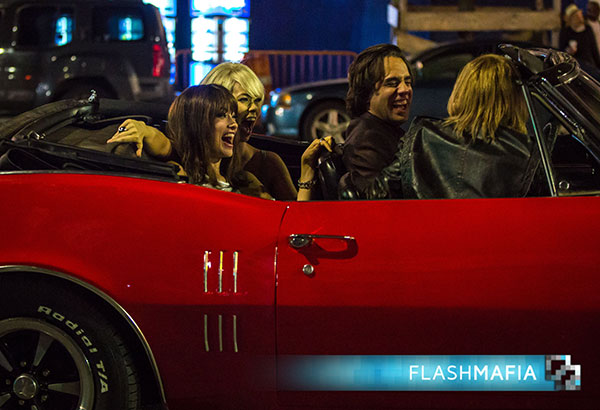 Vinyl (HBO)
Understated as the series title is, HBO's newest show Vinyl is not nearly as solemn a tribute to rock 'n' roll as, say, Inside Llewyn Davis. What it is is a noisy, riotous montage of '70s struggles, vices and fashion kept together by a universal language: music. With executive producers Martin Scorsese and '70s icon Mick Jagger himself, and writers like Terence Winter (The Wolf of Wall Street, The Sopranos), Vinyl already has the cred down this early on. Bonus authenticity points for throwing Mick's son James into the cast. But what we're really excited about: what's Olivia Wilde going to wear? Based on trailers, the costumes are looking like an homage to every Saint Laurent collection ever made in the last three years. It's only rock 'n' roll, but we like it. -CT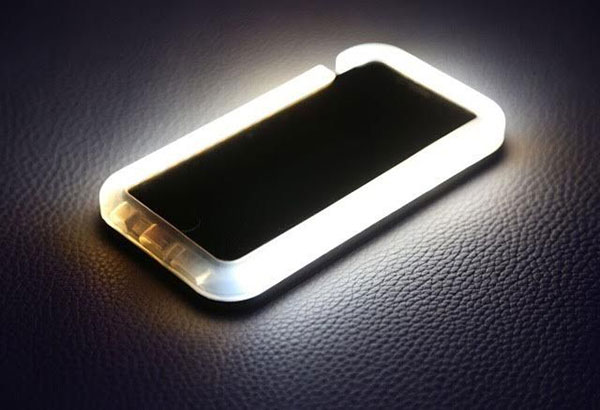 A LIGHT FOR YOUR SELFIE
If 2015 brought us the controversial selfie stick then brace yourself for the Ty-Lite phone case in 2016. Developed by Beyoncé's trusted stylist for the past 17 years, Ty Hunter, the case comes with a built-in selfie lighting that will give us mere mortals that Yoncé-glow we've always sought. Slightly obnoxious to on lookers but very efficient for that perfect selfie shot, the case comes with three distinct LED light settings: cool, warm and brilliant. The "warm" setting will give you a glossy effect, "cool" for outdoor lighting and "brilliant" for that extra little glam. Each light setting could be dimmed to your preferred level of brightness and even runs on its own battery so you don't have to worry about your phone's battery life. The multifunctional case consists of a silicone casing, which acts as a protective cover to the phone itself.
Skip the filter and be selfie ready anytime, anywhere this year. -FG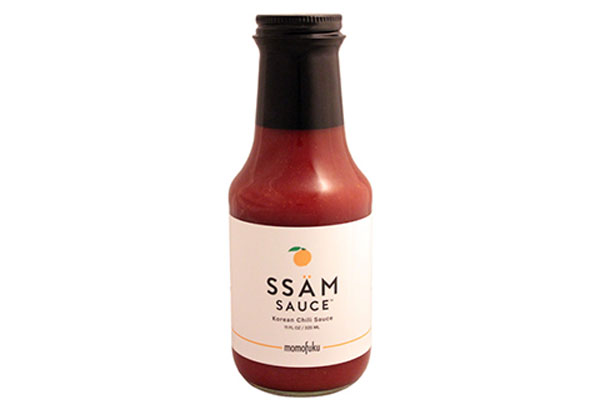 The Sriracha effect continues
The Thai condiment that was present in everything from rice bowls to ice cream makes way for its more pungent Korean equivalent, gochujang. David Chang of Momofuku released his own take, Ssam Sauce (available at products.momofuku.com), but other regional spicy favorites like sambal from Indonesia and ghost peppers (the hottest chili in the world) from India will diversify the foodie's growing spicy repertoire. -MT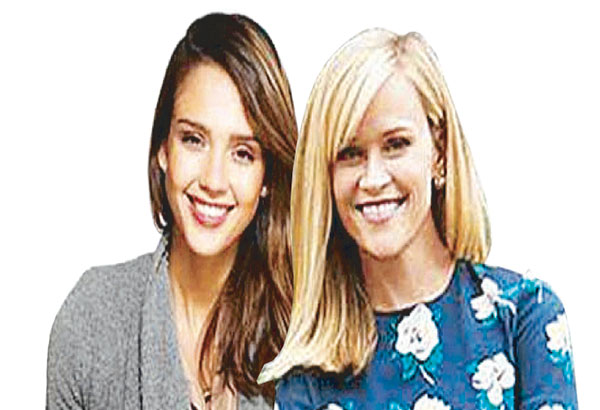 Unicorn startups
Be yourself, unless you can be a unicorn, they say. It looks like a lot of entrepreneurs saw this Instagram post last year, as unicorn startups — companies that quickly reach a $1 billion valuation via fundraising — have become more and more prolific. High profile examples include Jessica Alba's already established, The Honest Company, worth $1.7 billion as of August 2015. Fashioned after it is Reese Witherspoon's Draper and James, which closed its Series B funding round with $10 million. While we don't have Hollywood cred to back us up, we're taking this as inspiration towards a more lucrative year. -CT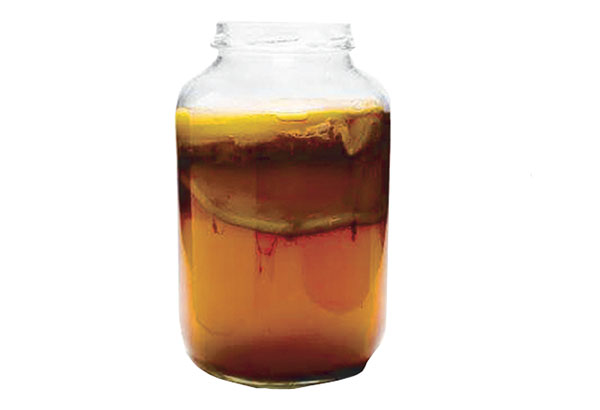 The microbiome non-diet
In the year of the enlightened eater, diets are no longer about deprivation. Detoxes are so 2015 — the goal now is to feel full and balanced internally through nutrition. Probiotics (from kefir, kombucha, or good ol' Greek yogurt and Yakult) and chlorophyll (wheatgrass shots are the best source) provide your gut with nutrition for better digestion and overall health. -MB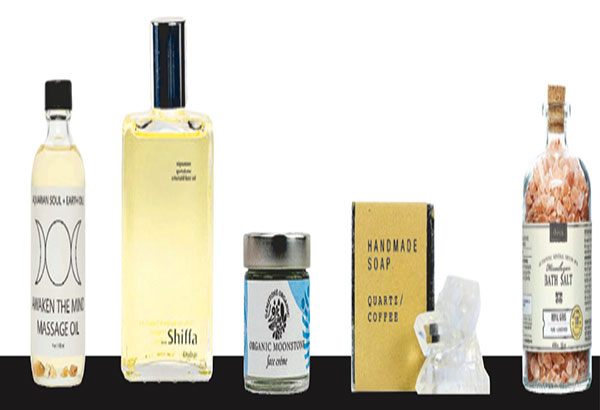 NEW AGE BEAUTY
This year, beauty enters the New Age. Crystal-infused cosmetics shine bright this 2016, attracting even the most discerning beauty folk with its therapeutic and deep cleansing effects. From Thesis' organic pink Himalayan Bath Salt and Shiffa's Gemstone Emerald Face Oil to Wild Medicine's handmade quartz/coffee soap, these skincare products are made to soothe, energize and heal. Inner peace and external beauty — who says you can't have both? -MB