MANILA, Philippines - As the holiday season slowly comes closer to its conclusion, we find ourselves finishing the leftover lechon, downing the last bottles of wine, and finally, finally, getting to unwind at the end of a month — no, make that a year — of absolute mayhem. (What with countless deadlines, endless traffic, and innumerable gifts to buy, wrap, give, and hopefully receive.) We actually get to take a break now, a time to pause and reflect on the craziness of it all — at least until New Year's Eve. The whirlwind of Christmas is an all-encompassing shitstorm, and if you spent the days leading up to it getting your work out of the way, there was likely barely enough room to breathe, let alone spend time with the people you actually care for. We definitely need these wonderful, blissfully quiet days between Christmas and the New Year, to remind us of what the season is really about.
Paulina Ortega and Clark Koga are no strangers to the busiest time of the year. For this couple, formerly based in Singapore, their Manila homecoming is usually a constant splitting of schedules between family and friends — attending dinners, going for holiday drinks, dressing up for December weddings and more than a few Christmas get-togethers. Their grueling social calendar and its constant demands on their time and energy are one thing, but the toll the season takes on their wardrobe is quite another. Good thing they've got the dressing thing down pat. They are always more than impeccably turned out for every event, a routine they have perfected over years of being together. While some may consider couple dressing difficult, or even cheesy, Paulina and Clark's natural creativity and (dare we say) "relationship powers" shine through each occasion, with looks that reflect both their personal styles and their aesthetic as a couple.
Inspired to love more and look better, YStyle takes a page from their distinct and covetable sense of style as we celebrate and reflect on the season with a whole lot of love and a little bit of fashion.
Love, actually:
On Pau: Black turtleneck from ASOS, green shorts from Zara;
On Clark: Color block sweater from X x Uniqlo,
canvas jacket by Acne.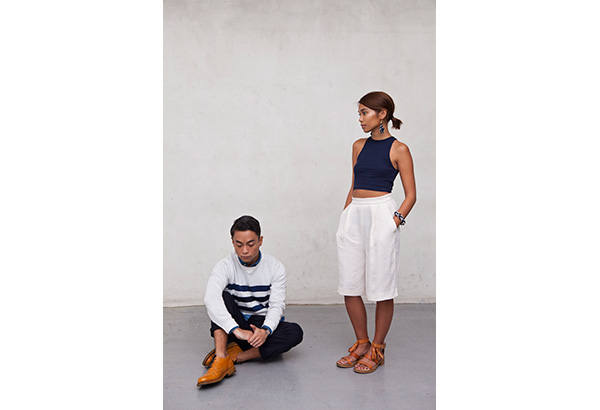 Holiday Blues: On Pau: Navy ribbed crop-top from ASOS, linen culottes, earrings and bracelet from H&M, shoes by Acne; On Clark: Chambray button-down and navy slacks, both from Uniqlo, white and navy sweater from H&M, shoes by Acne.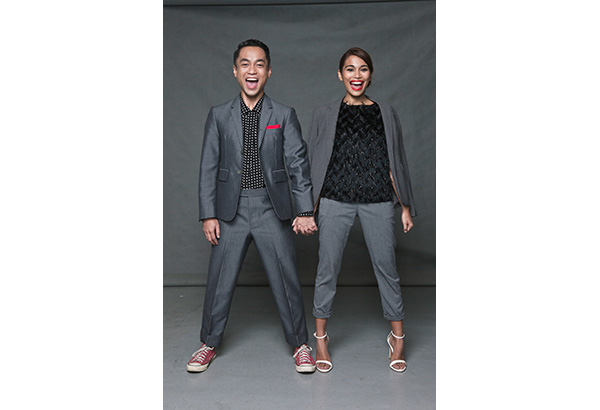 'Tis the season:
On Clark: Gray suit by Thom Browne NYC, polka-dot shirt by Lanvin (available at Univers), shoes from Converse; On Pau: Gray suit from ASOS, feathered shirt
by Lanvin (available at
Univers) and white
heels from Zara.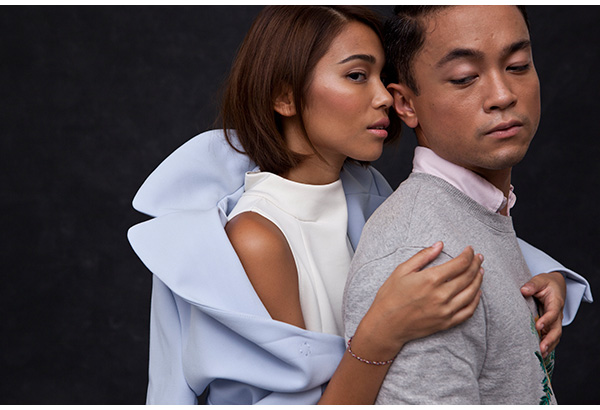 Winter Wonderland: On Pau: White dress and blue coat from H&M; On Clark: Pink button-down from Uniqlo, gray sweater by Carven.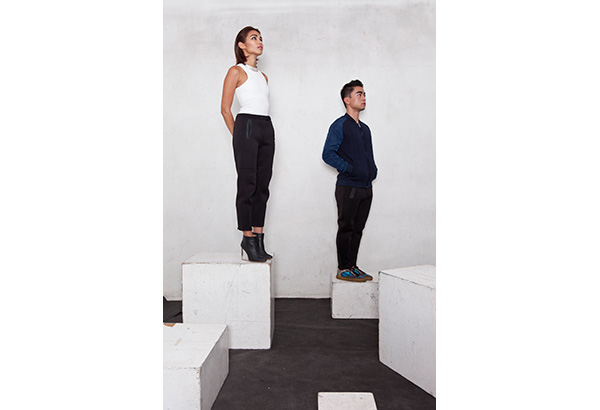 White space: On Clark: Navy and black bomber jacket from Zara, neoprene pants by Alexander Wang x H&M, shoes by Balenciaga; On Pau: White racer back top from H&M, neoprene pants by Alexander Wang x H&M, booties by Margiela x H&M.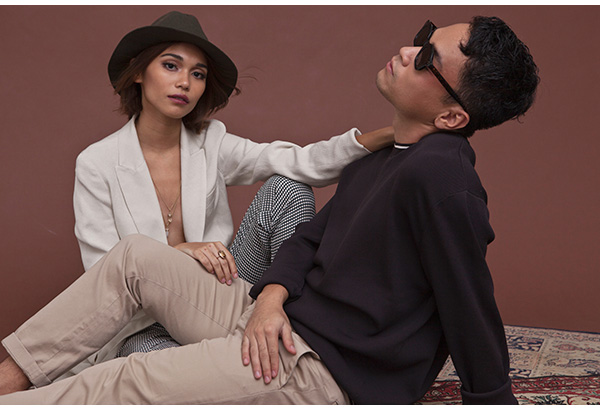 All I want for Christmas:
On Pau: Hat from Aldo, linen coat and necklace from H&M, drawstring pants from ASOS, ring, model's own; On Clark: Black sweater from H&M, Khaki pants from Uniqlo, sunglasses by Max Pittion
(available at Ronnie and Joe).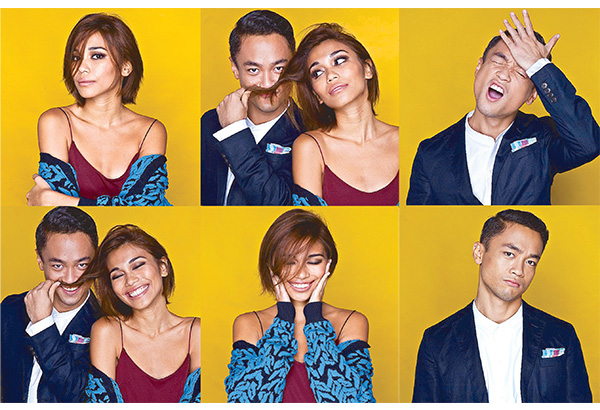 Ring it in:
On Clark: Navy linen jacket by Uniqlo, white Chinese collared shirt by Maison Martin Margiela
(available at Univers);
On Pau: Red dress from Zara, blue and black sweater
by Balenciaga
(available at Univers).
Photos by JOSEPH PASCUAL
Makeup by ANACLETA PAREDES
Modeled by PAULINA ORTEGA and CLARK KOGA