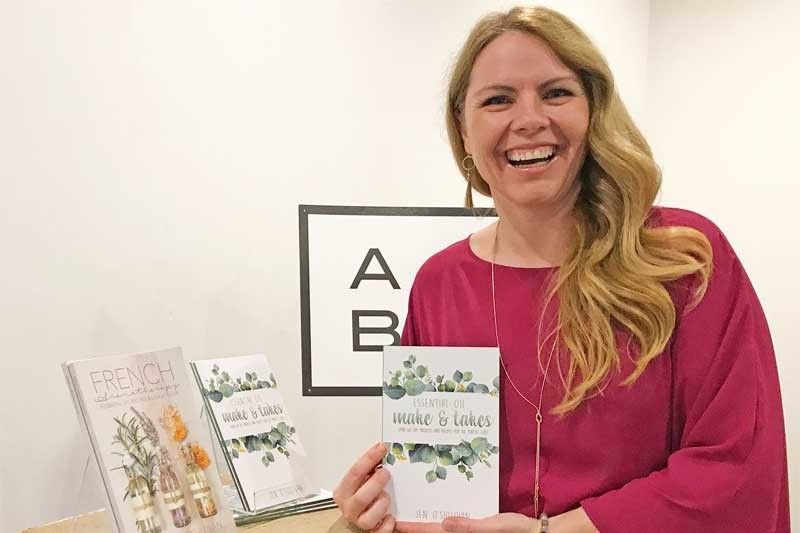 Oil love it: Essential oil expert Jen Sullivan visits Manila to talk about how to make the most out essential oil's natural benefits.
Essential oils? We know, we're obsessed too. Author and essential oil expert Jen Sullivan tells just how to master each one.
Most people (especially gals I know) love essential oils because they're the closest thing we can get to contemporary witchery. A few drops of this, some drops of that, then apply to your chosen area of concentration for instant relief. Given how powerful technology has become, who would have thought that nature's extracts would remain just as potent?
Essential oil expert Jen Sullivan has taken years to understand the power of essential oils — and there are hundreds of them, by the way, not counting the many combinations they can come in. Jen has written four books on essential oils (including French Aromatherapy: Essential Oil Recipes & Usage Guide) and has been known for her passion to educate beginners and advanced users alike. During her first visit to Manila, the essential oil sage walks us through the first things that an oil newbie must know, the best oils for skincare, and the truth about essential oils and pets. Consider your new obsession made extra bewitching.
YOUNG STAR: There are so many essential oils out there. What's the key to understanding every single one of them?
JEN SULLIVAN: All oils kind of do the same thing, which is interesting, meaning they all help with your health. A lot of times, people think that oils will help everyone medically. What oils do is that they work to help alkalinize you. Our bodies are generally healthier at an alkaline state, and most of us are acidic because we consume a lot of animal protein, processed food, and medication. What oils do is that they actually help attack everything in our body that would not be good for us. We don't use oils like a band-aid… oils don't work the way we think they should. We use oils much like we do in a healthy lifestyle. We add oils in as a part of a healthy regimen, rather than a cure to a specific ailment.
A lot of people like using essential oils as a part of their skincare routines, like for clay masks and such. Any oils you'd recommend specifically for the skin?
When it comes to skincare, I like to say, just go back to basics! Stop using harsh chemicals on your skin. I use grapeseed oil and red rosehip oils, carrier oils — but get it pure, raw. Get a little dropper bottle and get frankincense, lavender, and copaiba. Put ten drops each, swirl it around, and top it off with the carrier oil. And it's incredible. Straight up, best face serum. You don't need to use any other creams. I use that serum day and night, and it's great for acne, moisture, anti-aging.
You've always advocated for the safe use of essential oils, and I read somewhere that essential oils can be harmful to pets. Is there any truth to that, or is it pure myth?
That's just hype. (Laughs) Dogs who've typically chewed on grass, they will have the enzyme in their bodies to process oils. Some dogs that don't ever eat grass or aren't ever exposed to it, their bodies might not have the enzymes to process some essential oils. Not all, just some. Like some of the citrus oils like clove and oregano. You know, you're not gonna sit there and drip oils on your dog food, you know? The essential oil toxicity in pets is when a pet owner lives in a very small apartment, has a diffuser that is going all the time, and the dog, for some reason, loves it and sits near it. We always say that with pets, you need to use essential oils in an area they can get away from. We have to treat pets like we treat babies, so everything has to be diffused and gentle.
Are there specific essential oils that you gravitate to regularly?
Lavander, lemon, and peppermint. For sure, I use these all the time. Purification (from Young Living) is what I use for my feet. I used to have really stinky feet. My husband was like, "Girl, your feet reek!" (Laughs) I was so embarrassed! I didn't know what to do, 'cause I can't wash my feet every two hours, and you're human, you get stinky. I tried [Purification] one day, and I was like, my feet smell delicious! Purification mostly has lemongrass and rosemary. Thieves (from Young Living) is what I use mostly for traveling. You see a lot of people use Thieves while traveling. You just take a really deep breath in. It includes clove, and it has one of the highest oxygen radical absorption capacities. It's a really intense oil. You can also rub this on the back of your neck and on your feet. I kind of consider Thieves as my protection. There's also Stress Away, which mixes with our own body chemistry and helps us focus. It doesn't make me tired, it helps me process easier.
* * *
Jen Sullivan's books are available at Art Bar and Powerbooks Podium.