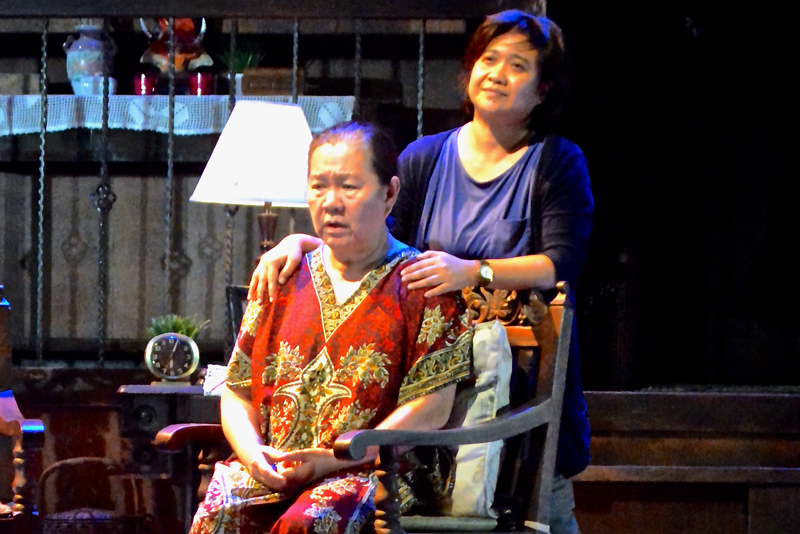 Not so gentle: 'Night Mother makes us look upon pain in the small space of a single act, not once letting us look away.
Jam Pascual
(The Philippine Star) - February 9, 2018 - 12:00am
PETA's latest one-act offering, 'Night Mother,' is a harrowing exploration of the pain of existence.
(Trigger warning: Suicide, self-harm)
MANILA, Philippines — A one-act play can be an intense experience. The lack of intermission and the flood of information and feeling become condensed into a single narrative movement.
Take, for example, No Exit by Jean Paul Sartre, a play about three mortal souls who find themselves in the same room in hell and basically take turns getting annoyed at each other, becoming their own instruments of torment. It's a claustrophobic play, in which very human characters have to confront what's ugly in themselves with no chance of, well, exiting.
You could say that PETA's 'Night Mother is set in its own existential hell; it is its own claustrophobic experience. The play, directed by Melvin Lee and adapted from the original Pulitzer-prize winning play by Marsha Norman, revolves around the conflict between two characters: daughter Jessie (Eugene Domingo) confesses to her mother Thelma (Sherry Lara) that she plans to kill herself by gunshot before the end of the evening.
I won't tell you how it ends (I'm sure you can guess) but what basically follows is a suffocatingly circular back-and-forth between a mother whose tenderness is eclipsed by a stern facade, and a tired daughter who insists that she has simply had enough. The play is a conversation, a debate: two human minds going in as many directions as they can, exploring what it means to deal with pain.
Domingo's acting chops come through loud and clear, playing a character that manages to be both stoic and unnervingly intense. Jessie is a daughter who has, for a good portion of her adult life, tended to housekeeping, borne the pain of a failed relationship, and struggled with epilepsy. The stability of her day-to-day proceedings is determined by the strength of her memory and her ability to keep a proper to-do list. To her, death is just one more box to tick, and she tells her mother she plans to kill herself — with a tone so clinical you can practically smell the isopropyl — just because it makes more sense than shocking her with the sound of a gunshot. She tells her this straight-faced while putting the house in order, telling her mother where all the things are as though informing a caretaker.
But veteran actress Lara certainly doesn't yield as Thelma. As a mother, Thelma nags but from a place of wisdom, the kind that comes with old age, her frantic rhetoric ramming against Jessie's Kevorkian peace of mind. I couldn't help but think of the mother-daughter relationship portrayed in Lady Bird, with mother Laurie Metcalf expressing love in ways that can come off as both endearing and infuriating.
The dynamic between the two is the crown jewel of the show, the thing that truly kills — two characters who love each other but are just exasperated, navigating a labyrinth of reasons and rationales before coming to a conclusion that can only satisfy one of them.
While the script and the actors are the main stars, let's not forget the other elements of the show. The set by production designer Ben Padero is incredibly realistic in detail, portraying the kind of typical Filipino home we've all stepped into, complete with big Jesus portrait and ol' reliable water dispenser. The scoring by musical director Vincent De Jesus is rightfully minimalist, sounds only coming up in key moments (though I imagine 'Night Mother would still be strong even performed in silence). Props must also be given to Ian Lomongo, who took on the gigantic task of translating the original text and applying it to a Filipino context. That cultural transliteration yields snappy arguments and surprising moments of levity in an otherwise extremely dark show.
Wisely, PETA is kind enough to give its audience the proper trigger warnings while handing out crisis line flyers to those lining up. Wise, because it is a triggering play. Yes, it is important that art that addresses issues of mental health exists, but still, what do we do with art that perturbs so deeply it can take your heart to places you try to keep it away from?
In the Q&A portion held on opening night, a certain Dr. Renee Samaniego of the Philippine Psychiatric Association was called to the front to express his thoughts. He said: "I came here expecting to talk about something clinical. Actually, yung effect sa akin is its common humanity. It doesn't have to be clinical because it tackles the basic issue of loss, which we've all experienced at one point or another." And that is 'Night Mother's strength: it makes us look upon that pain, in the small space of a single act, not once letting us look away.
* * *
'Night Mother runs until March 18 at the PETA Theater Center. For show buying and ticket inquiries, contact PETA Marketing and PR Office at 0927-6035913 or Ticket World at 891-9999, or visit http://www.ticketworld.com.ph.