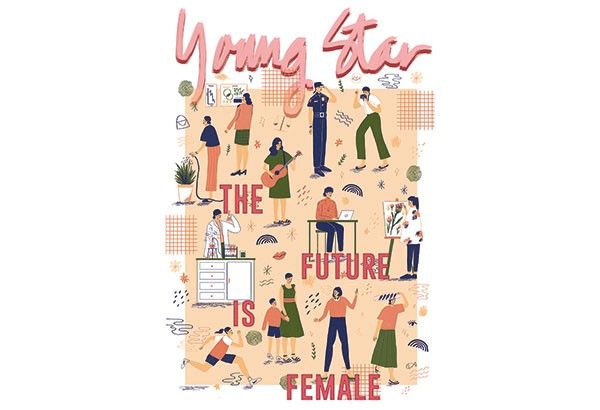 The year girls took back the world
Sometimes I ask myself, when God created woman, did he realize how much trouble they were going to be?
I say "trouble" because that's how women are. Unruly, noisy, loud, intelligent, opinionated, generous, just, and many, many other wonderful things. (Also, not to betray my gender, but I do believe God could be a man. I don't think a female God would have a sense of humor so cruel that she would impose G-strings and Brazilian waxes on any of us.)
It took awhile before many of us could see the many shades that made up a woman. We had all gotten so used to knowing very limited types of women; anyone who defied these arbitrary norms was seen as devious. They were improper or uncouth. They were, to quote Donald Trump, "nasty."
We hated these types of women.
What we didn't realize is that this meant we hated all women, period. This has never been truer than in the last two years when the feminism bubble burst. In 2016, the world elected heads of state that were so obviously disdainful of women. In the United States, Donald Trump snagged a presidential victory despite being on the record in saying that fame meant one could grab a woman, even a complete stranger, "by the pussy." Here in the Philippines, our own President Rodrigo Duterte made it very clear that the most powerful man in the land had every right to joke about rape. Because, I don't know… It's supposed to be funny or something. In many countries, apart from the Philippines and the United States, women's rights remain curtailed: in Saudi Arabia, a female robot named Sophia had been made a citizen. Ironic that a robot is granted human rights in a country that just allowed women to drive. (Also, have they not seen Ex Machina?) Reproductive health remains a hot button topic, even in the most democratic states. Intersectionality continues to be a challenge for women and the LGBT+ community. Whatever little feminism was left seemed to have been trademarked as a "straight, white, First World only" concept, with little regard for the socio-economic struggles of anyone who was born sans white privilege.
There was a lot to fight for, and a lot to fight back against. It was disheartening to start 2017 on such a dull, dull note. If the world hated us so much, what was there to love? Should it remain the same man's world as it has always been?
In a sustained outburst of bravery unseen before, women of varying race, religion, gender expressions and backgrounds started to come together and say, "Enough is enough." 2017 became the first year in this century that we decided to push back. We challenged men to become allies, and finally showed the world just how righteously angry we were. In January 2017, million-women marches and rallies were held in many parts of the world to protest the continuous silencing of our voices. Margaret Atwood's The Handmaid's Tale became more important than ever (thanks to a raw, unflinching TV series), in a time when societies across the world were retreating back to antiquated ways. Following the Harvey Weinstein A-bomb, the #MeToo movement erupted on social media, exposing how prevalent sexual harassment and abuse still are, everywhere, in most every male-dominated industry.
In our own country, the disenfranchised are beginning to find their voices. Women, the LGBT+ and allies have moved past awareness and are beginning to rightfully demand that their leaders listen to them. During the Pride March in Manila last June, members of the LGBT+ community continued to celebrate their own identities in the face of religious and social oppression. Late last year, young women took to social media to uncover the widespread sexual harassment committed by local bands and artists. (As of now, there are no reports of the accused facing any legal action.) We certainly pointed out how Miss Universe Pia Wurtzbach wanting a gay child — someone to do her hair and makeup, she quipped — could contribute to how Philippine society still perceives the LGBT+ community. (She later apologized for her statement.)
And because this is life, not the ending of Mean Girls, there is still much more to fight for, and a lot to fight back against. The story remains the same, and the enemies' faces will likely change. In 2018, a woman's challenge is to do right with the world they have taken back. We have spurred a large-scale movement — what about our smaller victories? How do we push back at the personal injustices we face every day? What now of the rude commuter who slyly puts his hand upon our legs, or the older, male boss whose overt kindness is borderline harassment? What do we say when our own families do not see how a woman can be more than just a skirt-wearing, education-having, child-bearing entity? What do we do when our own friends cannot shake off their own internalized misogyny? And what about our own internalized misogyny?
If 2018 proves anything like the last few years, this challenge will be difficult. I think we, as women, will realize that the world we are trying to rebuild will require giving up and letting go of many things we've come to know. This could mean trading high-flying careers in order to get away from a toxic work environment, or breaking up with a disrespectful boyfriend. It could also mean acknowledging the emotional, physical or financial abuse of a family member that you have to cut out from your life. Whatever it may be, the bottom line is that our actions need to be in favor of our self-protection and the future we dream of. A better world needs to be filled with good people — or better ones who have learned from their mistakes. As much as we women have been the survivors of thousands of years of disenfranchisement, we are just as responsible for our collective betterment.
2018 will be tough, but we are tougher. So maybe it's a good thing that women are a lot of trouble. The world could use our gumption. The world could use more nasty women.