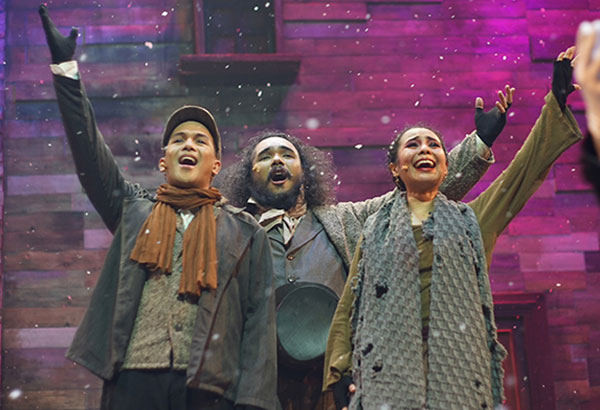 Jolly. Rich, and Fat: A Christmas Carol begins with uplifting production numbers.
MANILA, Philippines — Ah, Christmas. A time for loving! And sharing! And reconnecting with distant relatives you'd really rather not see! I'm kidding. Except that's probably what it felt like for Ebenezer Scrooge; but instead of distant relatives, they were ghosts.
But really, Christmas can be a pretty dark time. It's a season of in-your-face togetherness. We're forced to resolve conflict and rebuild bonds amongst ourselves. Practically a big despidida for the past year, we unwillingly fall into a state of retrospection. We're faced with the big question humankind has been asking itself since the conception of Christmas itself: Have we been naughty or nice? (And we don't always like the answer, do we?)
This year's A Christmas Carol toys with these more nightmarish aspects of Christmas. Although it begins with giddy, uplifting production numbers like Jolly, Rich and Fat, it quickly spirals into the dark but kooky Link by Link à la The Nightmare Before Christmas until finally, it dives headlong into the haunting visit by the Ghost of Christmas Yet to Be in Dancing on Your Grave. The extra grit is thoroughly enjoyable, and a much welcome shade to the classic production.
Miguel Faustman is riveting as Scrooge. During the intermission, I heard a mom tell her kid: "Scrooge is the bad guy." But with Faustman's portrayal, that's really not a judgment that crosses your mind. Faustman's Scrooge is, well, Scroogey in every sense but you forget that the moment you witness just how much life has broken him. How can you give when so much has been taken from you? Ultimately, A Christmas Carol is about how it's never too late for a broken soul to heal. Faustman is deeply affecting, and I highly doubt I'll ever see a better Scrooge. Apart from Faustman, the show is further bolstered by top-class performances by veterans Noel Rayos as Jacob Marley/Mr. Fezziwig and Franco Laurel as the Ghost of Christmas Past. Rissey Reyes is also stunning in her wordless haunting of Ebenezer. Overall, the show boasts a strong, spirited cast.
So is this year's production better than last year's? Probably. I can't really say — having missed last year's show — but that doesn't really matter. What matters is that this production on its own is a delightful and poignant celebration of the spirit of Christmas — and it's surely worth seeing.
(Although people have been saying it is better, so I guess now you have to go see for yourself.)
* * *
A Christmas Carol runs until the Dec. 27 (yes, even on Christmas Eve!). Get your tickets at ticketworld.com.ph.